Doc Martens are a go-to choice for fashion lovers because of their comfort, long lasting performance, and great looking. But as these iconic boots are durable and have convenient features like hiking boots, many people wonder how well they work as hiking boots. Are Doc Martens good for hiking?
Doc Martens are okay for hiking but not dedicatedly suitable for this purpose. Though Docs leather is durable but much stiff, that can cause blisters and discomfort while hiking. However, some tricks can make your Doc Martens hikable.
In this article, we'll explain the mandatory features of hiking boots and compare them with Doc Martens qualities. Afterward, you'll also learn the simple tips to make your Docs hikable when you've no other alternative. So let's begin.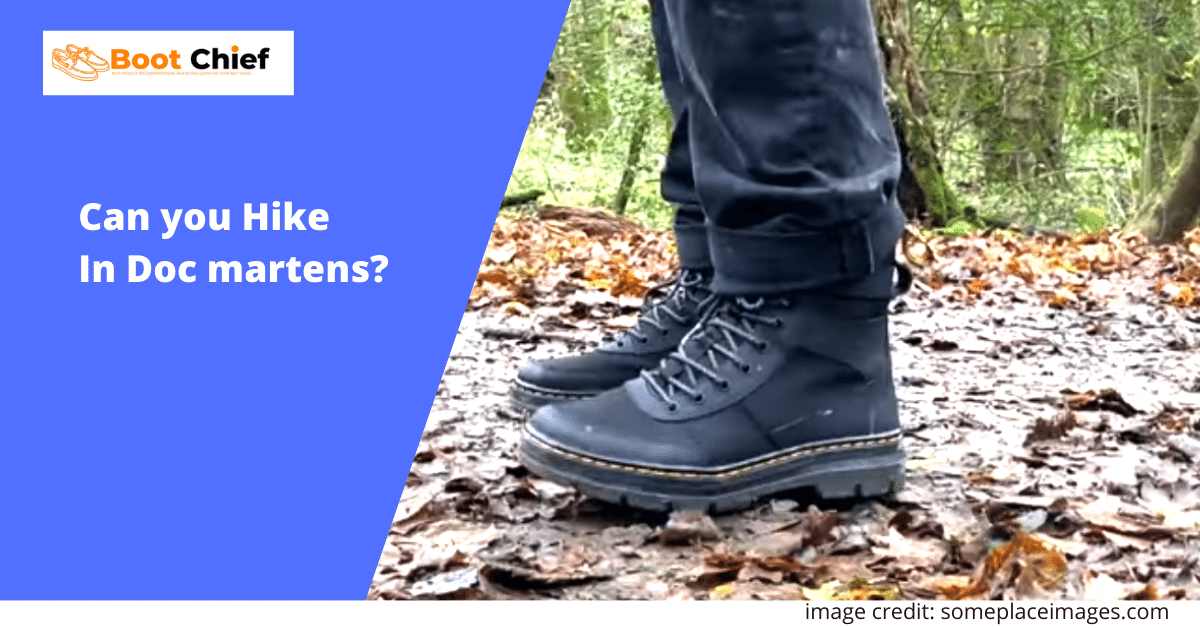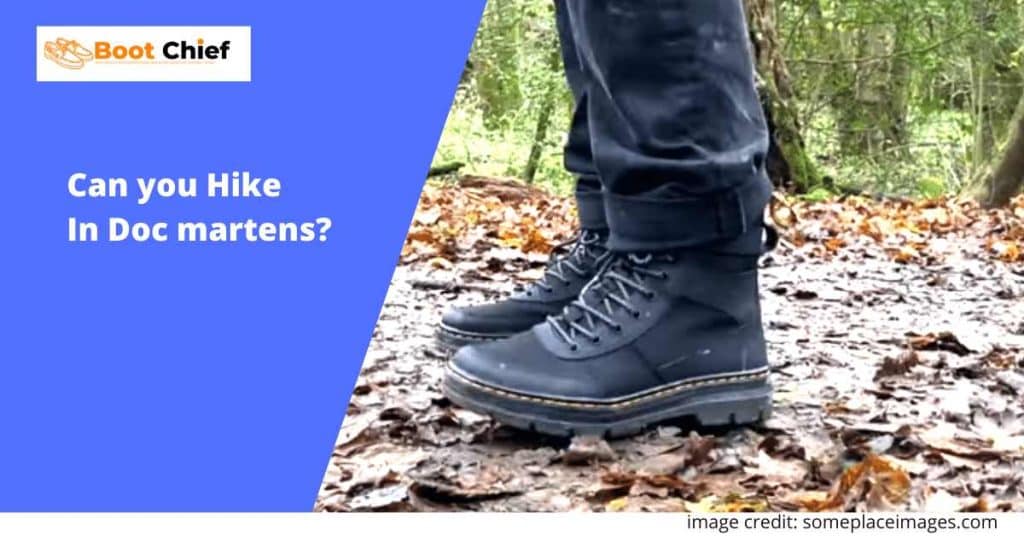 Can You Hike in Doc Martens?
Yes, you can hike in Doc Martens, but it's not recommended. That's because Doc Martens are built so fashionably and stylishly in mind to go with the flow of fashion trends. They are neither designed nor built for strenuous activities like hiking.
However, the good news is that Doc Martens shares some modern hiking boots characteristics. But do they provide enough functionalities for hiking on rocky paths?
To get to the bottom of this question, below, we'll put some criteria for choosing the best hiking boots and compare them with Doc Martens to determine whether you can actually hike in Doc Martens.
What Are The Features Of Good Hiking Boots?
Before we conclude whether the Doc Martens is good for hiking or can you hike in Doc Martens, first you should know the must-have features of good hiking boots.
1. Perfect Fit
It's common sense that a pair of perfect fitting and sizing boots is crucial to complete your hiking excursion without trouble. As a rule, you need hiking boots that snugly fit around the heel and ankle so that you get sufficient space to wiggle your toes and don't get any injury due to oversize or undersize boots.
2. Superior Traction
Traction means the slip resistance ability of boots. And one of the vital features of good hiking boots is superior traction because you don't want to hike on a pair of slippery shoes. Instead, you want solid and tread outsoles.
Different boots come with varying degrees of tread in their rubber. But you know, the deeper the tread, the better your grip. That will ensure a significant grip on uneven and rocky terrains. Good traction absorbs shock over muddy, snowy, wet, or icy paths.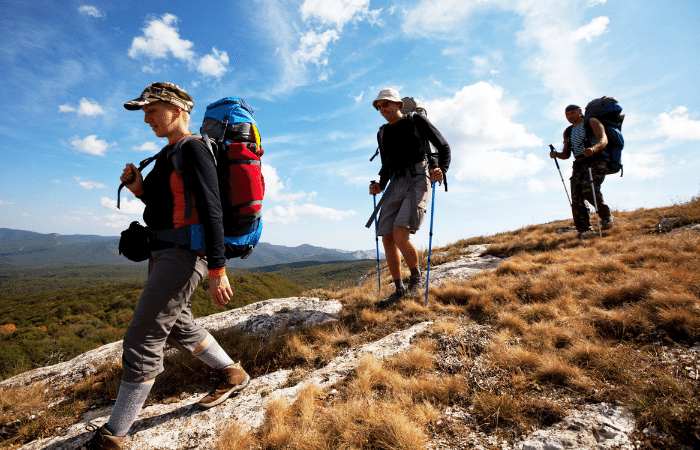 3. Comfortable Midsoles
Another crucial factor is firm yet comfortable midsoles that should have in hiking boots. Once you ensure your boots won't slip or fall, you need to look for comfort in this pair.
The midsoles sit between the upper chassis and outer soles. They play a significant role in determining how much comfort you will get from the hiking boots. Cushioning hiking boots work great to protect you from rocks on a rocky path as well as provide good arch support.
4. Breathability
When you hike, your feet tend to sweat in them, and if the moisture can't escape out, you'll feel blisters and uncomfortable boot rubs. Even the sweat causes foot fungus. As a result, you can't efficiently face the terrain and can't enjoy hiking. That's why good hiking boots have breathability to give you ultimate fun.
Hiking boots are made from breathable fabric. It brings airflow inside the boots, enhancing comfort and keeping your feet dry with complete protection.
5. Waterproof
The other essential feature of any hiking boots is the waterproof ability, Especially when hiking takes place in wet weather or an environment.
Plainly, waterproof boots allow you to keep your feet dry while walking through the puddles, mud, and fording river. If your hiking boots are not waterproof, your clammy and wet feet can lead to various foot issues like rubbing inside the boots or a fungus attack after a long hike.
6. Protection
Hiking is a demanding activity, and you need a good pair of hiking boots to provide ultimate protection against harsh terrain conditions. These boots come with a steel toe and rigid leather surface to tackle the obstacles protecting your feet from any injuries.
7. Ankle Support
Though ankle support isn't compulsory, it works great on uneven and rocky terrain where you risk slipping your feet or quickly stepping wrong and turning an ankle.
8. Weight
The weight of your hiking boots is the primary factor in giving a solid performance on the trip. Hiking boots should be lightweight as you don't want to bear too much weight on uneven terrain or long hiking.
9. Flexibility
Good hiking boots need proper flexibility, so they are neither stiff to your feet nor too loose. The boots bend with your feet well and don't be affected or pain your gait. They are considered good hiking boots with perfect flexibility.
10. Support & Stability
Most hikes require covering a long distance on rough terrains that demand a pair of best-hiking boots having the ability for superb support and stability.
Do Doc Martens Have The Qualities Of Hiking Boots?
So you know what facts you need to keep an eye on while choosing hiking boots. Now the question is do Doc Martens have the qualities. We should go through the pros and cons of hiking in Doc Martens to get the answer.
Pros of Hiking In Doc Martens
It's better to first learn the pros of using doc martens boots for hiking. Then we'll also talk about cons.
Durability
The first thing we want to mention about the best of Doc Martens boots is their durability. Dr. Martens have well-built construction and are designed to be durable.
The high-quality materials ensure that the boots can stand up to challenging conditions. The stiff leather upper has a superior ability to endure the stress of hiking. Needless to say, Doc's durability is a great thing considering hiking boots.
Flexibility
The best hiking boots should be flexible, and Doc Martens offers good flexibility. Dr. Martens, don't restrict your feet. Thanks to the pliable leather, you can move them independently inside the boots. So you comfortably go on a long hike wearing Doc Martens with proper flexibility.
The Midsole
Doc Martens offers quality midsoles support that one looks for in hiking boots. Basically, Doc's midsoles are the most important reason behind their love and popularity. Their midsoles are the air-cushioned soles that make a comfortable and springy feeling underneath the boots. Undoubtedly, Doc's midsoles support will play a significant role in having the best hiking experience.
Traction
While talking about traction, Doc Martens boots are pretty solid in this area. Luckily, Docs have rubber outsoles with a puncture-resistant design which means they have a decent amount of tread. So typically, Dr. Martens offers good traction while hiking on slick, muddy, icy or rocky, and uneven terrain.
Breathability
Doc Martens are made out of leather, having a natural breathability function. That said, they won't fare too badly in breathable facts. But you might not be satisfied with hiking for several miles. Instead, they are suitable for a short hike around you.
Ankle Support
Docs offer optimum ankle support for the hikers. Most times, people don't emphasize the ankle support of hiking boots. Medium to low support is okay for them. In that case, you can pick Docs Martens, which might not give you fantastic support, but they'll be enough for regular hiking.
Water-resistance
The waterproof feature is the last thing you want in a pair of hiking boots. Though Doc Martens is not 100 percent waterproof, they have a decent amount of water resistance. To be honest, waterproofing is not always mandatory for going hiking. We recommend avoiding stepping on a large paddle or hiking in stormy weather while hiking in Doc Martens.
Cons of hiking in doc martens
Now, you know the pros, but only knowing pros isn't enough to go hiking with docs. Let's know the cons
Lack of Comfort
Despite Doc Martens having comfortable air-cushioned soles for standing all day on your feet, people claimed they are pretty uncomfortable for hiking. Our research says two common reasons why they find boots uncomfortable.
So the first is if you have to deal with a lot of moisture, probably Docs are not great. They don't have mesh breathability, which causes sweaty feet and blisters when you walk for too long.
Another reason is that the leather of the boot is too stiff, making the break-in period hard and causing havoc on your feet.
Weight Issues
In general, Doc Martens are a bit heavier than usual hiking boots (maybe 1lb heavier) because their sole material is heavier than the sole of hiking boots. That said, one pound feels too heavy when you've to hike a long distance. As a result, the added loads can drag you down on the trail.
But the boot's upper might be light which reduces the boot's durability and is easily damaged due to falling or impact.
Perfect Sizing Problem
Finding an accurate size in Doc Martens is quite troublesome. Because it doesn't manufacture in between or half sizes of footwear, for instance, if you are 7.5 US, you must pick 7 or 8-size Doc Martens. You might end up too small or too big for your feet.
Well, that's okay for regular wearing. But it's pretty bad considering hiking because a half size up or down can lead to discomfort, blisters, and even foot pain for a long hike.
Price Is Relatively High
Doc Martens are not made for hiking boots. Although some features are suitable for hiking, they are not tested on rocky and uneven terrain with a loaded backpack since hiking can cause damage quickly. Doc Martens shoes are costly, so nobody wants to invest in them to wear while hiking.
When Might Be Hiking in Doc Martens Okay?
Though we don't recommend Doc Martens for serious hiking, it's not the worst idea for a regular fun hike. Especially if you don't have hiking boots right now, but you eagerly want to gain a little hiking experience. So here we discussed some perfect aspects where hiking with Doc Martens will be completely okay.
If you're going on a day hiking, especially in a place where the trail is plain or flat like a pancake, a pair of Doc Martens are okay to go with. Plus, make sure you're not carrying a heavy backpack.
Short Walk Or Treks Through The Woods
Doc Martens aren't best for prolonged hikes. Though if your boots are completely broken in and you want a short walk on an off-road path or hiking through the woods, they're good to go. You can quickly go less than 3 miles with Docs.
Adult people have more weight, so they should be mindful about their footwear as the weight of the whole body rests on it.
Older folks need advanced, sturdy, and durable footwear to face and endure the struggles of hikes. But the younger people can easily pull it off with Doc Martens as they are lightweight.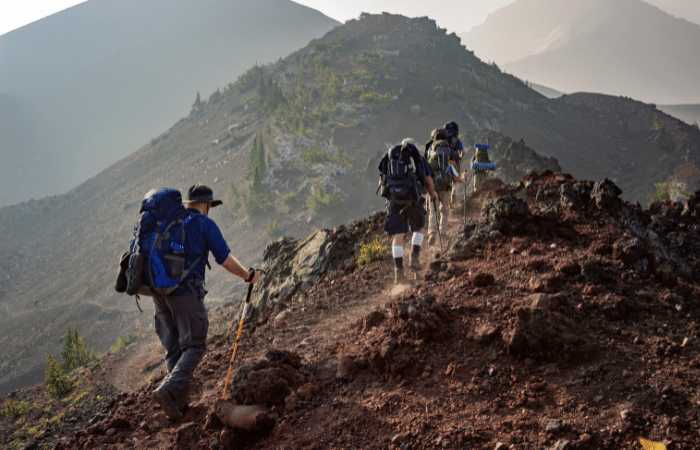 Tips for Make Doc Martens Hikable
If you're in such a tight spot, take Doc Martens for hiking. Then here we listed some pro tips for you to make the Docs hikable.
Break-In The Docs
Never wear a new pair of Docs while hiking. Break them in correctly first, and make sure they fit your feet. Breaking them in pairs will prevent swelling and pain due to hiking.
So how to break them in? Wear the Docs several times until the leather molds the perfect shape for your feet. To know more, check out this article. (Here you can make an internal link how to break in doc martens)
Wear Thick Socks
Docs tend to rub, which can ruin your hiking. So wear long, thick knee-high socks under your boots to prevent rubbing. You might better wear 2 pairs of socks to prevent blisters and add extra inside comfort.
Waterproof Your Docs
Waterproof footwear is essential while hiking, but most Docs are not waterproof. If you wish to hike wherever without getting wet feet, waterproof them first. You can treat them with waterproof products such as spray or dubbin beeswax.
Check out one of our expert guides on how to waterproof doc martens easily and effectively to keep them from getting wet.
Pick A Easy Hike Spot
Choose an even trail or terrain where you can easily walk or hike. Go on a trek in the woods, and you'll find your Docs supportive. Avoid long, overnight hiking on rugged terrain.
FAQs in Doc Martens Hiking
Are Doc Martens Good for Walking All Day?
Doc Martens are suitable for walking all day in the city once they are completely broken in. The boots are designed to comfort feet for standing and walking all day in the workplace. 
But if you're planning to walk on trails for the whole day, even if the boots are thoroughly broken in, it is a terrible idea because Docs are heavy and aren't meant to be used as hiking boots.
Do Doc Martens Get Ruined in the Rain?
Doc Martens get ruined in the rain if they are exposed to rain out of the limit. Docs are not fully waterproof but can be water-resistant to a certain level. If you treat the leather of the boots with a waterproof product, it can handle a decent amount of rain. That doesn't mean you'll frequently be exposed to rain and let the boots soak them and ultimately ruin your Docs.
Are doc martens suitable for camping?
Doc Martens isn't built for outdoor activities, but no worries, you can enjoy wearing Docs camping. To make your camping fun with Dr. Martens, there are specific tips you can follow.
– Pack another pair of light shoes or sandals so that you switch them when you feel uncomfortable in Docs
– While walking camping, consider wearing a pair of breathable socks to prevent sweaty feet.
– Frequently take breaks from walking and relax your feet to protect them from blistering.
Conclusion
So Doc Martens can be used as hiking boots as they have a lot of features and qualities that the best hiking boots should have. We recommend Doc Martens for light hiking in a plain trail or woods for a short period.
However, considering Doc Martens on serious hiking is not a good idea. This is because they're not designed as hiking boots. So it's better to find a hiking boot for your adventure needs.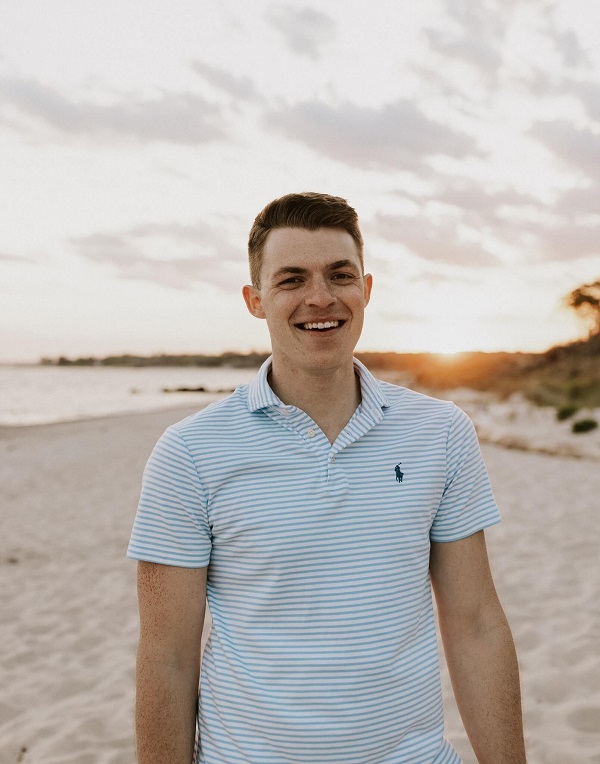 Myself Nathan Griffin a footwear expert who has over 10 years of experience in the industry. I have worked in all facets of the business, from designing and manufacturing shoes to selling them in stores. I am passionate about shoes and believe that they are an essential part of any outfit. I am excited to share my knowledge with others and help them find the perfect pair of shoes for their style.