If your Hey Dude shoe insoles have worn down over time, you might need to replace them. But if your luck doesn't favor replacement, you might look for some other alternatives. The real struggle is finding the most suitable one among the various brands in the market. So this is the reason I wrote this post.
Isn't it great if you find a better insole, that provides you great benefits that you never get with your last Hey Dude insole? Luckily, some insoles prove better for Hey Dude shoes in many aspects.
So after researching several popular insoles, here I listed the 6 best insoles for Hey Dudes. In this article, you'll also get a complete buying guide that helps you pick the perfect insole.
Let's get started!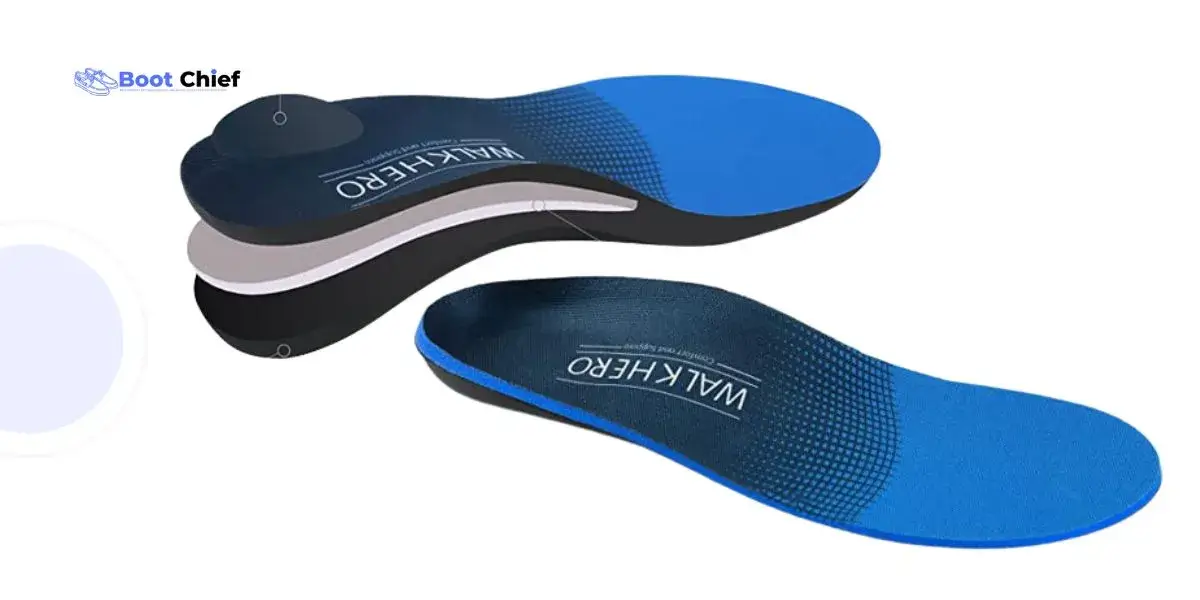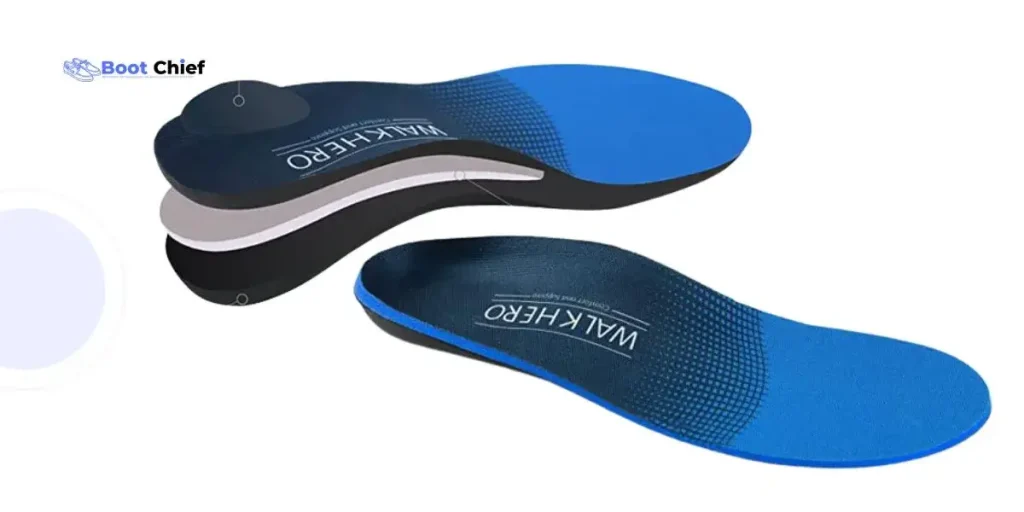 Can You Buy New Insoles For Hey Dude Shoes?
Yes, you can buy new insoles for your Hey Dude shoes. A large variety of insoles are available in the market with various features, options, and offers. So you can buy anyone among them that you think matches your requirements.
6 Best Insoles For Hey Dudes
You don't need to rely on your Hey Dude insole replacement. Here I provided 6 best insoles for Hey Dudes that you might love more than your previous one. Let's dive into the details.
1. WALK-HERO Comfort & Support Insole- Best For Overall
The Walkhero insoles are designed for dress, running, and even casual shoes like Hey Dudes. They are perfectly wearable for everyday purposes, so you can put them on your Hey Dude shoes and get reasonable control and support in walking them.
The insole includes a high-density foam layer to provide satisfying cushioning and comfort for your Hey Dudes. The extra cushioning layer makes walking easy on hard surfaces and reduces muscle fatigue. So you'll feel more energized throughout the day and won't feel discomfort.
They're best for neutral and low arch feet due to their 3.5 arch support, which effectively reduces the pressure on ankles, feet, and knees. They're not just shoe inserts; instead, they're a life changer for you if you suffer from foot pain. The perfect arch support reduces your pain, and you'll almost forget what foot pain is within a week.
Moreover, deep establishing heel cups evenly distribute your weight over the insoles. So you can maintain a correct foot positioning and stabilize your foot to counter potential problems due to overpronation and supination.
Furthermore, their built-in silicon material comes with an intense shock absorption facility and reduces foot pressure smoothly. The top fabric reduces friction and keeps your feet cool and fresh for longer.
Pros
Excellent arch support for both flat feet and high arch
Firmer support enhances the foot stability
55 mm top cover helps to fits well your Hey Dudes
Full-Length Footbed offers total balanced underfoot support
Cons
It may make your feet sweaty on scorching days
2. Superfeet Green Insole – Best For High Arches
Superfeet Green is designed for high arches and offers professional-grade orthotic support, superior performance, and comfortability for those who want footwear to feel better and perfect fit.
If your job requires a lot of walking and your feet can't bear it anymore, I recommend Superfeet green to wear with your Hey dudes. They don't make you feel like walking in the air as it's pretty solid, and the foam is dense and firm.
Since many people think at first sight that they would make their feet problem worse, but in reality, they deliver overall good support, and gradually you'll feel better over time.
In addition, there is a Stabilizer Cap under the insole to add support for long-lasting comfort. The high-density foam layer provides cushions to your feet and supports walking for a long time.
The fabric top is so soft to give you enormous comfort in every step as well as minimizes shifting. However, the deep heel cups of the insoles are much broader and more profound to ensure your feet get maximum support and amazingly absorb natural shocks.
Pros
Best insole for foot pain relief and comfortability
Durable Construction allows you support for up to 12 months or 500 miles.
Significantly withstand a long period of standing or riding
Best for extending the life of your shoes
Cons
3. Dr. Scholl's Insoles – Best For Comfort
Dr. Scholl's AIR-PILLO insoles are designed for people who experience foot discomfort while stepping in their footwear. They come with two layers of foam that provide ultra-soft cushioning and long-term comfort. So you can undoubtedly insert them in your Hey dudes to ensure your every comfortable step.
Once you slide your shoes after inserting them, you'll notice a remarkable difference from before. The thin sole is full of comfort, such as air pillows. There is a shock-absorbing foam in the rear that bounces time after time. The Sure Grip Foam ensures stability, so the bottom layer stays in place while walking and bunching.
Are you looking for relief due to having no arch? These insoles will help your feet to wear them every day. These comfort insoles deliver missing arch support and relieve your back and knee pain.
You could face severe pain if you have flat feet and your ankles swell up after walking all day. Sometimes the pain can move from the ankles to your knees. They not only help with this problem but also fix all the pain in your knees, ankles, and lower back pain. Spending some bucks can quickly fix a problem that could be bothering you for years.
Moreover, if you're seeking something incredible for the summer days, this insole will help you the most. On top of the insoles, include cool vents to keep your feet cool, dry, and comfortable in high-temperature weather. 
Pros
Extra cushions provide extreme comfort
Very soft and easy to trim to fit for your Hey dude
Excellent quality product for a low price
Best for flat arches and last for a long time
Cons
They may feel too thick for some people.
4. Powerstep Insoles – Best For Support
Powerstep insoles come with a Firm support shell and a neutral arch that enhances the support and stability of your feet. They added a heel pad to control ankle movement during walking, running, jogging, or working out with your Hey dude or other shoes.
The insoles' top is made with fabric, the base is made with EVA Foam, and the designed with an angled heel post. So the top fabric works to reduce friction, heat, and sweat. The EVA Foam base and top layer foam offer dual cushioning. And the angled heel post of the insoles increases support and prevents heels from rolling inward. 
The high-quality EVA material is extremely lightweight and suitable for a wide range of footwear. Even the insoles have a full-length footbed with maximum cushioning. So you can assure this one is going to give you ultimate comfort.
Power-step insoles prevent and relieve overpronation and plantar fasciitis. Once you wear your Hey dude shoes with these insoles, they give you relief from lower back pain. Moreover, they are also ideal for flat feet, shin splints, and other ankle pain. 
On top, the PowerStep insole is designed for everyday uses. It's clinically proven and professionally recommended for those suffering from minor to severe issues.
Pros
Provide super arch support and excellent stability
Extensively works for fallen arches and pinnacle orthotics
Great fit, is easy to use, and is a tool to take care of your feet
Enjoying every step instead of unbearable foot pain
Cons
Maybe the red logo is fading on your socks
Checkout our guide about if Hey Dudes shoes are good for plantar fasciitis
5. Amitataha Shoe Insole – Best For Budget
If you want added high arch support for your round-toed flats with a reasonable price, Amitataha shoe insoles give excellent arch support without making them stick out of the shoe. The lower soles help to release foot pressure and provide high arch support.
On top, these Insoles come with a U-shaped heel cup design that helps to retrieve your heel pain and protect the heel and base of the feet. The flexible and soft foam ensures excellent foot support and is comfortable all day.
These insoles are made of high-quality and durable medical-grade velvet and PU material. These materials are environmentally friendly, not toxic, have no side effects, and are safe for your skin and body. The upper layer absorbs sweat, so these will be an excellent fit with your Hey dudes if you have flat feet.
Are you concerned about insoles' sizing? Relax, they come in 3 different sizes for men and women with large, medium, and small sizes. That's why you can easily pick the insoles' size based on your original Hey dudes' insoles to avoid the hassle of trimming insoles to fit them in your shoes.
They are as comfy as a pillow, so you can comfortably do your full-day work with these insoles. Apart from everyday work, they are also incredible at climbing, jogging, cycling, and playing sports with no hassle of foot weight imbalance that causes foot pain.
Pros
Perfect and safe insoles for overweight people
Prevent sliding and friction even during fast foot movement
Very flexible and adapt quickly with Hey Dudes
Quick relief for sore feet and affordable price
Cons
It may feel too soft for those who like rigid insoles.
6. XINIFOOT Insoles – Best For Long Time Wear
If you are looking for the perfect insoles to insert in your Hey dudes for walking or standing for a long time at work, the Xinifoot is the right choice. You'll get great cushioning in them for all types of leisure and everyday footwear.
Thankfully these honeycomb shoe insoles have adopted a three-layer design. The top or outer layer is composed of mesh with excellent air permeability, which is perfect for the desert heat.
They absorb sweat, remove moisture, and keep your feet cool and fresh for comfortable shoe wearing. The intermediate buffer layer of the insoles is reinforced by highly elastic Hi-Poli, which offers an excellent shock absorption effect. Their bottom layer is made of EVA foam material to make them durable.
This insole included a cushion pad on the heel that relieves arch pressure and reduces soreness because of long-term walking. Nevertheless, they work to decrease knee damage, even for older and heavy-weight guys.
They are designed for those experiencing discomfort and fatigue in their feet and legs. You must love this insert as they're super comfortable, and your feet feel drier. They do what they claim. You can wash them regularly and sit them to dry on top of the dryer.
Pros
Fit perfectly in your hey dude and other casual shoes
Lightweight, easy to install, and easily customizable
Don't bunch up, stay in place, and be comfortable
A U-shaped heel corrects your feet shape and ensures robust protection
Cons
They may look thicker than other insoles
Features You Should Consider For Buying Insole For Hey Dudes
Here I gathered the essential factors you should consider before buying insoles for Hey Dudes.
It would be best if you focused on the overall support of the insoles because good support maintains your feet' health. Our customer's research says that the more rigid the insoles, the better support they provide.
Primarily, you need to focus on the arch and heel areas of the insoles. Otherwise, a good supportive pair of insoles help to maintain your skeleton, keeping your feet in a neutral position. As a result, you can reduce foot, leg, knee, or even back pain caused by unsupportive insoles.
Comfort is another crucial aspect of good support. After all, you don't like to walk on uncomfortable insoles, particularly when you need to walk for a long time. In that case, look for soft, cushiony, well-fit insoles that can ensure your ultimate comfort.
Most people struggle to find proper arch support in their insoles. Of course, if you do not get adequate arch support, it will lead to arch pain very soon. Appropriate arch support evenly distributes the weight and pain into the other areas efficiently, which is good for your feet' health.
So consider the insoles with appropriate arch shape and firm enough to handle your weight, and don't collapse while pressing down on the arch. If you have very flat or fallen feet, look for insoles that offer high arch support ensuring proper comfort.
Insoles are made of different materials such as plastic, cork, foam, synthetic, and combinations. Each material has different purposes and benefits. So first, you need to understand why you need insoles and go with what you feel best, giving you the best support.
If you pick memory foam material, it will give you a soft cushioning feeling but is not best for foot support. Otherwise, if you're trying to manage pain, consider gel-based insoles. Foam and gel-based insoles are both excellent for shock absorption. At the same time, cork or rigid plastic is always best for support.
If you're suffering from heel pain, you must keep the heel cup feature in your focused features list. Heel cups provide excellent shock absorption. But if your heel pain is from plantar fasciitis, avoid using heel cup insoles as they don't solve the issue from the root. In that case, you should consult a podiatrist.
If you want to match your insoles with a greater variety of shoes, consider thinner design insoles. However, the original Hey Dude uses a thick memory foam insole. So if you like your previous one, consider any thick insole.
Odor and Moisture Control
If you're a heavily sweating person, look for breathable insoles that effectively control odor and moisture. However, if you don't have many issues with moisture, air drying the insole often or hand washing will be enough to remove odor.
FAQs in Hey dudes Insoles
What are Hey Dude insoles made of?
Hey dude insoles are made of memory foam to absorb shock and provide comfort under your feet while walking. Plus, they are manufactured using elastic materials to flex the foot and fit more uniformly. The breathable cotton fabric makes the Hey Dude wally insoles more comfortable, and your feet stay fresh.
How do you clean memory foam insoles?
To clean your memory foam insoles, first, remove the soles. Mix a cleanser with warm water and mild soap or some detergent. Using an old toothbrush or nylon brush, scrub the insoles gently with the cleaner. Take a wiring cloth to wipe down the soles and let them air dry overnight. 
Should you remove Hey Dude's insoles before washing shoes?
Yes, the Hey Dude insoles are made from memory foam, so it's wise to remove them before washing the shoes.
Do Hey Dudes have removable insoles?
Yes, Hey Dudes have removable insoles. You can easily remove the insoles and insert the new ones when necessary. 
How do I wear insoles in shoes?
If your shoe's insoles are flat and removable, removing them and inserting the better insoles are better. But if the insoles are not removable, place the new insoles above the new ones. 
Otherwise, it would be best if you bought the perfect insoles suitable for your shoe size. If you're unsure about the size, opt for the trimmable one. Trim the insoles in proper measurement and wear them in shoes.
Conclusion
So that's all for today. Walkhero insoles are an excellent buy if you suffer from foot issues. Besides, the Superfeet green insoles don't disappoint you in giving enormous support. You choose what you prefer in your insoles and choose according to it. Hopefully, the all 6 best insoles for Hey Dudes I explained will help you find the most suitable one.
Best of luck!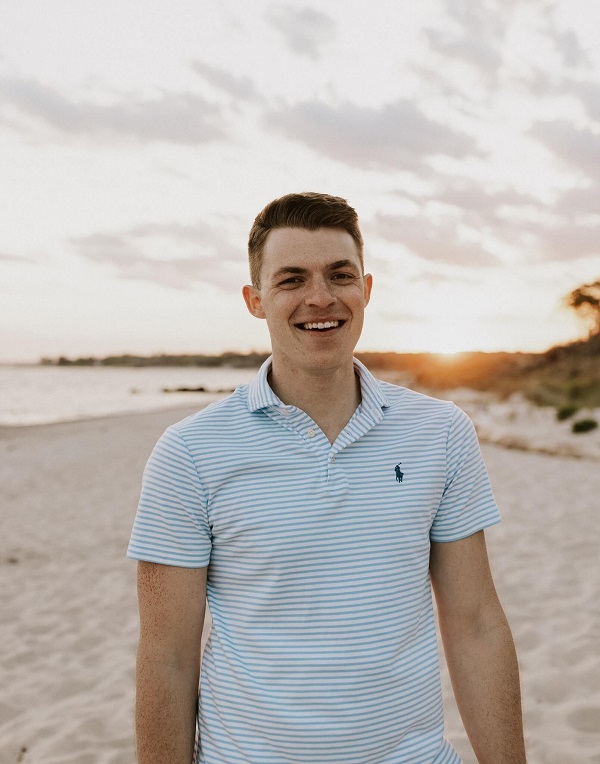 Myself Nathan Griffin a footwear expert who has over 10 years of experience in the industry. I have worked in all facets of the business, from designing and manufacturing shoes to selling them in stores. I am passionate about shoes and believe that they are an essential part of any outfit. I am excited to share my knowledge with others and help them find the perfect pair of shoes for their style.