For utmost comfort and pain-free walking, people opt to wear Birkenstocks. Are they good? Yes, they are. You are likely to see people wearing them on campus while city walking and incorporating them into recent fashion trends. A common question we get from most users is can Birkenstocks get wet?
Yes, they can get wet due to excessive exposure to water bodies. Remember that Birkenstocks shoes are made with a waterproof sealer to keep away water, but if you walk on a pair and step on a puddle, you will end up with wet Birkenstocks.
The cork footbed is what takes on the water and makes it wet in most cases.
If taken care of, Birkenstock lovers can make the shoes last for a longer period. In this article, we will discuss what Birkenstock sandals are and what can be done if they get wet.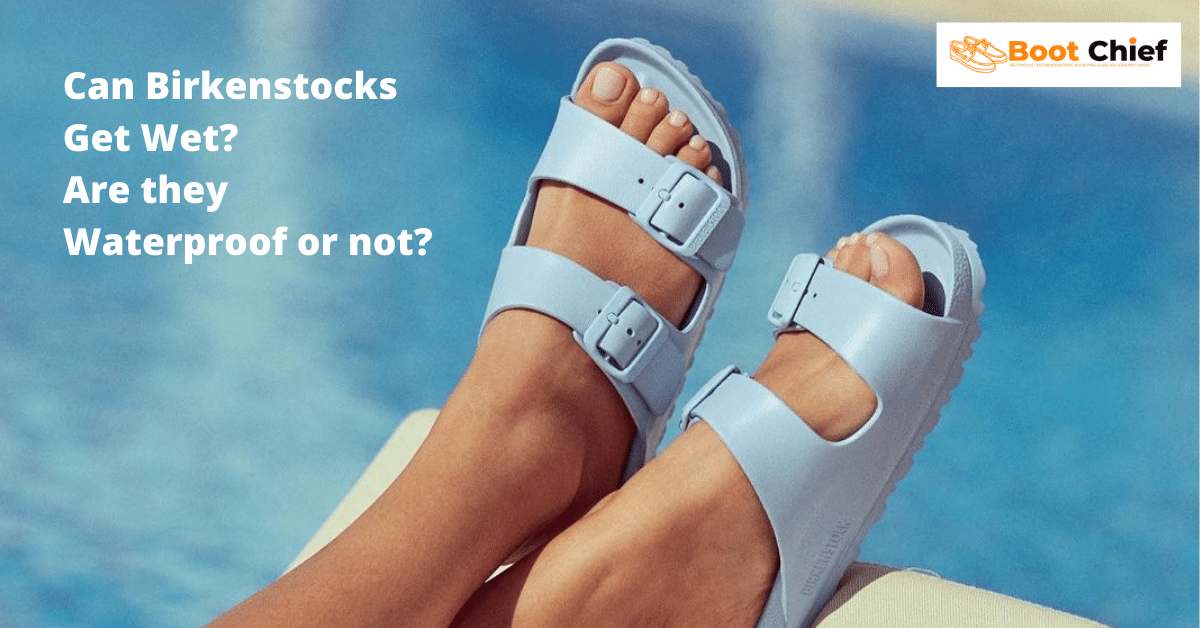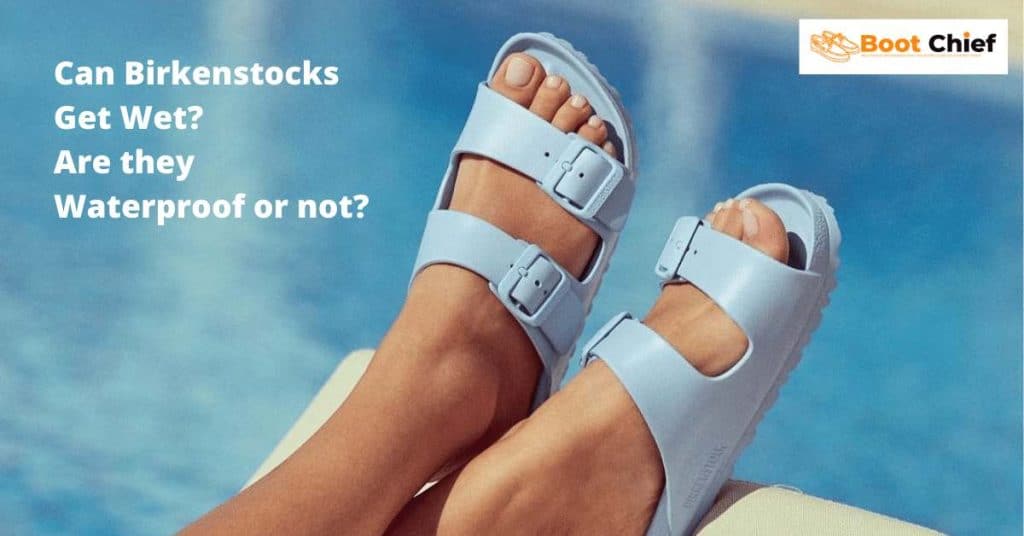 What Is Birkenstock?
It is a shoe manufacturing company that originated in Germany. They make sandals and shoes that stand out from other brands in terms of comfort and medical purposes.
Wearing Birkenstock can soothe painful feet and more importantly make you feel cosy due to its padded, soft footbed. It is made with jute material and suede (full-grain leather) to make it stand out amongst other shoes and look trendy.
What Are Birkenstocks Made of?
Every shoe has to be crafted with high-quality materials to provide full benefit to its users. With Birkenstock, there is no exception. The materials used to make these wonderful shoes will ensure that you feel cushioned and also provide amazing support to any feet embracing them.
Birkenstock size comes for both men and women. Let's check out some notable materials used to make these quality shoes.
Birkenstocks sandals are made with jute, this is what makes them different from other footwear. There are two layers of jute on Birkenstocks. The first jute layer keeps the cork and latex stabilized, whereas the second one tops the cork footbed as a cover.
The jute layer works as absorbent and can take on moisture at will. It also makes the shoes very flexible and durable.
Cork Sole and Latex Footbed
The entire footbed of Birkenstocks is made with top quality cork material and topped with latex. What it does is, it takes on excessive pressure with ease and keeps your feet stable and protected. The cork soles are breathable and help to insulate the feet from moisture and changing temperatures.
Suede leather and Foam Inserts
The sandals and shoes made by Birkenstock have memory foam footbeds and EVA foam inserts to provide a soft and cushy feel. This helps to perfectly mold into any type of foot.
These shoes also come with suede leather which is more useful than fabric footbeds. The best characteristic of suede is that they absorb excess moisture and keep the feet dry and helps to prevent smelly feet.
Can Birkenstocks Get Wet?
Birkenstock sandals have a cork sole, thus they cannot be 100% waterproof. Wearing Birkenstocks and walking over water will resist the splashes but will not last well if you fully submerge them into water. For example, if you stand under heavy rain or step on a puddle, the shoes will soak in water. This is where cork sealant can help.
You can apply a cork sealer to shield it from potential water damage of some sort, but it won't stop the water fully. Shoes getting wet might sound concerning, but Birkenstocks are made to handle different situations. Thus, if you take good care and dry out the sandals before your next use, they are going to be fine.
You can surely choose Birkenstock Women's Tongs Sandal and Birkenstock Men's Arizona EVA Sandals. As both these sandals have ideal waterproof sealers, making them pretty durable and convenient for heavy-duty.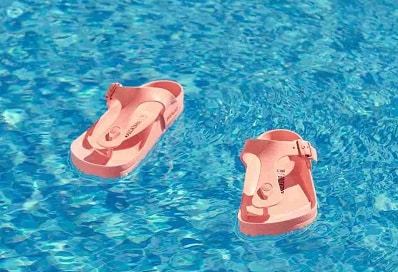 What to Do if Your Birkenstocks Get Wet?
You can wear Birkenstock sandals in different circumstances, it should work well in most cases. If they get wet, they can deform slightly and therefore drop down on longevity, but if you know how to take proper care before using it again, the footwear should be back to its level best.
How to dry wet Birkenstocks? Whenever your Birkenstocks get wet, make sure to dry them completely before using it next time. The best thing to do is to efface the sandals with a cloth and let them dry in a ventilated space. Doing so should protect the top leather and cork soles of the birkenstocks.
Never put it under direct sunlight, as excessive heat can toil the leather and deform it. Exposed heat is a straight no-no for the drying process.
Birkenstock water and repellent compounds can be really handy to keep away dirt and water from the top surface. It is not a permanent solution, but applying stain repellent regularly should help remove stubborn stains and make them appear new in your next use.
How to Maintain Birkenstocks?
Are Birkenstocks waterproof? Can you wear Birkenstocks in the rain? Well, most Birkenstocks sandals come with a factory-made waterproof coating to shield the footbed and cork sole. That doesn't mean the shoes will always work well in watery conditions. In time these sandals' water repellant properties will wear off.
This is where cork sealers should work magic. If you see the weary corks, you must apply sealants made for corks. Before you put on these compounds, make sure the slippers are completely dry.
First, wipe off the shoes if they were drenched in rainwater. Then air-dry it in a ventilated space. When completely dry, use a cloth to clean the cork edges. Now use a tool like a suede brush to take off the attached specks of dirt from the upper layer.
Now using a paintbrush apply the cork sealants on the entire edge of the sole. The best way to make them dry is to leave them at room temperature.
To clean the leather, use a mild leather cleaning compound. Use a soft brush to deep clean the footbed to achieve a shiny layer. This should create a foamy outcome. Thus, you need to wipe it away with a cloth. Repeat this step a few times to get the best result.
Let it dry for 24 hours before applying waterproof leather spray as a finishing touch.
Frequently Asked Questions
Can Birkenstocks be washed in the washing machine?
No! You should not put your sandals inside a washer. The tightly buckled straps on these sandals are not ideal for washing machines. They are very fragile and will be damaged while the washer starts rolling.
Is it bad to get your Birkenstocks wet?
Any footwear that takes on water and is left untreated can get damaged. With Birkenstocks, it is no exception. Leaving the shoes wet for days without effacing the water or drying out will hamper the longevity of the shoes. 
You cannot control nature and might end up in rain or unwanted hazards. So taking care of the shoes is what we prefer. We don't recommend wearing Birkenstocks in areas where it is likely to be overwhelmed with wet conditions.
What is the best way to maintain Birkenstocks?
You must always dry the sandals before young them for the next round. The corks will wear off in time and will absorb water and moisture; thus, wiping with a damp cloth and air drying can help. 
To protect the upper leather, you must use leather cleaning solutions and use it as we mentioned above. 
To prevent cork cracking and help with the cork drying process, you can use a cork sealer for the best result. Make sure you air-dry the sandals every time. You must have a Birkenstock care kit for the best maintenance. Remember, don't put these shoes under direct heat such as sunlight.
Final Words
Birkenstocks are versatile footwear with excellent arch support. This is why many people around the world have taken it as their go-to shoe. These sandals are known for their durability and comfort. Can Birkenstocks get wet? Yes, they can. Even though these shoes incorporate waterproof sealer, they will eventually wear off.
The shoes won't automatically dry themselves. You will have to ensure that the collected water is taken out effectively. To attain dry Birkenstocks, take care of the leather, and the footbed, as we mentioned, and your footwear will work wonders the next time you step on the road.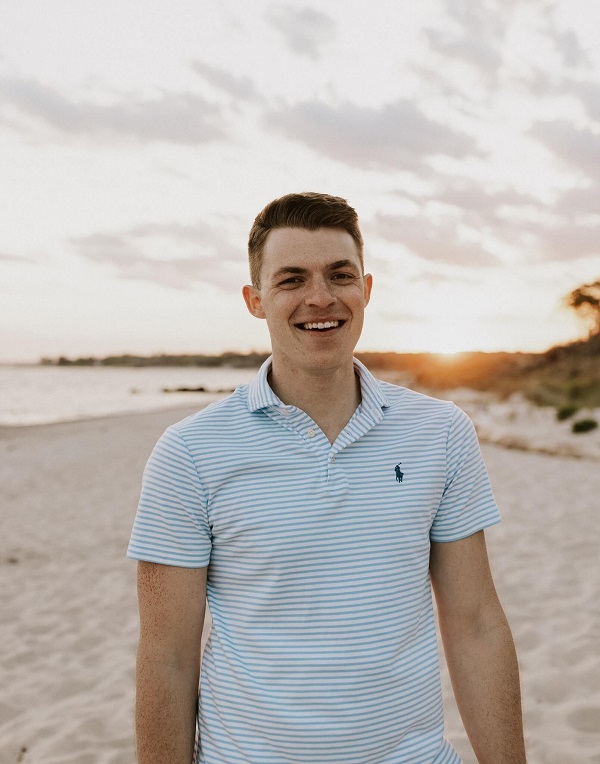 Myself Nathan Griffin a footwear expert who has over 10 years of experience in the industry. I have worked in all facets of the business, from designing and manufacturing shoes to selling them in stores. I am passionate about shoes and believe that they are an essential part of any outfit. I am excited to share my knowledge with others and help them find the perfect pair of shoes for their style.