Very few people want to try something else once they taste the comfiest, snuggly, and durable Doc Martens. So when they've to deal with water-logged places regularly, the first question that hits their mind is if Doc Martens are waterproof? If not, how to Waterproof Doc Martens?
In this article, we'll answer your question, and discuss several effective methods and step-by-step instructions. So that you don't face any issues while waterproofing your favorite pair. So fret not. Let's dive into the deep discussion.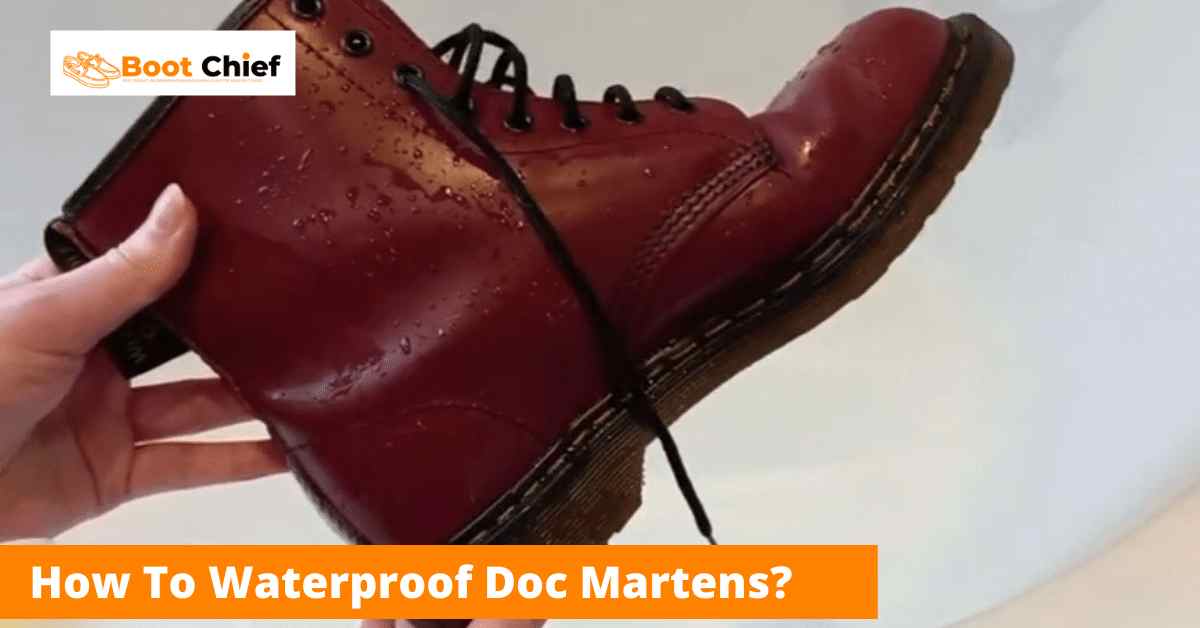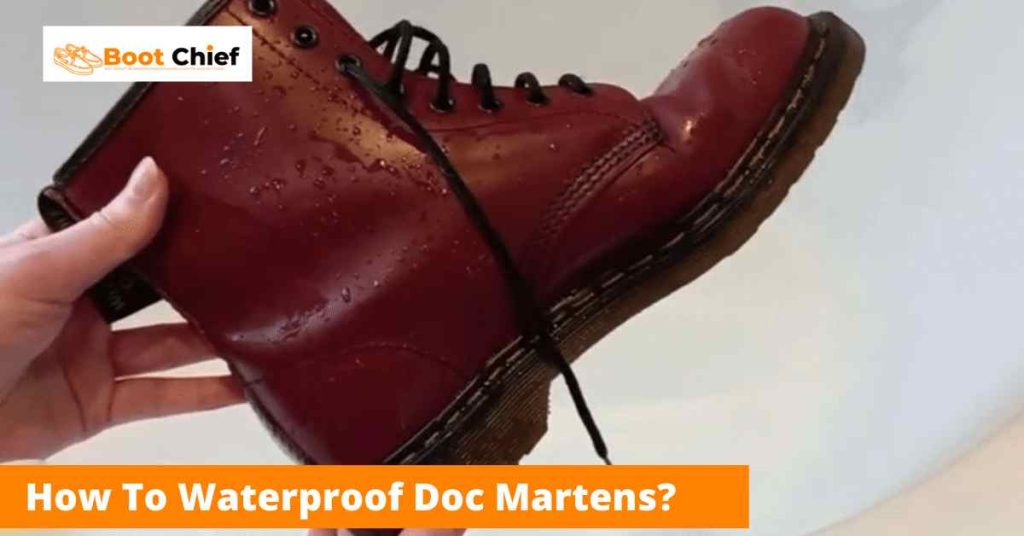 How to Waterproof Doc Martens?
First, clean all dirt and stains from your Docs to waterproof them. Afterward, apply a suitable waterproof product such as wax or waterproof spray, or mink oil over the boots and finish off, and let them dry. Now, enjoy your waterproofed doc boots.
That's just a shortcut procedure. As most of the Docs line is available in leather, so it's hard to find a waterproof option among them. Otherwise, waterproof boots also need re-waterproofing after a specific period. Luckily, you can waterproof your Doc Martens by following 3 different methods. Let's explore them one by one.
Method 1 – Waterproof Your Doc Martens with Wonder Balsam
Wonder Balsam is specially formulated for Doc Martens boots to make them smooth, strong, and durable to last long. It's a mixture of synthetic and natural beeswax that nourishes leather boots and adds an extra waterproof layer. Here is how to use wonder balsam to waterproof your Docs.
How to Waterproof Your Doc Martens with Wonder Balsam
Clean your Dr. Martens thoroughly to remove dirt, grime, and any other spots on the outer leather
Let the boots air dry.
With a sponge, take some wonder balsam and start applying all over the outside of the boots as well as the seams.
Make a thin layer of Balsam wax. You don't need to put a thick layer
Rest your boots for 5 minutes so that they can absorb the Wonder balsam well
Lastly, wipe off the excess conditioner, and you're done waterproofing your boots.
Pro Tips: As Wonder Balsam contains beeswax, it's not suitable to use on the vegan Docs.
Method 2 – Waterproof Your Doc Martens with Wax
Most people prefer wax because it's harder to rub off and leaves no stain on their boots. One coat of wax creates a long-lasting protective shield against water. Besides water resistance, wax is also great for sealing the moisture into leather and keeping it hydrated.
The Nikwax waterproofing wax for leather works best for waxed or oiled leathers. Moreover, it stays longer than waterproof spray.
How to Waterproof Doc Martens with wax
Take a cloth and apply the wax to the outside of your Doc Martens
Make a thin layer and make sure you're covered the whole outside
Work all over the boots, including the seams
Allow the boots to absorb the wax and let dry for 10 minutes.
Pro Tips: As this wax is not good to use on vegan leathers, so you should avoid applying it on your vegan doc.
Method 3 – Waterproof Your Doc Martens with spray
The waterproof spray is the easiest option rather than wonder balsam or wax. Follow the steps below to waterproof your Doc Martens with spray.
How to Waterproof Your Doc Martens with spray
First, remove the laces of your Docs and thoroughly clean them with a clean cloth until it is entirely dirt free.
Try to do this process in a ventilated area so that you might have less exposure to toxic fumes.
Hang up the boots at a height where you can quickly turn them around and easily remove
Hold the spray bottle from 6 to 8 inches from the boots and spray lightly all over it.
Spray around the boots, mainly focusing on the seam where the upper leather connects with the outsole
Afterward, let the boots dry.
You might need 2-3 coats of spray for the best result.
However, there are a lot of waterproof sprays for different boots and materials. If some are best for leather, others are best for suede and canvas. So before you purchase a waterproof spray, you should know whether it's suitable for your boots.
Pro Tips: You might need to apply 2-3 coats of waterproof spray for nubuck and suede boots because they have an irregular pattern. But a single coat is enough for the leather boots to make them waterproof.
Method 4 – Waterproof Your Docs with Mink Oil
Though waterproofing spray is easy and quick to use, many people do not prefer it because they clog the leather pores that can't be conditioned further. In that case, you can try mink oil.
Mink oil saturates the leather pores with oil and wax, which condition and nourishes the leather and creates a water-resistance efficiency for your Doc Martens. The Sof Sole Mink Oil for Conditioning and Waterproofing Leather is one of the best mink oil for Doc Martens you can try. 
Follow the steps below to use Mink Oil for waterproofing your Doc Martens.
How to Waterproof Your Docs with Mink Oil
Remove the laces and wipe off all dirt and grime from the boots
Now apply the Mink oil with your hands.
Rub a quarter-size Dollop on each boot
Focus on covering the particular area, including the tongue, welt, and around the eyelets.
Apply a single layer and try to cover all the area of your Docs as much as possible
Allow the boots to penetrate the oil onto the leather for five minutes
Take a microfiber cloth and wipe off the excess oil
3 Best Waterproof Spray for Doc Martens
We have earlier said that using waterproofing spray is the fastest, simplest, and easiest way to make your docs waterproof. So here we like to share 3 of the best Waterproof spray reviews to help you choose the right one within your budget.
1. Doc Martens Ultra Protector- Best for Overall
Dr. Martens ultra protector sprays manufacturers by Dr. Martens. So you can guess, it's perfectly suitable for every kind of Doc product. The best part of this waterproof spray is applying it to any color and material, including leather, nubuck, suede, canvas, or nylon. There is no need to purchase different sprays for different boots.
Ultra protector spray creates a tough, breathable layer of protection that is best for rainy and winter seasons and in all types of weather. Besides being waterproof, it's also suitable for protecting against UV rays, dirt and stains throughout the day.
On top, it comes with a water-based formula that allows you to waterproof your handbags, briefcase, boots, trainer, coats, and leather coats. So one spray is enough for multiple purposes.
Pros
Easy and safe to use
Works for every weather conditions
Non-flammable and environment friendly
Applicable for all types of shoes and boots
One bottle works for several pairs Doc
Cons
Not suitable for vegan products
2. Crep Protect Universal Spray – Best For Rejuvenate Docs
Another effective waterproof spray for Doc Martens is Crep Protect Universal Protector. You'll love this super-hydrophobic spray which makes an invisible coating on your Docs to repel water and protect the boots from any water damage and any other stains. Otherwise, this spray also works great for fabric boots such as suede, canvas as well as leather.
This spray prevents the water from getting inside the boots rather than sliding them down. You might find water and oil stains on your boots, but they can be easily wiped off with a clean cloth. Otherwise, spraying this product on white shoes will help you keep them clean for the whole day, so you don't need to clean them again and again.
However, if you're looking for the best product for waterproofing your Docs and restoring their shine and durability, try this spray and experience the tremendous change yourself.
Pros
Easy to apply & dry quickly
Perfect to use on varieties of shoes
It lasts up to two weeks
Transparent spray suitable for any color
Hydrophobic spray used for other materials for an art and craft project
Cons
3. Cobbler's Choice Leather Protector Spray – Best For Natural Leather
Cobbler's choice leather spray is an all-natural water repellent infused with Carnauba wax. It provides a non-waxy safeguard for the leather, suede, and nubuck materials. It'll protect your all leather and fabric shoes from any water damage or stains while keeping them flawless for years.
Cobbler's water-based layer creates an invisible protective shield on your favorite Doc martens and makes them waterproof to go outside in the rain and snow anytime.
However, if you want something unique that would not be harmful to your favorite Docs, Cobbler's choice here is different from others with top-quality clean ingredients. They are free from aerosols, silicones, and all hazardous chemicals that could harm your Docs in the long run.
Experts also trust this brand for its clean, natural, and high-quality ingredients. So you can rely on them if you want to give your Docs the best spray ensuring its waterproof efficiency and increasing durability of the shoe.
Pros
Non-toxic natural formula is an excellent alternative to toxic aerosol spray.
Easy to use and effective for long-lasting protection
Handmade product made in the USA with all-natural material
Ensures protective finish of your leather boots
Cons
How long does waterproof spray last on the boot?
How long a waterproof spray lasts on your boots depends on several factors. The factors can be spray quality, the age of your boots, and the material of the docs. However, usually waterproof spray lasts on the boot for up to one month. But if you are exposed to water daily for a long time, then the spray might last for much less time.
How Often Should You Waterproof Your Doc Martens?
You should waterproof your Docs once in a couple of months. If you wear the boots more often in the rain or exposure to water, it might need to be done every two weeks later.
The best way to know when you should waterproof your Dr. Martens is observing how the boots react to water. The water droplets should bead off the boots if they are still waterproof.
FAQ
How can I make my Dr. Martens waterproof?
To make your Dr. Martens waterproof, you need some waterproof agents such as beeswax, waterproof spray, or mink oil. Apply any of these waterproof products on your Docs according to the product usage procedure and easily make your boots waterproof within a few minutes. 
Do Doc Martens come waterproofed?
Original leather Doc Martens mostly do not come 100% waterproof. However, Doc especially manufactures a few waterproof and water-resistant boots for rainy and snowy days. Otherwise, you can also make the boots water-resistance for a quality time in any water condition. 
Can you wear leather Doc Martens in the rain?
You can wear Doc Martens in the rain but first, make sure your Doc is waterproof or not. If your Doc is not waterproof, you should better look for another dedicated waterproof for heavy rain.
But if your Docs have water resistance, you can definitely wear them in drizzle or mild rain. They'll be completely okay and remain dry after quality time in that weather.
Will Doc Martens get ruined in water?
Dr. Martens boots are sturdy enough to tackle water. But if you often expose yourself to the water without waterproofing the boots, there is a high chance to ruin your Docs gradually, and you'll see the leather will begin to stain, crack and even rot. So if you're going to spend a lot of time outside in the rain, first make sure to waterproof your Docs. 
Are there waterproof Doc Martens Boots?
Doc Martens brands have a wide range of shoes and boots. But for waterproof boots it has a small category. If you're a doc lover and can't think of the rainy season without your favorite Doc boots, consider Doc Martens 1460 waterproof lace-up boots. It's the perfect boots to encounter water in every rainy and snowy condition. Also, it favors the workers who work in water-dependent places.
Conclusion
People think it is a hassle or sometimes impossible to waterproof Doc Martens. But as you can see, it's possible within less than a half-hour to protect your pricey boots from water damage. And all the processes are super easy to do. Following our step-by-step instructions will help you make your work easier and quicker. Only make sure that you renew the waterproof process after several uses.
That's all for today. Don't forget to share this helpful information with others and if you have any other queries, feel free to ask us in the comment box.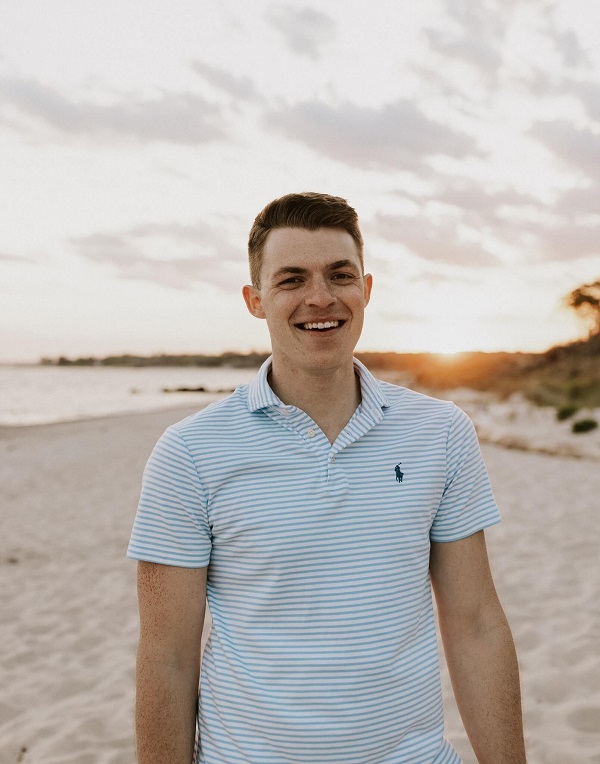 Myself Nathan Griffin a footwear expert who has over 10 years of experience in the industry. I have worked in all facets of the business, from designing and manufacturing shoes to selling them in stores. I am passionate about shoes and believe that they are an essential part of any outfit. I am excited to share my knowledge with others and help them find the perfect pair of shoes for their style.