Did you ever think of wearing Doc Martens to a wedding? If you're not or wondering whether it is possible to wear Doc Martens to a wedding, you must read this article!
You can wear Doc Martens to a wedding. Docs are the most versatile boots you can ever pair with any outfit through the proper confidence and correct styling.
However, In this article, we'll discuss how you can style Doc Martens as a bride or a wedding guest. Also, the different outfit ideas for men and women with Dr. Martens. Let's get started!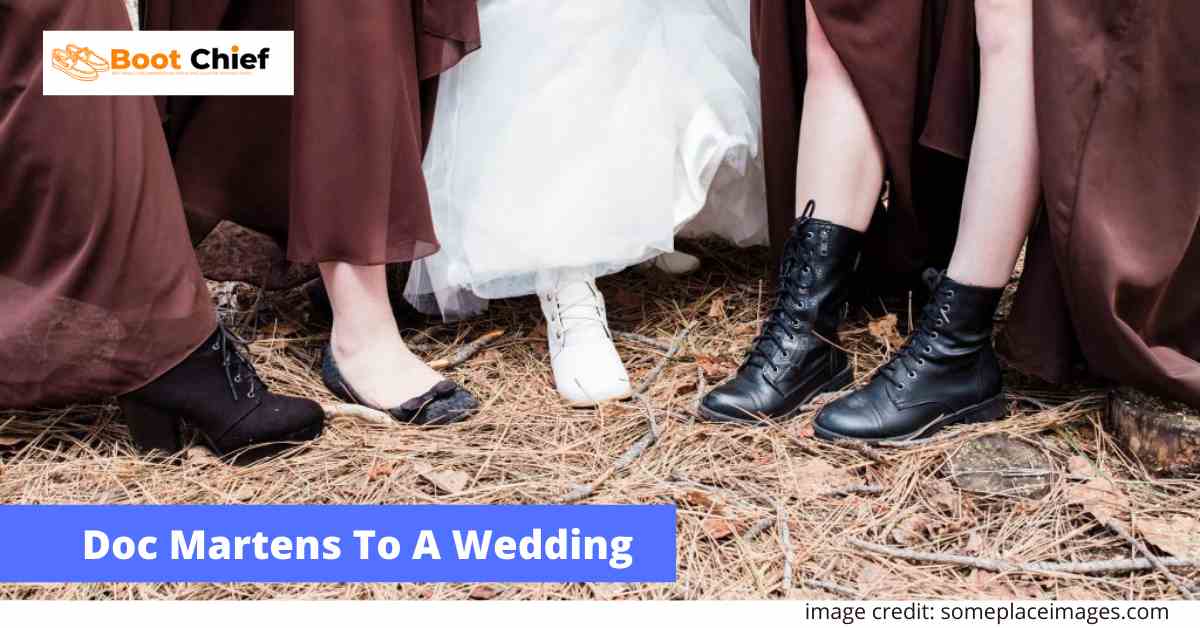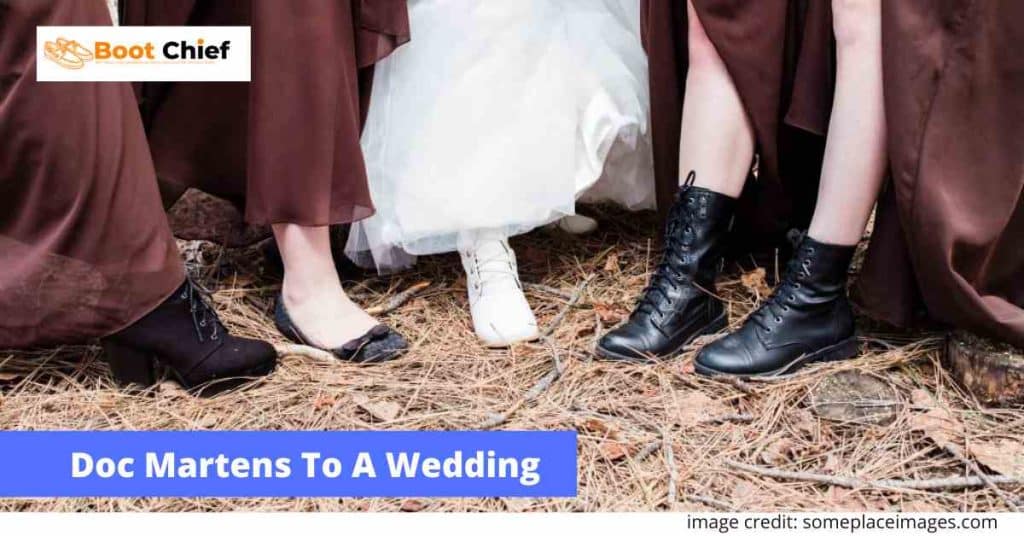 Can You Wear Doc Martens To A Wedding?
You can wear Doc Martens to a wedding. However, it sounds weird, not impossible. Even many people showed the courage to wear Doc Martens as the bride or a wedding guest.
If you're planning on attending an autumn or winter wedding ceremony or throwing the event on a conventional outside, such as a woodland glade, wearing heels will face a lot of struggle. That's where Doc Martens not only comfort your feet for walking on the uneven surface but also gives you a punky vibe.
Who Can Wear Doc Martens?
Everybody can wear Doc Martens irrespective of gender, age, and occasion. Let's see how you can wear Docs as a bribe or wedding guests.
Doc Martens for Bride
At present, brides are also starting to think about wearing Docs at their wedding—especially those who are getting up to the mountain or rocks to click wedding photos with their beloved.
The boots reduce the risk of twisting the ankles on the little hiking through rough terrain. Nevertheless, these flat boots give your feet enormous stability while looking fabulous under the wedding dress. 
Wedding Guest
Docs are also more appropriate than flats/heels for the wedding guests going to any garden wedding ceremony. However, 1460 Dr. Martens 8-eye lace-up boots for wedding guests will be the ideal one.
Because if you get the floral print docs, you can only wear them at weddings. But the classic design will be an all-time favorite choice to wear on a date, job interview, or any other formal occasion.
Which Doc Martens You Can Wear To A Wedding?
You know very well that doc brings a large number of boots as men, women, unisex design, and many occasions. Here are some boots that you can choose for a wedding.
Doc Martens 1460 Boots
Doc Martens 1460 not only adds fun and fabulous attire for a wedding look. The black boots peeking under your elegant wedding gown will add a surprise for the guest while making you feel unique and special. On top, you can even wear them till after many years of marriage. If you don't like black, opt out of blue and white.
Dr. Martens Women's Persephone Fashion Boot
Dr. Martens women's Persephone fashion boot is one of the most popular boots for wedding shoes. Wonderfully, there are many color options, including red, black, and palest grey. You'll surely love these boots for your fancy dreamy wedding.
Custom White Doc Martens Wedding
Currently, numerous online shops sell custom Dr. Martens. It's an ample opportunity for the brides or the wedding guests to personalize their Doc Martens to match the ceremony with a creative spirit. With the printed or embroidery option, you can add letters, dates, motifs, or even song lyrics.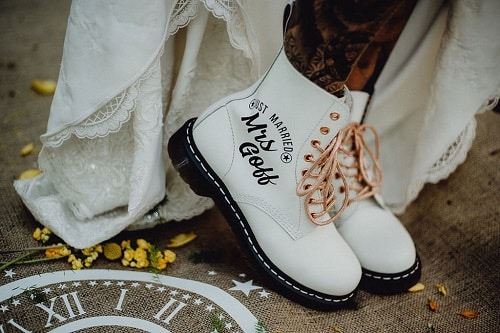 What To Wear With Dr. Martens Mens?
Honestly said, there are endless outfit ideas for Doc Martens. However, the main thing is you don't cover up the boot and show the big chunky shoe. However, I listed a few popular styles that you can roll-up.
Chinos with Dr. Martens Mens
This one is especially a favorite for the A-listers worldwide for their off-duty look. Dr. Martens and Chinos create a classic combo that is going to last long in the fashion trend. Pair up with a red men's Dr. Martens boots with a denim chambray shirt, and wear a fur-trimmed parka over it if you're feeling cold.
What To Wear With Dr. Martens Womens?
Womens enjoy the most versatile outfits with Docs. From comfy leggings to tight mini dresses, Docs everywhere helps to spice your simple look while creating a trendy, cool statement. Let's check out some fantastic ideas here.
Blue Jeans With Dr. Martens
Give your simple blue jeans a modern trendy twist with Dr. Martens. Its chunky and statement-making look will add flair to your whole outfit.
Black Bottoms With Dr. Martens
Try darker colors if you're looking for Docs to pair up with black bottoms. Darker Docs plus black bottoms will be the perfect combination to spice up your clothing. Otherwise, if you like something eye-catching, try a printed, colorful or white pair that will add some contrast to your simple attire.
Want to embrace the 90s grunge look? Try out Leggings and an oversized jacket with your Doc Martens for a comfy and easy style without looking bored or lazy.
Though Summer days demand something light and comfortable, Dr. Martens lovers can pair them with favorite graphic tees and denim shorts. They are the absolute choice on warm days and for every single season.
How To Wear Doc Martens With A Dress?
There are several styles of Dr. Martens to wear with a dress, and I'm pretty sure you'll find the one that matches your personal style. So let's check out some of the popular styles below.
Most girls love to pair Docs with mini dresses. Especially when it's a mini flowy dress that'll be a great mix of feminine details while keeping a chick and edgier feel. Make the look more flattering with a belt that cinches the waist.
Like the mini dresses, a flowy midi dress is another excellent option for any of Dr. Martens's women's heeled boots. A midi dress can shorten your legs, so I prefer heeled boots that add more length. Otherwise, if you're a bit taller, combat boots are also the best to go for such a dress.
Maxi Dress With Dr. Martens
You might not ever think to wear your Docs with a maxi dress. But I will recommend this style because it gives the rugged and bulky Docs a balanced elegance when you wear them with sweet floral patterns.
Conclusion
Hopefully, you get the answer to the question: can you wear doc martens to a wedding. Dr. Martens are the most versatile boots that people love to pair with different outfits in different ways. So once you know the right track of styling, you can wear them whether it's casual, formal, or even at a wedding.
We tried to give the ideas of unique styles. So now it's your time to rock on with your favorite style and confidence to make some bold statements with Dr. Martens.
See Also: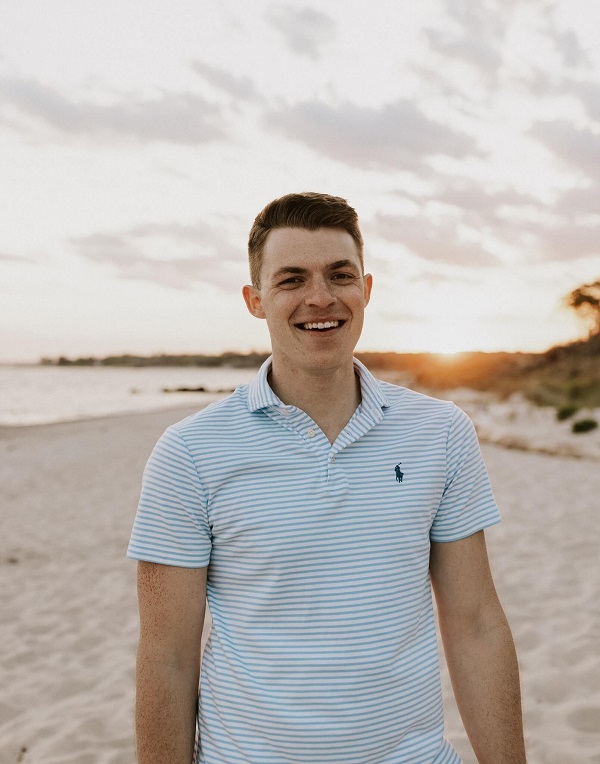 Myself Nathan Griffin a footwear expert who has over 10 years of experience in the industry. I have worked in all facets of the business, from designing and manufacturing shoes to selling them in stores. I am passionate about shoes and believe that they are an essential part of any outfit. I am excited to share my knowledge with others and help them find the perfect pair of shoes for their style.