Plantar fasciitis is a common issue nowadays, and being a Hey Dude lover must bring you here and ask, Are Hey Dude good for plantar fasciitis?
Though Hey Dude itself never claims that they make shoes for Plantar fasciitis. But Hey Dude shoes are breathable, lightweight, and comfortable, which makes them suitable for plantar fasciitis.
In this article, we first discuss the features of good plantar fasciitis shoes. Then, we'll look at the features of Hey Dudes and learn whether they are suitable for plantar fasciitis. Also, you can pick the best Hey Dude shoes for plantar fasciitis from here.
So let's jump to the details.
What Features Should You Look For In Shoes For Plantar Fasciitis?
Plantar fasciitis demands some unique features in the shoes. So when you are searching for a good pair of shoes for plantar fasciitis, check out whether they have the features we mention below.
The first thing the best plantar fasciitis shoes must have is excellent arch support that'll support your feet throughout your active days. Good arch support absorbs the pressure generated while walking and spreads it evenly over your foot. So you feel better with plantar fasciitis.
Deep heel cups help keep your heel padded and provide stability for your movement. Thus you can prevent more damage to plantar fasciitis.
Shoes made with contoured footbeds help to stabilize plantar fasciitis. The footbeds evenly distribute your weight throughout the foot and help to promote alignment.
You should look for shoes that have removable insoles, especially when you suffer from plantar fasciitis. If you want additional arch support or most custom and over-the-counter orthotics, shoes with removable insoles are great things.
Good plantar fasciitis shoes help to minimize or absorb harmful shocks while you hit the ground. Since the better your shoes absorb shocks, the better they will be for your plantar fasciitis. The best shock-absorbing shoes are typically made with thick rubber outsoles that effectively absorb shocks and provide better traction.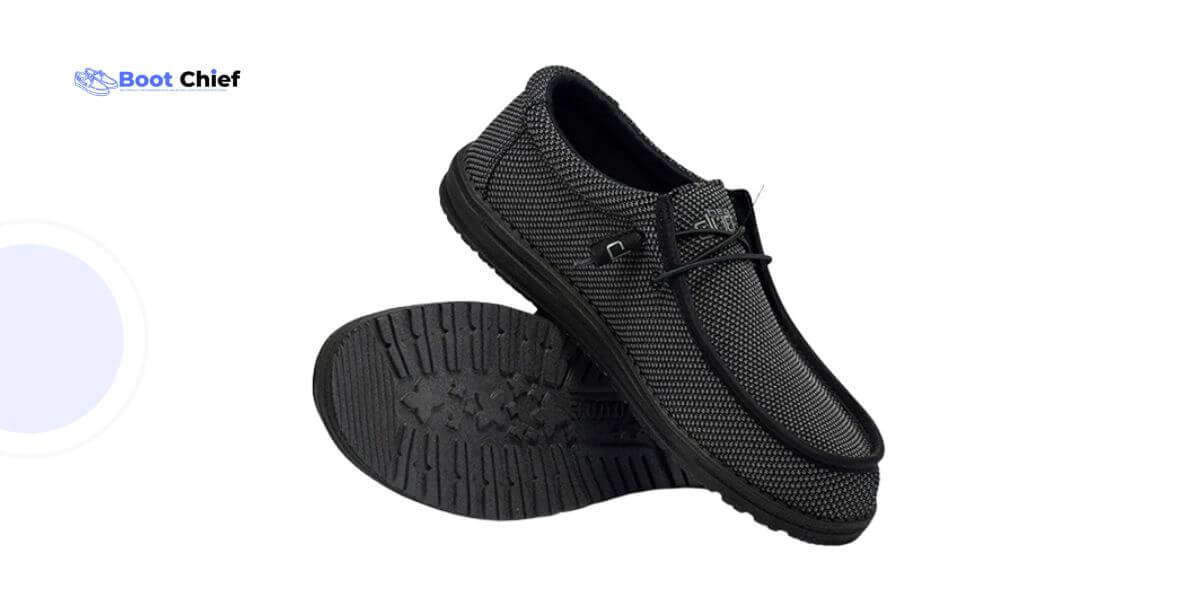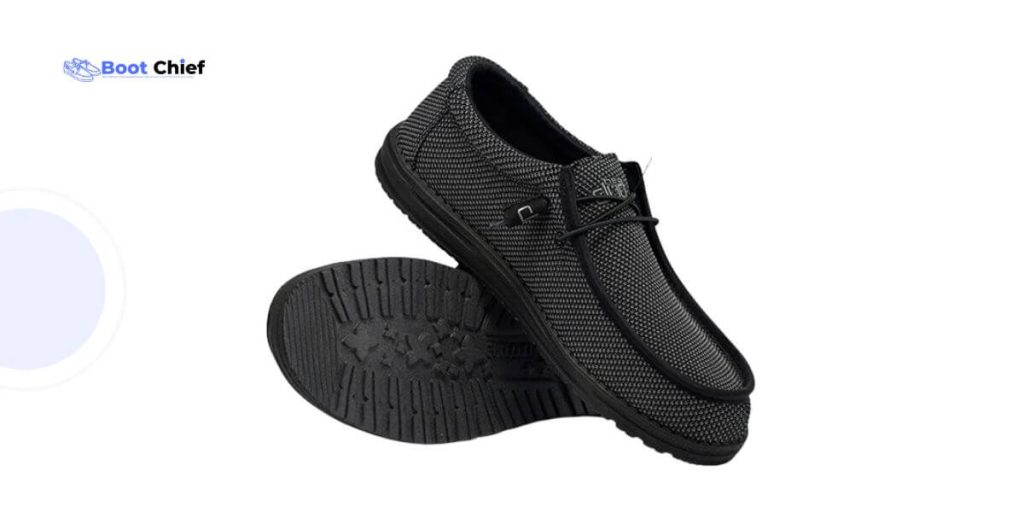 Are Hey Dudes Good For Plantar Fasciitis?
Hey Dude shoes mostly come with super comfortable construction. Plus, their material and advanced soles technology are helpful to keep your foot good and relieve foot pain.
Features Of Hey Dude Shoes That Are Good For Plantar Fasciitis
Now that you know what features you should consider for excellent plantar fasciitis shoes. Let's check out whether Hey Dudes are suitable for plantar fasciitis.
Hey Dude shoes have moderate good arch support. That's why people with very high arches find these shoes very supportive and thus help with Plantar fasciitis.
Moderate Shock Absorption
Mostly, Hey Dude shoes are made with thick EVA soles. That means the shoes can nicely absorb the shocks and impacts. So, say goodbye to your fear of plantar fasciitis and go out anytime to enjoy adventures traveling with Hey Dudes.
Hey Dudes shoes come with cushioned insoles made with EVA foam. The cushioning properties of the insoles provide padded heels to your heel. Thus you feel less pain in the heel and bottom of the foot.
Flexible & Supportive Soles
Hey Dude shoes have flexible soles, which minimize the stress on your foot rather than non-flexible soles. Plus, the PU foam insoles support your foot and reduce pain in your foot.
So if you're suffering from plantar fasciitis, flexible and supportive soles will help prevent more stress or injury to other joints.
In addition, Hey Dude shoes allow you to remove the insoles and add any custom insoles required for your plantar fasciitis. If you need costumed insoles for Hey Dudes, you can check this article. Here, we have listed and explained the best insoles that can pair with Hey Dude shoes. 
Roomy toe boxes are indeed a good feature for plantar fasciitis. Hey Dude offers a roomy toe box that helps to reduce pressure on your toes. So you can comfortably stand and move to wear the shoes. Your plantar fasciitis won't be harmful anyhow.
Comfortable & Breathable Upper
The memory foam insoles of Hey dude shoes are very comfy. The foam insoles take off the stress from your feet, making you feel good even with plantar fasciitis.
Moreover, Hey Dude shoes' breathable upper material helps keep your feet cool and dry. Also, the upper is lined with a soft fabric. So if you have plantar fasciitis, your feet won't bear any irritation but make sure you can forget about your problem.
The lightweight design is one of the best features of Hey Dude shoes. A pair of lightweight shoes will be much good for your plantar fasciitis. The shoes have lightweight EVA outsoles that won't add extra weight to your foot. Instead, you'll feel just like wearing a pair of socks.
Top 3 Best Hey Dude Shoes For Plantar Fasciitis
All Hey Dudes are not suitable for plantar fasciitis. So you should know which Hey Dude shoes provide the best support for plantar fasciitis. So here are some most suitable Hey Dudes shoes for plantar fasciitis.
1. Hey Dude Wally Stretch Shoes
Check More images and Price On Amazon
Hey Dude men's wally stretch shoes are one of the best for plantar fasciitis. It would bring enormous comfort with plantar fasciitis that you might never have dreamed of.
This pair is very lightweight, only 6 ounces or less than that. That means your foot will feel light too, making your plantar fasciitis in good condition. You can even wear them while working out.
The comfortable cushioned insoles provide comfort to your feet and heels so you can walk easily on your busy day.
The rounded toe provides a wide toe box to move your toes comfortably. So that you won't feel any stress on your toes and have complete freedom to roam around all day wearing them.
Finding good plantar fasciitis shoes while simultaneously having stylish designs is hard. In that case, you'll love this Hey dude pair because of its modern, stylish design that you can match with your outfit in any season, summer or fall.
Pros
Super comfortable for plantar fasciitis
Lightweight design reduces stress on the foot
The breathable cotton fabric reduces irritation
Slip-resistant outsoles prevent injury
Cons
2. Hey Dude's Wally Sox Onyx
Check more images and Price On Amazon
Are you suffering from flat feet and plantar fasciitis too? Then Hey Dude's Wally Sox can help you to get rid of your foot problems.
Like most Hey Dude shoes, this one is also highly lightweight, just like a pillow under your foot, making it best for your plantar fasciitis. They will help you walk better as you won't feel any pain in your toe, heel, or Plantar fasciitis.
It has anti-slip features, so you might not worry about slipping on an oily, wet, or slippery surface. Thus it will protect your Plantar fasciitis from getting worse in advance.
The shoes are so versatile that you can match them with many outfits, including shorts, jeans, or a dress. You can also match a sock with this pair of Hey Dudes.
The Dudes Wally Sox are absolutely the perfect choice if you want to wear shoes around your house or town and run errands.
Pros
Easy to slip-on and stylish for every occasion
The lightweight design allows your foot to move freely
Easy to wash helps to keep your shoes always clean
True to size up or down and accommodate wider feet
Cons
Not suitable for heavy activity or exercise
3. Hey Dude Women's Wendy's Shoes
Check More images and Price On Amazon
Hey Dude women's wendy shoes are one of the comfiest styles for Plantar fasciitis and foot problems. Even without an orthotic, these shoes are beyond comfortable for Plantar fasciitis.
Wendy's shoes are available in wide widths. Many users with plantar fasciitis issues find these shoes very helpful for pain relief and very comfortable for their feet.
The wendy shoes are incredibly lightweight, and you feel like you're walking almost barefoot. With memory foam insoles, the shoes are super breathable and comfortable. Plus, they protect your feet from shocks and impacts which are mostly responsible for plantar fasciitis.
Their roomy toe box is lined with soft fabric, which helps you to prevent irritation. The shoes will prevent rolling your feet inside the shoes and thus protect you from pain.
These shoes offer enough support for wearing them all day. Especially when you're in a profession where you've to walk or stand all day long, such as a teacher, nurse, lawyer, etc. On top you can not beat them for the price.
Pros
The color blends well with everything
Easily slip on/off, lightweight,and comfortable
Available in various sizes to ensure a great fit
Looks cute with jeans, skirts, formal or informal dresses
Cons
May not be ideal for narrow feet
What Do Users Say About Hey Dude Shoes?
Most Hey Dudes users who have been suffering from Plantar fasciitis for a long time, happily said that wearing Hey Dude helps them relieve the pain of Plantar fasciitis.
One user said, " Dudes are the most comfortable footwear I have ever bought. I get plantar fasciitis, which is very painful. Dude shoes help out so much with this problem. My partner suffers from it too. Now my partners wear them. She loves them. Well done Dude shoes. I've told so many people about them. They have been buying them too. I have four pairs at the moment, and will be buying more soon."
Another user said, " Comfort, fun, coolness and plantar fasciitis relief."
There are also so many reviews about Hey Dudes where people share how the Dudes help them out overcome Plantar fasciitis. According to the users, Hey Dudes are comfortable for wearing on a long day or for informal occasions such as traveling and adventurous journeys.
Here is another thing. Some users mention that Hey Dudes do not have much arch support like a pair of dedicated plantar fasciitis shoes.
FAQs
What causes plantar fasciitis?
Plantar fasciitis can be caused due to repetitive motion from running or step aerobics. There are also many factors, such as foot structure, type of shoes, overuse, and types of surfaces you walk. Otherwise, gaining weight puts extra pressure on your plantar fasciitis and causes tears or damage to the plantar fascia. 
Can I do something about my plantar fasciitis other than changing my shoes?
Other than changing the shoes, there are also some ways to treat your Plantar fasciitis. The treatment includes resting, strengthening, stretching, night splints, orthotics, anti-inflammatory agents, and surgery. 
But, whatever you do, that should be according to the podiatrist's suggestions. As he/she can help you based on your Plantar fasciitis condition. Otherwise, it may worsen. 
Does plantar fasciitis ever go away?
Yes. Plantar fasciitis goes away with some conservative treatment. For instance, stretching, icing on the affected area, and modifying or avoiding activities that cause inflammation. Also, some medication and therapy can help you to overcome plantar fasciitis. 
Conclusion
As you already know, the Hey Dude brand makes their shoes lightweight and comfortable in mind, with some plantar fasciitis-friendly features. Thus, they're suitable for mild plantar fasciitis. But if you have a severe issue like chronic plantar fasciitis, we recommend you pick out any dedicated plantar fasciitis shoe brand with dedicated arch and heel support.
That's all for today. Hopefully, this article will be helpful for you. Share your experience with us and comment if you have any queries.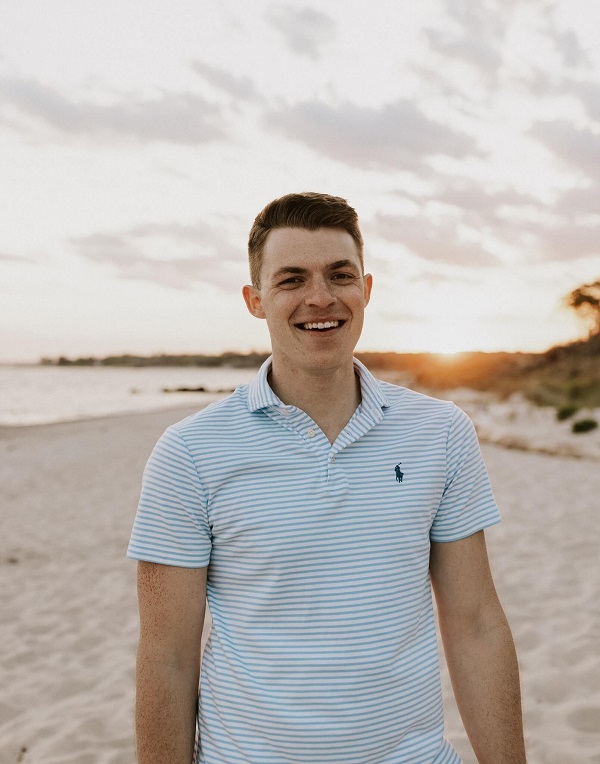 Myself Nathan Griffin a footwear expert who has over 10 years of experience in the industry. I have worked in all facets of the business, from designing and manufacturing shoes to selling them in stores. I am passionate about shoes and believe that they are an essential part of any outfit. I am excited to share my knowledge with others and help them find the perfect pair of shoes for their style.