Dr. Martens is one of the most popular brands in the footwear industry, and day by day, its demand is increasing. So there is a hype to wear Dr. Martens boots among the young generation to adults.
But, when you first choose the doc boots, you have to pick the best size to ensure comfort, fitting, and breathing. That time, you have a question, are Doc Martens true to size?
We have researched different models of doc martens boots and found that almost 68% of users said that Dr. Martens boots are absolutely true to size. That's why we recommend choosing the exact size that you like to wear regularly. But, in this case, you have to ensure that you order the correct size. However, as Dr. Martens produced different styles and models of boots, the size chart may vary from model to model or style to style. Here, you must check the boots' sizing chart carefully.
Picking the right size boots is really confusing and overwhelming if you don't know how to choose the right size shoes. Here, in this guide, we have arranged the Doc Martens sizing guide that you should know to select the correct size doc martens boots. Let's dive into the main discussion.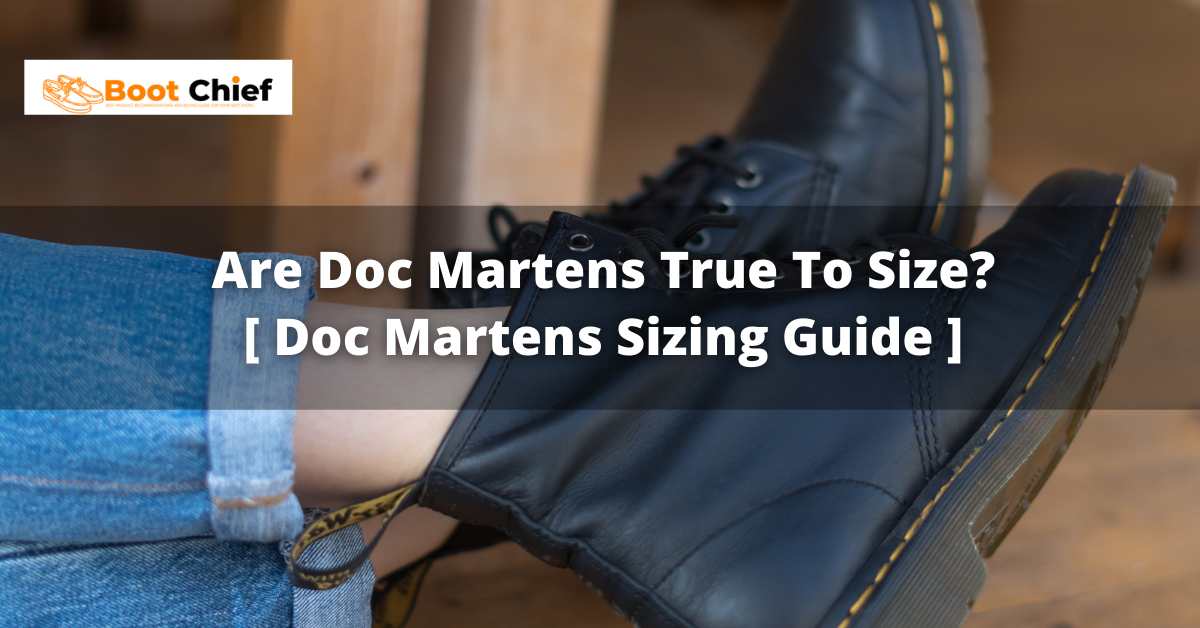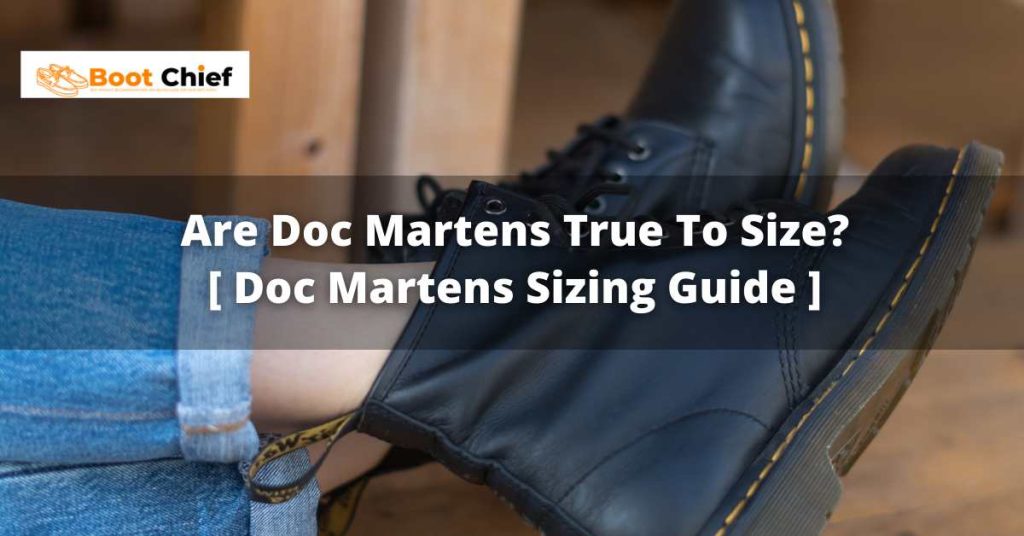 Do Doc Martens Run Big or Small or True To Size?
In the introductory part, we have said that doc martens boots are true to size. Now it is the time to justify our answer. Basically, we take help from Amazon reviews and other sources to know the doc Martens size. We use Dr. Martens, Women's 1460 Original 8-Eye Leather Boot to describe the whole process.
First, we went to the Amazon link of these boots, and there we found a searching (question and answer) box to search our query to know doc boots sizing information. There, we had written "true to size," and when we pressed the enter button, they showed us 20 specific results on the questions and answers section and review section.
Out of these 20 results, we found 9 reviewers said the doc martens are true to size. That means the answer is almost 50/50 as to whether the boots are true to size or not.
And when we read the other reviews, we found that other reviewers complained the size is either big or small. That means the boots were tight or loose. This happens because doc martens don't have any half-size shoes.
Here, you have to choose one size bigger or one size smaller than your exact feet size. Let's see an example to clear the concept.
Suppose you wear 6.5 size shoes normally, then you have to order number 6 size boots as they will be an excellent fit for you. Or you can order 7 size boots if you have wide feet. After receiving the shoes, if you find them slightly oversized, you can wear a comfortable but thick pair of socks to adjust the fittings.
Or, if your regular boots size is 7, you can choose the exact size. In this case, you don't have to consider one size bigger or smaller.
That's simple.
Doc Martens Sizing Chart
Feeling comfortable with your boots is an ultimate priority, isn't it? Otherwise, it doesn't make any sense how durable, stylish or pricy your footwear is.
So, you have to check the size chart to choose the right size shoes for you. If the boots are doc martens and you have to invest a lot of bucks to get a pair of boots, then it is more important.
By considering your needs, in this part of our article, we like to share the doc martens sizing chart and advice to make your investment worthwhile.
| | | | |
| --- | --- | --- | --- |
| Brand size | Uk | Europe | Japan |
| 7 | 6 | 39 | 24.5 |
| 7.5 | 6.5 | 40 | 25 |
| 8 | 7 | 41 | 25.5 |
| 9 | 8 | 42 | 26 |
| 10 | 9 | 43 | 27 |
| 10.5 | 10 | 44 | 27.5 |
| 11 | 10.5 | 45 | 28 |
| 12 | 11 | 46 | 29 |
| 13 | 12 | 47 | 29.5 |
| 14 | 13 | 48 | – |
| 15 | 14 | 49.5 | – |
| 16 | 15 | 51 | – |
doc martens sizing chart
Doc martens sizing advice
From the sizing chart, you have a clear idea about doc martens boots' size. And you notice that doc martens produce US boots in four size charts depending on the brand, UK, Europe, and Japan.
As we previously said that if your standard feet size is an exact number, then without any confusion, you can choose the boots which are actually your feet size. But, if your feet are half in size, you should go with one size smaller or one size bigger. You can check the reviews to know what the other users said about the size chart or what size they advise to pick.
See Also: Are doc martens worth it
Are Doc Martens Good For Your Feet?
Undoubtedly the doc martens boots are suitable for all sizes and shapes (especially wider) of feet as they are built with high-quality materials and fabrics. The boots' soles are durable, fabrics are comfortable and soft, the boots well fit your feet, and superior breathing keeps your feet dry and moisture-free. That means from all the angles; the Martens boots are suitable for your feet.
Let's see what the podiatrists say about the boots
Podiatrists research a lot about what footwear is suitable for people to protect their feet from injury or avoid any foot pain. Even they studied these things in their academic life. After that, they provide professional service for foot-related diseases.
They suggest wearing doc martens boots if anyone suffers from foot pain. Because the boots are made with a non-flexible, rigid, and thick sole that prevents foot joints from excessive movement. As a result, you feel less stress and strain on your painful joints.
And less movement means less inflammation, less swelling, less damage, and consequently less foot pain. Moreover if you have any foot pain, it helps to cure the pain gradually. However, podiatrists recommend doc martens boots for some people who have some specific foot pain.
Here is a shortlist of patients
Posterior Tibial Tendonitis
Hallux Rigidus
Plantar Fasciitis (suffer from heel pain) 
Mild or possibly Moderate pain to the Achilles Tendonitis
Osteoarthritis
Posterior Tibial Tendonitis
Morton's Neuroma
Ligament Laxity
Plantar Plate Injuries
How should Dr. Martens fit
Doc Martens boots are snugly fit, as well as comfortable. But, you should consciously check the toe zone of the shoes to get better flexibility. Sometimes, you may feel slightly tighter to the toes area unless you pick at least 6 mm longer than your toes.
Should You Size Up or Down in Dr. Martens?
No, there is no need to size up or down on your doc martens boots as they are true to size. So, you can choose your regular foot-size boots. But, if your foot size is in-between two sizes, then you can go with one size down to pick the great fitted boots.
How Do You Know What Size Dr. Martens Get?
As the martens' boots are true to size, you can choose the right size boots for yourself that you usually wear. You can measure the boots' sole from heel to toe and toe zone with flexible tape to know the size of the boots. This is the simple process by which you can know what size of doc martens boots you get.
Are Doc Martens Supposed To Be Tight?
Yes, when you first wear the doc martens boots, it seems a little tight at the width of your feet because there is an inner liner inside the boots. But for sure that is not uncomfortable. If you remove the liners from the boots, then they may be a great fit. Or when you break in the stiffness of the shoes and make them soft, you don't feel any tighter.
Do Doc Martens Feel Big at First?
Basically, the answer is it depends. If your feet are between two sizes and you pick the next size, you feel the boots are big. Here, we suggest you choose the downsize to fit the shoes to your feet snugly.
Final words!
Hopefully, we can cover all the essential information and answer your required question, "are Doc Martens true to size"?
No matter how accurate the company size is, you should know your actual feet length to avoid confusion about your fitting boot. As a pair of footwear directly affects your foot protection, comfort or walking, and foot pain, you should not keep any gap to pick a perfect fitting boot.
Good luck!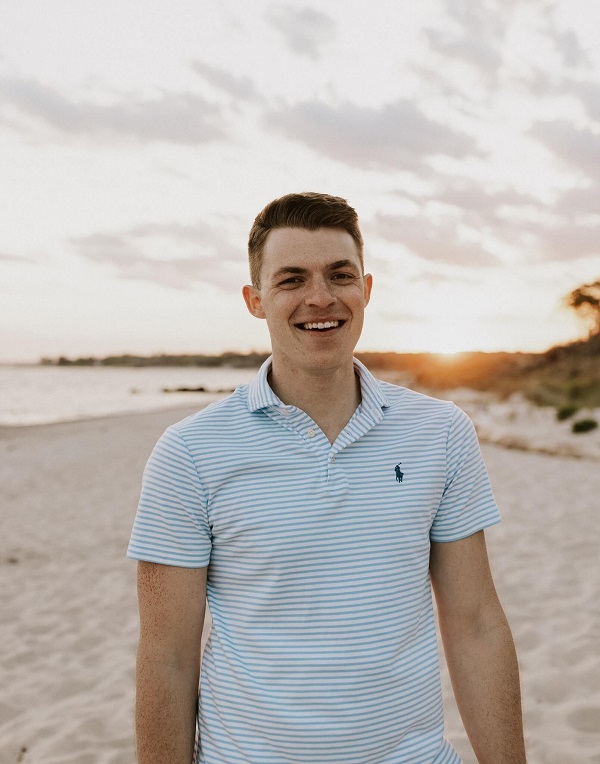 Myself Nathan Griffin a footwear expert who has over 10 years of experience in the industry. I have worked in all facets of the business, from designing and manufacturing shoes to selling them in stores. I am passionate about shoes and believe that they are an essential part of any outfit. I am excited to share my knowledge with others and help them find the perfect pair of shoes for their style.