Hey Dude is trending now for its lightweight, comfortable and stylish design. Thus you may wonder, are they comfortable for wide feet too? If yes, Which Hey Dudes are good for wide feet?
There are a few styles of Hey Dude shoes that offer a broad toe box and stretchable fabric to fit comfortably in wide feet. But it's hard to find the right one from their varieties of collections.
So, in the order you pick the wrong style, we make the task easier for you. Here we listed the 5 best Hey Dude shoes for wide feet for both men and women. That's a complete guide if you want to know whether Hey Dude is the right fit for your wide size.
Let's get started!
Can People With Wide Feet Wear Hey Dudes?
Some certain Hey Dude shoes come with wide widths and standard wide options that are very convenient to wear. Dude's wide-fitting style makes a dream come true for people with wide feet. Your feet will get enough ultra-wide room fitting, and you can comfortably wear them all day without feeling boxed.
So if you have an issue with sizing due to the wide feet, you can go for Hey Dude wide fit instead of sizing up. And this opportunity is a super advantage for the wide feet customers.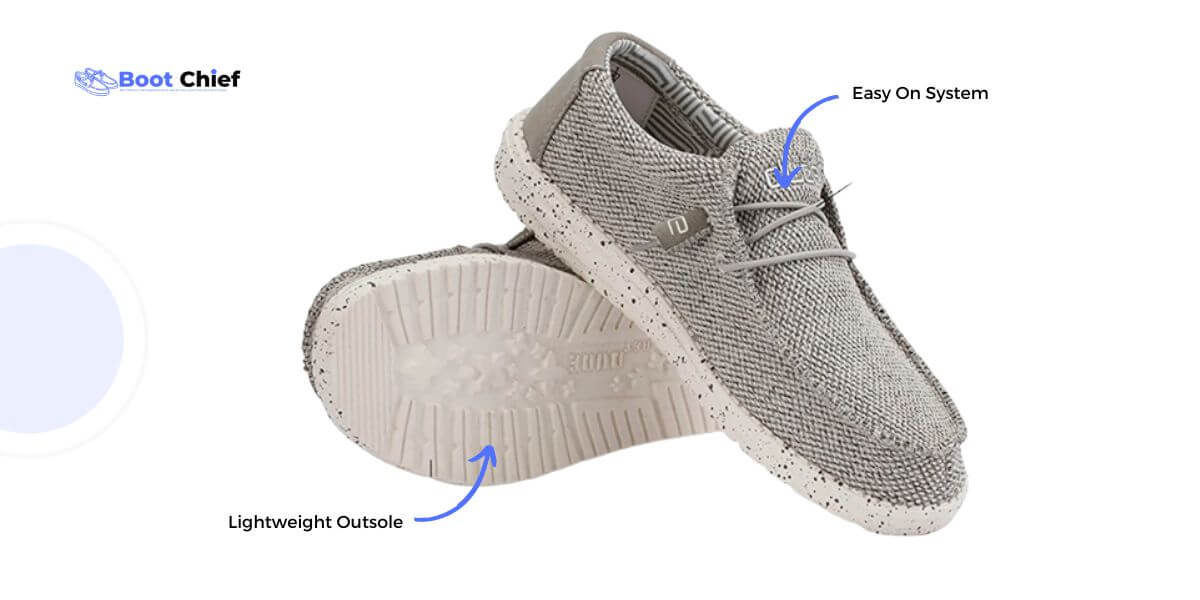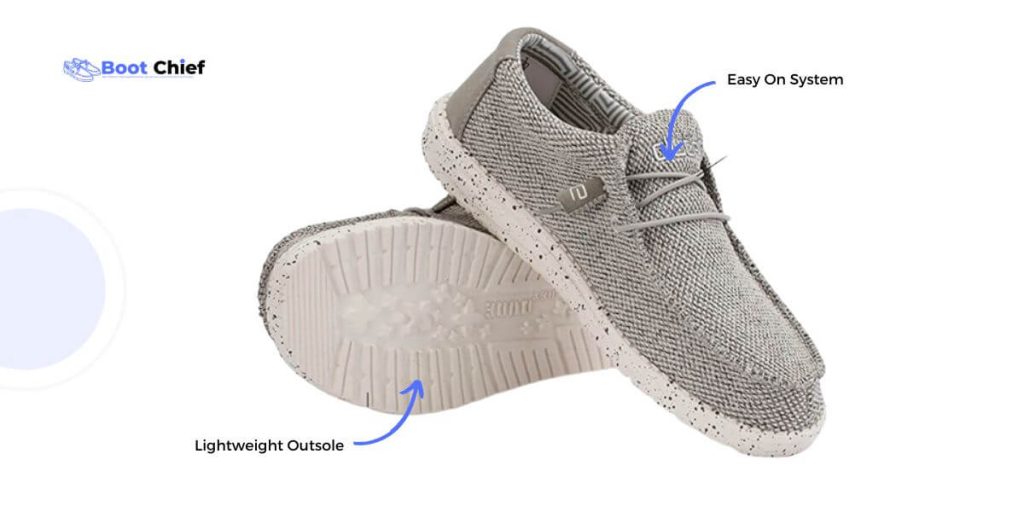 How Do You Know If You Have Wide Feet?
Width is the distance between the two width points of feet. It's not hard to know if you have wide feet. If you always find yourself feeling boxed in every piece of footwear, it seems you have a relatively wider toe box.
However, with a simple test, you can find out whether you've wider feet or not. For the test, you'll require-
A pen/pencil
A piece of paper
Tape measurer
Large ruler
Here are the three simple steps to know if you have wide feet.
Put the paper on an even, flat surface and step on it.
Outline your foot with the pen or pencil
Record your measurement and compare it with the shoe size chart of the brand from where you want to buy the footwear.
You have wider feet if your feet measure more width than regular/medium wide size. Such as the above 4 widths for size 9 or 10.
Note: Remember that your feet expand during the day. Thus, the measurement test should be taken at night. Plus, if you wear socks with shoes, it's best to put them on while measuring to get the perfect size shoe. 
What Features Make Hey Dudes Good For Wide Feet?
Hey Dude shoes don't dedicatedly manufacture wide-fit shoes. It only produces regular-width shoes. That's why they're not labeled as wide or narrow. However, some features make Hey Dude shoes suitable for wide feet.
Hey Dude's wide-fitting shoes come with a roomy toe box area providing enough room for toe movement and a non-binding comfortable fit. So while you're looking for a wide fit Hey Dude, find the one with a roomy toe box.
Most classic Hey Dude shoes are made with stretchy and lightweight fabric that easily molds in your wide feet shape.
If you're searching for a proper fitting and comfort for your wide feet, you can choose Hey Dudes, made with textile materials. Textile is a stretchable material that allows the shoe's upper perfectly form to the counter of the foot, offering a customized fit and easing pressure on bunions and hammertoes. However you can also try leather or suede, but they are not as stretchable as textiles.
That Hey Dudes style comes with thick memory foam insoles are great for wide feet and ensure a cozy and cushiony feeling while protecting the feet from sudden impact.
Stylish As Well As Comfortable
It's quite challenging to find a good pair of wide-width shoes that is stylish as well as comfortable. Hey Dude shoes solve this problem, indeed. They have a wide range of collections in various styles and colors.
Hey Dude shoes are lightweight, ergonomic, leather-lined, and flexible to relax your feet. Also, Their removable memory foam insoles make them suitable for wide feet.
Which Hey Dudes Are Best For Wide Feet? (Top 5 Selected)
Here are some styles to consider if you want to try on the best Hey Dudes for wide feet.
Best Men's Wide feet Hey Dude Shoes
Here are three best men's Hey Dude styles for wide feet.
1. Hey Dude Men's Wally Sox
Check More Images and Price On Amazon
Wally Sox Onyx is the best casual slip-on shoe made with breathable stretch fabric. No wonder the stretchable fabric makes the shoes ideal for wide feet.
They are airy and extremely lightweight. So you're feeling like walking almost barefoot. There is plenty of room enabling free movement inside the shoe, so they appropriately fit people with wide feet.
These shoes are built in no-tie elastic laces with little cone shape adjustable stops. You can use them to adjust your required fit because of their openly adjusted feature. So your wide feet will remain comfortable in the shoes.
On top-notch, the shoes are built on slip-resistant and ultralight EVA outsoles. That means you will get better grip on slippery surfaces, especially when working in a kitchen or restaurant.
Thankfully, with Wally Sox, you don't need to compromise style for your wide feet. They're Stylish enough to wear out almost everywhere including friends' houses, formal occasions, or anywhere else.
Pros
Stretchy material is best for comfort
Great fit for EE wide-width feet
Great arch support offers a better feeling while walking
Super breathable for summer days
Stylish and works well with casual outfits
Cons
It may not be suitable for small feet.
2. Hey Dudes Wally Loafers
Check More Images and Price On Amazon
Even though Hey Dude doesn't advertise wide-width shoes, another popular Hey Dudes For wide feet is Wally loafers. Most Amazon reviewers find it a great fit and helpful for their wide feet.
The shoes feature a slip-on design that allows your wide feet to easily slide in and out of the shoes. No effort or straining is required to insert the foot into the shoes.
The removable memory foam insoles allow you to customize your insoles as you desire. The EVA midsoles efficiently absorb shocks while walking and keep your feet stable and comfortable on every step. Thus you won't get hurt while walking on an uneven surface.
Since the shoes stretch, they mold to your feet perfectly. Even they fit your EEEE (extra-wide width) wide feet as well, providing extreme comfort. Their great fit will make you super happy. Plus, these shoes are also comfortable and wide enough to get your swollen foot in them.
Therefore, people with wide feet struggle to wear shoes all day due to the tight fit. But these Wally Loafers are great shoes if you're on your feet all day long.
Pros
Great fit for deep and wide big feet
Offer superior support for high arch feet
Enough room to stay feet without any rubbing or pinching
Adjustable string to adjust the shoes
Cons
It may feel loose for small feet.
3. Hey Dude Men's Wally Funk
Check More Images and Price On Amazon
Hey Dude Men's Wally Funk is the other shoe from Hey Dudes that is best for wide feet. They come with a rounded toe design that enables easy movement of your toes inside the shoes.
Their durable organic cotton canvas material is so stretchy that it perfectly forms your wide fit. So you can say goodbye to the boxed-fit feeling.
Also, the flex and fold technology allows your foot to move easily and improve your foot health. Importantly, they are designed with an easy-on system with elastic no-tie laces to get an adjusted fitting and are simple to wear anytime. The Soft oxford cloth lining ensures comfort for your feet.
Thanks to their patented ultralight EVA outsoles, they give you a very lightweight feel, making the shoes easy to walk and stand with all day long. You can replace their replaceable memory insoles with custom insoles that are good for your feet.
Pros
Lightweight, soft sole, and comfortable for everyday wear
Stretchy fabric makes the shoes suitable for wide feet
Bungee shoe strings offer to adjust the shoes as you need
Great construction makes the shoes sturdy
Cons
They may not have good arch support.
Best Women Hey Dude Shoes For Wide Feet
Are you a lady with wide feet? Feeling upset, we just talk about men and forget you.
Nope! We also bring 2 best Hey dude wide-feet shoes for women. Check out
1. Hey Dudes Wendy Sparkling Shoes
Check More Images and Price On Amazon
Women with fat and wide feet often worry about finding good-looking and comfortable shoes for their feet. Fortunately, Hey Dude Women Wendy's shoes have a great fashion design and are perfect for wide feet.
The upper of the shoes are made with a breathable, stretchable fabric that gives you a sock-like feeling and hugs your wide feet snuggly.
With zero discomforts, you'll love to wear these shoes every day. They're so nice to walk in, and you don't feel sweaty in them in hot summer weather.
Their insoles are ergonomic memory foam that is comfortably lined with leather. Besides, the shoes are lined with soft stretch cotton. The entire upper stretches to fit even for swelling feet. Your feet won't feel cramped with these cushiony, flexible shoes.
However, the shoes are wonderful for people with thick wide feet because the stretchy fabric fits them perfectly. You'll love it once you start receiving compliments for these shoes. They're so lightweight that you can't feel like wearing socks.
Pros
Easy slip-on and slip-off shoes with additional arch supports,
Factory removable in-soles offer plenty of room
Lightweight, comfortable, machine washable
Lots of styles and color choices for the perfect dressing
Cons
Loose fitting for normal feet
2. Women Wendy Loafer Shoes
Check More Images and Price On Amazon
The Wendy loafer shoes from hey dude are so soft and airy that you feel super comfortable with your wide feet. The professional-casual look of the shoes is perfect to wear to work comfortably from morning to night.
Wendy's loafers feature a rounded toe and slip-on design. So your toe gets enough room to wiggle and be ready to wear when you're in a hurry for your work. Just slip on and go. In addition, the fast and adjustable elastic laces help you to adjust your required fit within seconds.
Their wide range of colors makes them super fun to create your shoe wardrobe collection matching every outfit. Otherwise, if you have other foot issues like plantar fasciitis, these shoes will help you reduce pain even if you walk a decent amount.
We have a separate article on are hey dudes good for Plantar Fasciitis or not. If yes, why, and if not, why with some best recommendations. You can check it out here.
The outside of the shoes is super soft fabric stretchy, making them flexible to move your feet freely and comfortably. overall this pair of shoes is a complete pleasure for your wide feet.
Pros
A super wide comfortable fit, perfect for long-period wear
Lightweight design offers to step without stress
Breathable textile uppers keep your feet cool on summer days
Pretty design makes your outfit more attractive
Cons
No ½ size available. Wish they bring ½ sizes
FAQs about wide feet hey dude shoes
Do all Hey dudes fit the same?
All Hey Dudes do not fit the same. Some of their styles may be smaller or larger than others. In that case, you should read the sizing tips on the product page. You can find the best-fit shoes for your wide feet from the Hey Dudes brand size chart and sizing guide.
Do you size up or down for Hey dudes?
Hey Dudes don't come with half-size. Currently, they offer only full size. So to get a better fit, you can purchase the one-half size down if they have stretchable material. Suppose you typically wear 9.5. Then you should try 9 sizes to get the best fit.
Do dudes come in wide widths?
Hey Dudes do not officially come wide. But there are some styles indeed available for wide fit. So if you have wide feet, don't look for the next larger size. Instead, choose the proper size that you typically wear. Just confirm the style is good for wide fit. 
Conclusion
So that's all about the best Hey Dudes for wide feet. Our recommended Hey Dudes styles are most favorite to the wide feet users. Thus you can give them a try.
Combining comfortable and stylish shoes is a great challenging task for wide feet people, and Hey Dude offers both qualities. So why late? Grab your favorite Hey Dude soon and share your experience with us!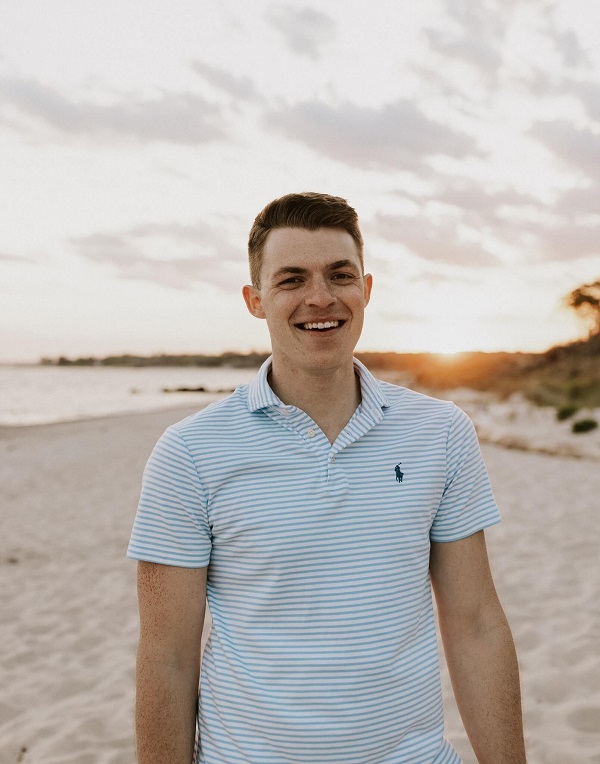 Myself Nathan Griffin a footwear expert who has over 10 years of experience in the industry. I have worked in all facets of the business, from designing and manufacturing shoes to selling them in stores. I am passionate about shoes and believe that they are an essential part of any outfit. I am excited to share my knowledge with others and help them find the perfect pair of shoes for their style.