Looks like summer is knocking on your door. Clearly, it's time to take off those heavy boots and put on something lighter. But which one would you slip your feet in? After all, it's Birkenstocks vs Chacos, and both are the best. But you can't use both pairs at once, can you?
Well, the differences between these two brands are that the Birkenstocks is the best one to pick if you're asking for durability, elegance, and comfort at the same time in a pair of footwear. But Chacos is better when you're into rugged usage, waterproofness, and high arch support.
Now the question is, which one to go with. To be honest, it's better to dig a bit deeper if you want to reach the right conclusion. So, let's start with that first?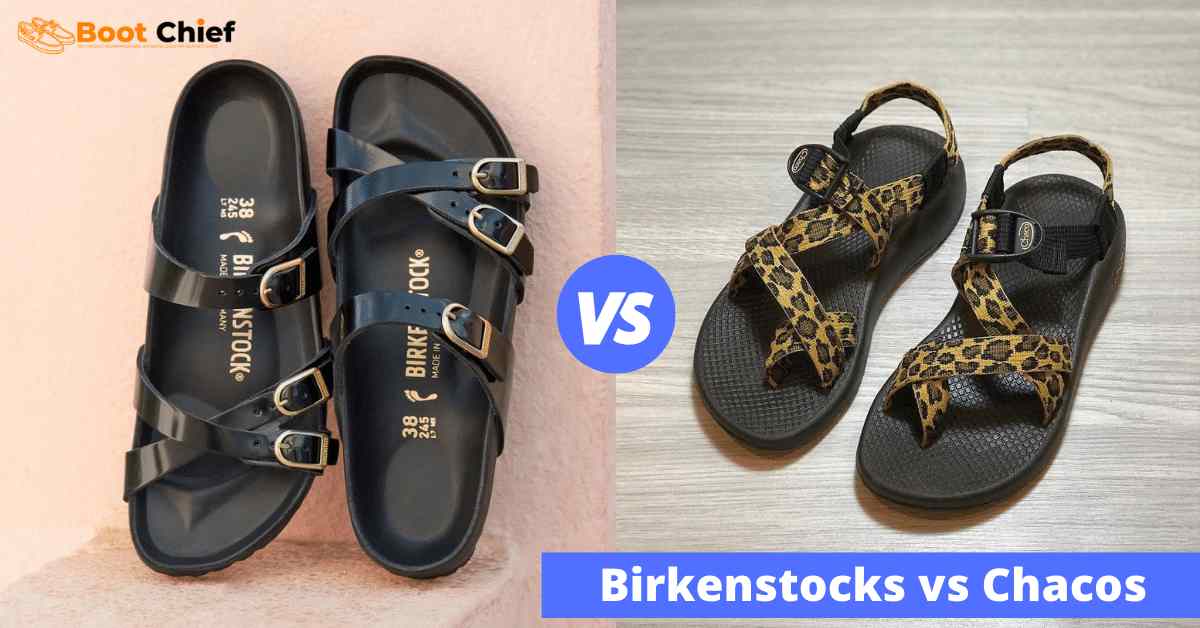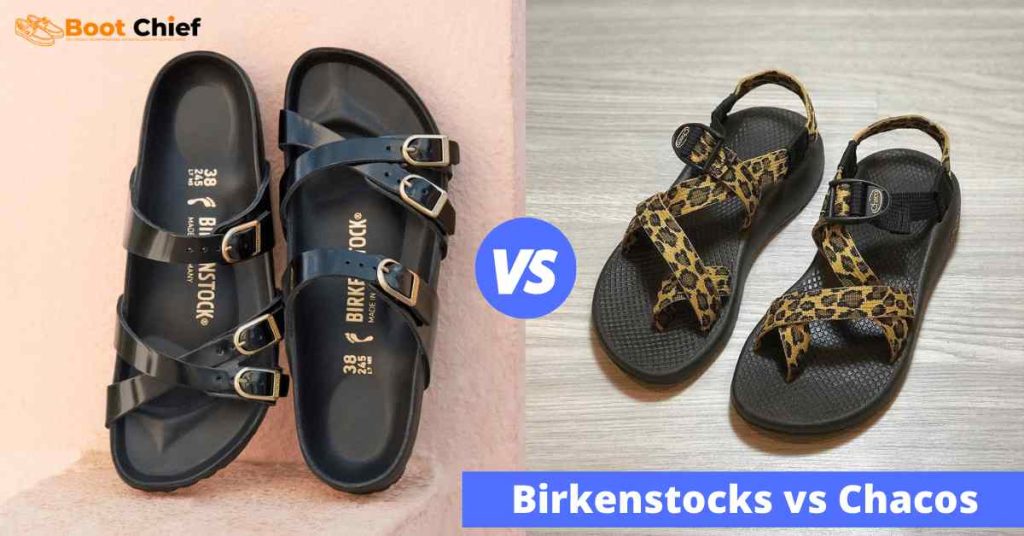 Overview of Birkenstock Sandals
Since the day the German brand Birkenstock was born in 1774, it's been on the growth. Clearly, they've been ruling the market for more than two hundred years.
Along with natural and lucrative designs, they've become the preferred footwear by orthopedics. After all, their comfortable footwear is proven to provide great support to the feet.
But that's not the only reason why these shoes are so popular with orthopedics. In the First World War, the company delivered orthopedic footwear for wounded soldiers.
One of the best things about Birks footwear is they're usually made of latex and cork. If you're asking for shoe material that can support different foot sizes, these materials surely are the perfectly fine ones.
On top of that, backed by the deep heel cup, the original Birkenstock footbed is good at delivering the right arch support. And yes, the cork footbed got enough room to take in the toes as well. The good side of having this kind of structure is the user doesn't need to worry about the even distribution.
FYI, the makers usually go for two different types of footbed for making Birkenstock sandals – the firm one and the softer one.
When it comes to leather, Birkenstock footwear is made from the ones that are tanned with vegetable dyes. We call it a good move from Birkenstock as, unlike the other brands, they've avoided using irritable synthetics here.
And yes, like a good, versatile shoe, you can put them on as casual wear too, like ripped jeans. Though Birks are not made for hiking, some of the models with a back strap can come in a little handy when you're up for some light hiking.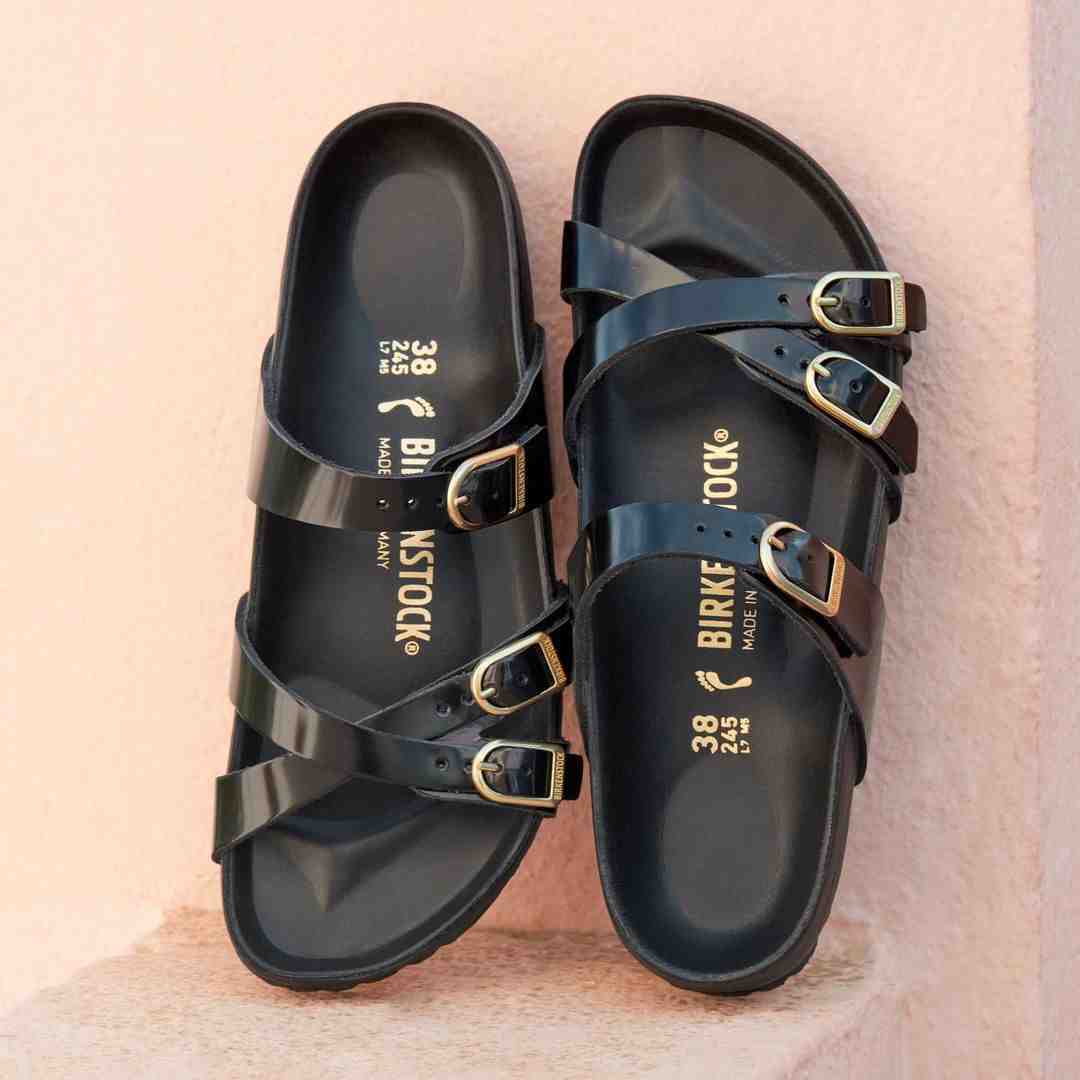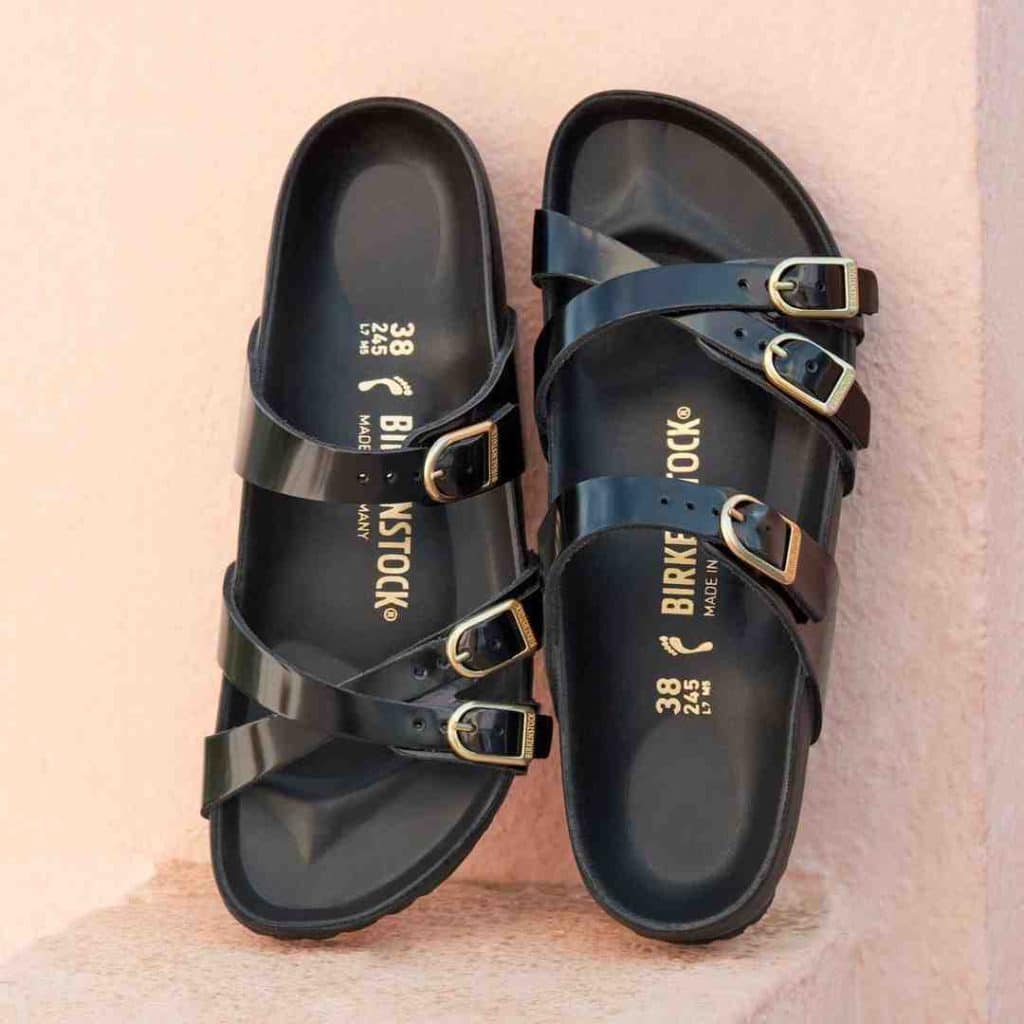 Birkenstock: The Good and the Bad
Indeed, Birks too have their own share of advantages and disadvantages. As a part of the Birkenstocks comparison with any other brands, you better note down the pros and cons first.
The Good Sides
Let's start with the sweet sides first. After all, they're what have made Birks more desirable than ever.
The materials used to make Birks are high in durability. With high-quality leather, the shoes will even last longer. Besides, the material pushes the visual appeal of the shoes higher too.
There are four layers that make Birkenstocks sandals, and one of them is the shock-absorbing sole. So, if you're jumping from somewhere a little higher than the ground, the sandals can certainly handle that.
As the Birks are made for everyday wear with all kinds of casual outfits, the makers have set the comfort higher. Within two weeks, they get adjusted to the shape of the feet. So, once that time passes, these pairs become perfectly comfortable footwear.
If you don't mind wearing casual footwear, Birkenstocks will be a great choice for you as they're simply elegant and versatile. They can be worn with shorts or ripped jeans, and they also look great with swimsuits.
Well, we don't know how much you can spend on your next pair of sandals, but clearly, you won't like to throw them away just after getting some tear and wear. Thankfully, Birks are repairable in such cases.
Birkenstocks can easily be worn as there is no heel strap to prevent the foot from slipping in. This means even if you're in a little hurry, you won't have to waste any extra seconds while putting them on.
The Bad Sides
The shoes that brands offer are not only filled with good but some bad sides as well. Here are the ones of Birkenstocks –
As we said before, Birkenstocks take two weeks wear-in period, which we believe is significantly longer than almost any renowned brand. So, if you're getting a pair from this brand, you might have to spend quite some time in discomfort.
It's not that you'll always be able to wear your Birkenstocks on dry land. But getting them wet more frequently can ruin the leather in no time. So, if you've got Birkenstocks on your foot, it's better to stay away from the water.
Clearly, these drawbacks somehow have lowered the popularity at least a bit. If you're asking for our suggestions, we'd say Birkenstocks 40093 can take down those hassles to a certain extent, but this pair is for women only. For men, Birkenstock N951313 might do the work.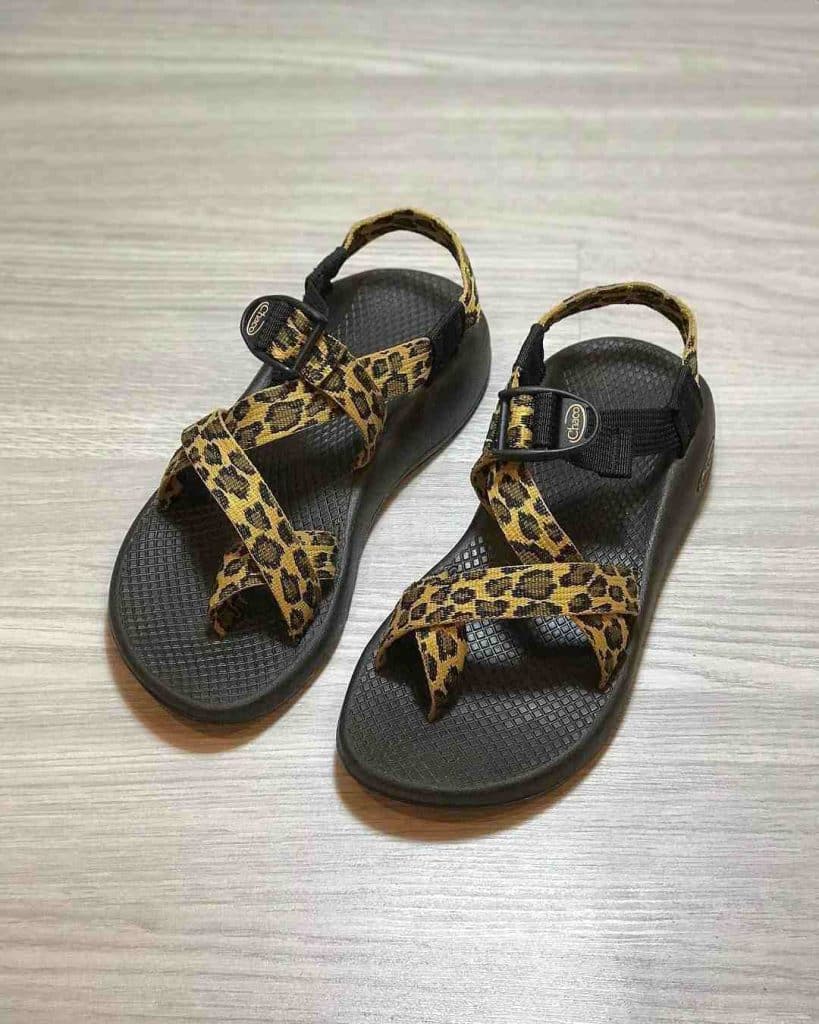 Overview of Chaco Sandals
If you're asking for something as footwear that can deliver you total comfort, superior arch support, and will also be durable, then we'd say go for Chaco sandals. They're made to be the perfect outdoor sandals for walking on the beach, hiking, and water sports.
Chacos basically come in two styles. One of them has the toe strap, and the other one doesn't. If you've already checked out the popular models of Chacos, you've seen the series Z1/ZX1 doesn't come with the toe strap, but Z2/ZX2 does. Most Chacos lovers preferred the ZX2 series as that ensures better stability.
Besides, the straps come with a fast-drying feature. So, it doesn't take too much time for them to dry up after having a splash of water. Plus, the durable rubber-made Chacogrip outsole ensures excellent grip over the creek beds.
Another good thing about Chacos is, unlike Birkenstocks, you can easily identify the distinction between women's and men's shoes. Not only the sizes but also the color and design differentiates between them.
For example, if you'd look at the Zcloud sandals, the ones for men come in different colors than the ones for women.
But when it comes to variety, Birkenstocks is ahead in that race. Clearly, the uni-strap somehow has put limitations on the design options in Chaco sandals.
Chacos: The Good and the Bad
The sandals from Chaco sandals have got their good and bad sides, both. Let's check them out.
The Good Sides
Well, there are some incredibly good sides to owning a pair of Chacos. Let's explore them one by one –
There are two things that make Chacos perfect for hiking. One is maximum comfort, and another one is general support and comfort. The suction padded soles of Chacos are good at providing perfect arch support. And yes, they also have the approval of the American Pediatric Medical Association.
It might not look like so, but Chacos are capable of providing ankle support. As there is a deep heel cup in the shoes, the user gets decent support to the ankle. But we won't suggest Chacos to anyone with weak ankles. Besides, the toe loop keeps the feet away from sliding aside.
Regular hiking boots usually keep the feet congested and make them sweat. But Chacos delivers hikers with all the comfort they need by ensuring better breathability. Thanks to the straps for that. Plus, even if the feet get wet, the open structure of the shoe allows them to dry up almost instantly.
Chacos don't give the hikers any chance of worrying about the water hazards as the sandal comes waterproof. So, even if you're submerging your Chacos underwater, there's not going to be any problem with the durability for sure.
The Bad Sides
Drawback? Who and what doesn't have those. Here are the ones for Chacos –
Chacos are mostly liked for being used in Trekking, hiking, and rough routes. But due to the heavier weight, at times, it becomes tough for hikers to move with them.
Straps of Chacos are not always that easy to adjust. In the beginning, getting the hang of it might not be that hard. But with time, the straps become quite difficult to move.
The debris slipping into the Chacos can be a pain in the neck while hiking, whether it's warm weather or cold. As the sandals are open in every way, it's easy for the debris to get under your foot.
We know the drawbacks sound a bit too much for some hikers. But it seems the makers of Chacos have managed to cut off these limitations to a certain extent with their Chaco Z1 for women and Chaco Men's Z1 Classic.
Birkenstocks vs Chacos – The Differences
Are Chacos or Birkenstocks better? Well, they both are. But which one is the best between these two brands? Well, let's go for a detailed comparison to find that out.
Design
When it comes to ensuring maximum comfort, Birkenstock got a design that pulls it off to the fullest. The contoured footbeds have layers of jute and suede. Plus, the designs are of the two belt style and sometimes with a toe strap too.
On the other hand, Chaco sandals are good for the outdoors as they come with rugged construction and trendy styles. Their most popular models are usually strapped. There are also z-strap designs, and both of these designs are adjustable.
Water-Resistance
Compared to Birkenstock, Chaco is more water-resistant and can sustain wet surfaces more smoothly. Even submerging them underwater for a long time can't cause any damage. But Birkenstock is good for dry land and suggested to be kept away from water.
Breathability
Birkenstock keeps the feet more protected, and the high-quality leather sustains for a longer period of time. On the other hand, due to having an open design, Chacos are more breathable for the feet. But this is also the same reason why the foot is left open to scratches.
FAQs in Birkenstocks vs Chacos
Which shoe has more styles – Birkenstocks or Chacos?
When it comes to style, Birkenstocks have more styles compared to Chacos. Chacos are limited to one and two straps styles. On the other hand, Birkenstocks come with a wider variety of styles and colors, including the regular two belt style and back strap style that can be worn with any casual dress.
Birkenstocks or Chacos Which one has a wider price range?
Chacos ahead here than Birkenstocks. Usually, Birkenstocks got a price between $90 to $100. On the other hand, the price range is $50 to $130 in the case of Chacos.
Does Chacos suits casual dress like Birkenstocks does?
Well, no. Chacos are good for walking on tough terrains, but they don't suit casual fashion the way Birkenstocks do.
Final Words
When it comes to Birkenstocks vs. Chacos, they both have their share of pros and cons. But no matter how much better they're than each other, it's dependent on what you prefer personally.
However, when you want to grab a sandal that will resist water and also can deal with adventurous terrains, Chacos is the best option to go with. But if you want nothing but a comfortable pair that can keep up with your casual lifestyle and for taking the regular walk, then pick Birkenstocks.
You May Like to Read These popular topics below: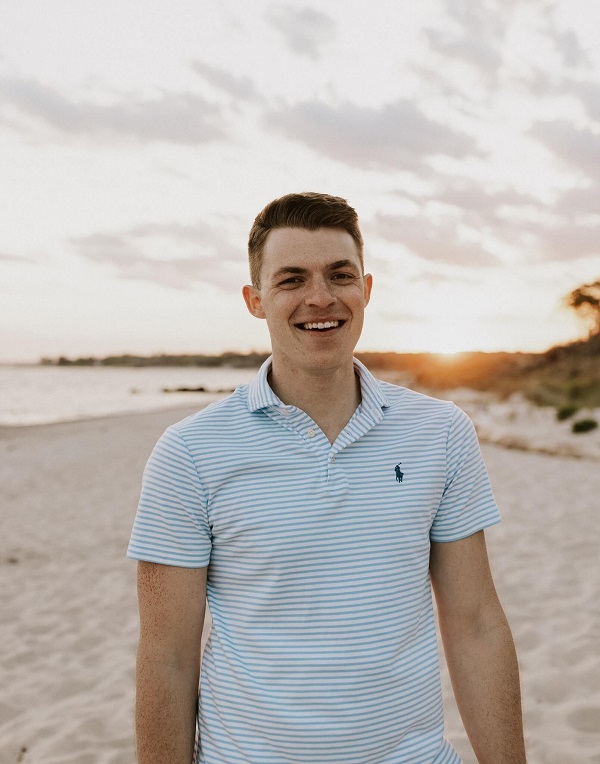 Myself Nathan Griffin a footwear expert who has over 10 years of experience in the industry. I have worked in all facets of the business, from designing and manufacturing shoes to selling them in stores. I am passionate about shoes and believe that they are an essential part of any outfit. I am excited to share my knowledge with others and help them find the perfect pair of shoes for their style.