Birkenstocks have always been in demand among many users. However, are Birkenstocks good for high arches?
Birkenstocks provide all the right arch support and fit your feet with high/low arches. The variations in the arch shape and the footbed from Berkinstocks are highly impressive.
Birkenstocks have also been recommended by American Podiatric Medical Association as the best sandals for people suffering from foot discomfort in their arch.
Here in this blog, our footwear experts will let you know the reasons that make these amazing shoes one of the best for high arches. Keep Reading…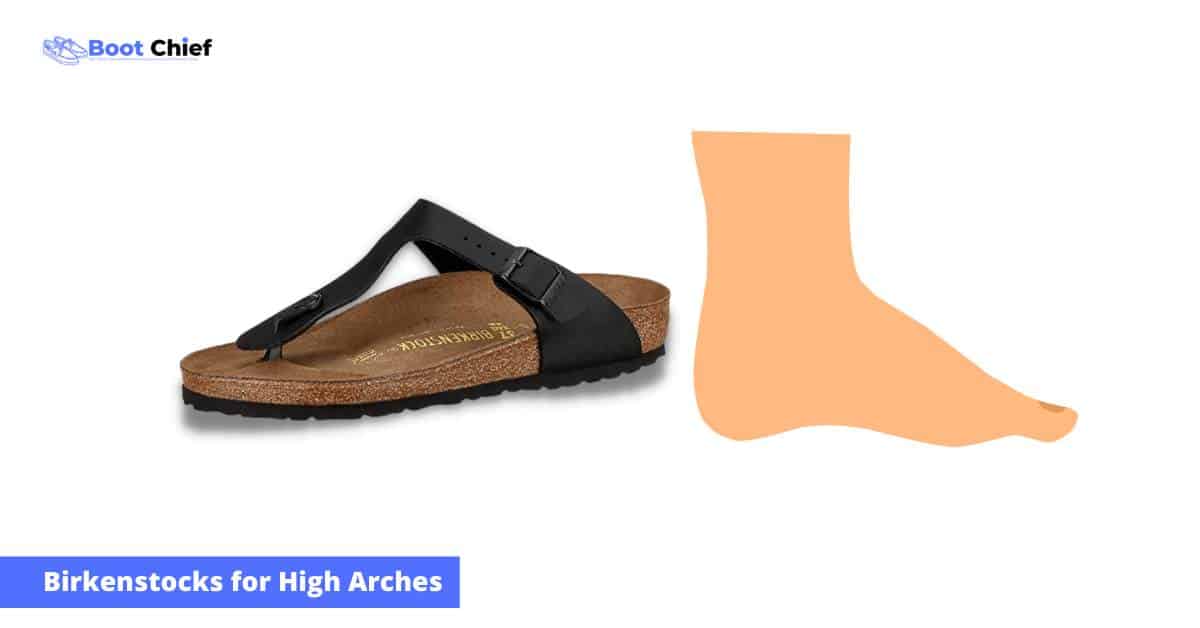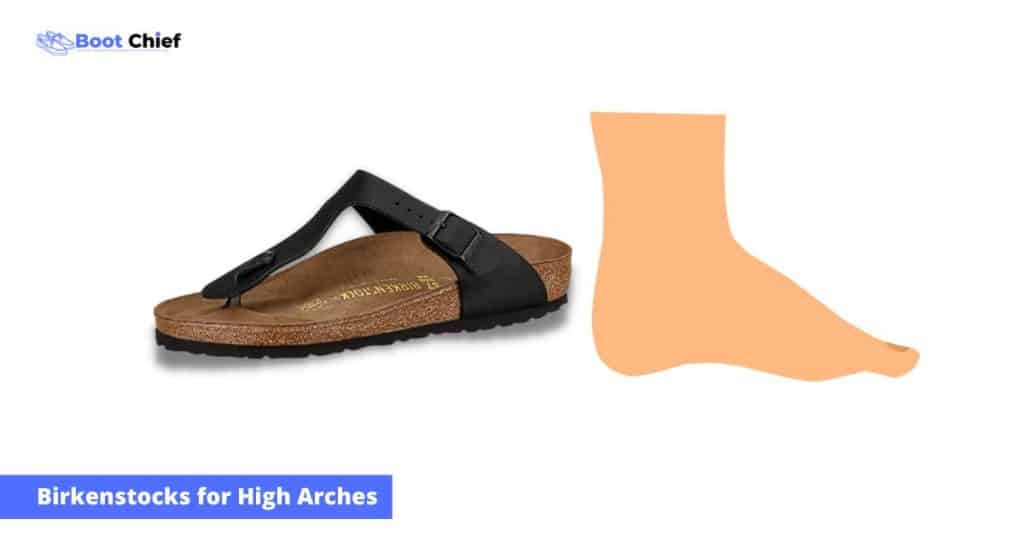 Why Choose Birkenstocks for High Arches?
All Birkenstocks shoes provide superior arch support, heel cushioning, and cork footbed. These features aid those who suffer from foot problems like high arches.
Their sandals also have an adjustable strap to ensure that the sandals fit according to your foot shape.
Birkenstocks have also been recommended by American Podiatric Medical Association as the best sandals for people suffering from foot discomfort.
So, below are the reasons for you to choose Birkenstocks:
Improves the Walking Posture
Birkenstocks have the best insoles that aid you in improving your walking posture. They even provide stability and arch support to diminish any foot strain.
Even when you suffer from foot injuries or pain, with Birkenstocks, you can effortlessly adjust your feet to lessen the foot pain and reestablish a good and painless walking posture.
Durable and Stylish
Birkenstocks are famous for their durability too. These sandals are specially designed to withstand wear and tear and provide long-term support to the entire footbed. Since Birkenstocks are made from premium quality materials, you won't need to worry about maintenance.
Moreover, they also provide style and versatility, ensuring an iconic footwear look. These flip-flops are also suitable for any casual dress code. So, you can also consider Birkenstocks as your footwear style icon.
Aids with Plantar Fasciitis
Birkenstocks can also help you to get relief from plantar fasciitis. Moreover, there are certain Berkinstock models like Birkenstocks Arizona and Mayari to ease any such foot discomfort.
These models are designed with a high-quality soft footbed and provide the necessary arch support to reduce foot stress and pain.
Birkenstocks even offer their users heel cups to allow the toes to stay in place, especially when the foot is resting. This feature also helps you maintain proper balance and make your movement more steady.
How Does Birkenstock Help with Arch Support?
Birkenstocks are the ideal footwear for optimum arch support. Here's how this brand helps with the best arch support.
Gives Support and Balance
Not having the right kind of arch support for your feet can cause you to have an uneven distribution of balance and support.
People who have their soles a little curved and raised above the toes can eventually suffer from high arched feet.
Having nice arch support from your footwear distributes the weight and pressure evenly throughout your footbed and provides stability.
Birkenstock Women's Gizeh is an ideal choice for women for better stability and support. You can also choose the Chaco Men's Z1 Classic for more durability and better floor traction.
Birkenstocks Gives the Right Coverage
To help with the discomfort, many high arch Birkenstocks are available in the market. These provide you with the right coverage and structure all around your feet.
The maximum coverage provides an even shock absorption from the impact when your feet hit the ground.
Birkenstocks Even Aid with Low Arch
That's not all; even the Birkenstocks materials are made to provide the optimum high arch support to all the users.
Even having flat feet or a low arch can be as painful as high arches. Flat feet are when the sole of your foot rolls inwards when you take a step or cause an impact. This, too, causes an uneven distribution, mostly on one particular side of the feet.
Birkenstocks can also aid with that issue by ensuring your feet stays relaxed, and you have more stability while walking.
FAQs in Birkenstocks for High Arches
Is Birkenstocks waterproof?
Birkenstocks are good for regular use and a trip to the beach; however, these are not waterproof. Submerging and dipping this footwear in water is okay, but not for long as these are made of hydrophobic materials. Being wet will weaken the sealants and ruin the natural tight-fitted shape of the shoes.
Why are Birkenstocks expensive?
These are made of natural latex, which is much more expensive than synthetic ones. These are also handmade and engineered specifically to fit human feet. Birkenstocks are made to fit and cover the natural curve in every way and shape to provide maximum support and comfort.
How long does Birkenstocks last?
They tend to go dark and stain with a lack of care. When cared for properly, these are known to last for years and years and sometimes, almost decades. The natural latex and cork used in making these shoes and sandals play a role in them lasting longer.
Bottom Line
So, are Birkenstocks good for high arches? While wearing these shoes, you'll be taking good care of your feet and also ensure that your feet stay in good posture and balance. Moreover, choosing this footwear will significantly support your arch and prevent any long-term injury or issues with your back and lower limbs.
See Also: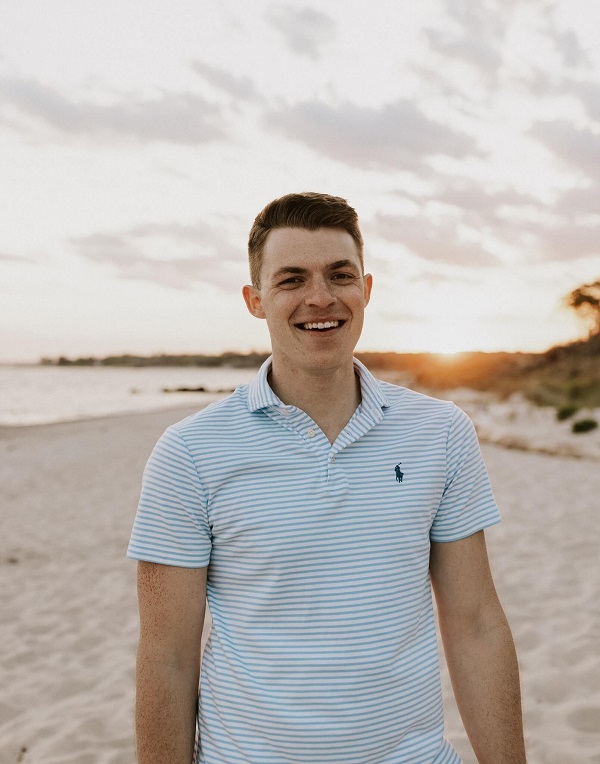 Myself Nathan Griffin a footwear expert who has over 10 years of experience in the industry. I have worked in all facets of the business, from designing and manufacturing shoes to selling them in stores. I am passionate about shoes and believe that they are an essential part of any outfit. I am excited to share my knowledge with others and help them find the perfect pair of shoes for their style.