Birkenstock is a world-renowned shoe manufacturer headquartered in Germany. Even Heidi Klum is a fan of Birkenstock. But fake Birkenstock sandals often look similar to real ones, so it can be hard to distinguish one from another. So, have you ever found yourself wondering how to tell if Birkenstocks are real or fake?
The simple answer is to buy directly from the manufacturer in a blue and white or entirely blue package. If you're shopping elsewhere, look for a reputable supplier. Then, on the left side of the insole of a Birkenstock sandal, look for the footprint sign and shoe size and the debossed logos on the buckle, and embedded numbers on the footbed. Stay with us till the end to learn in detail.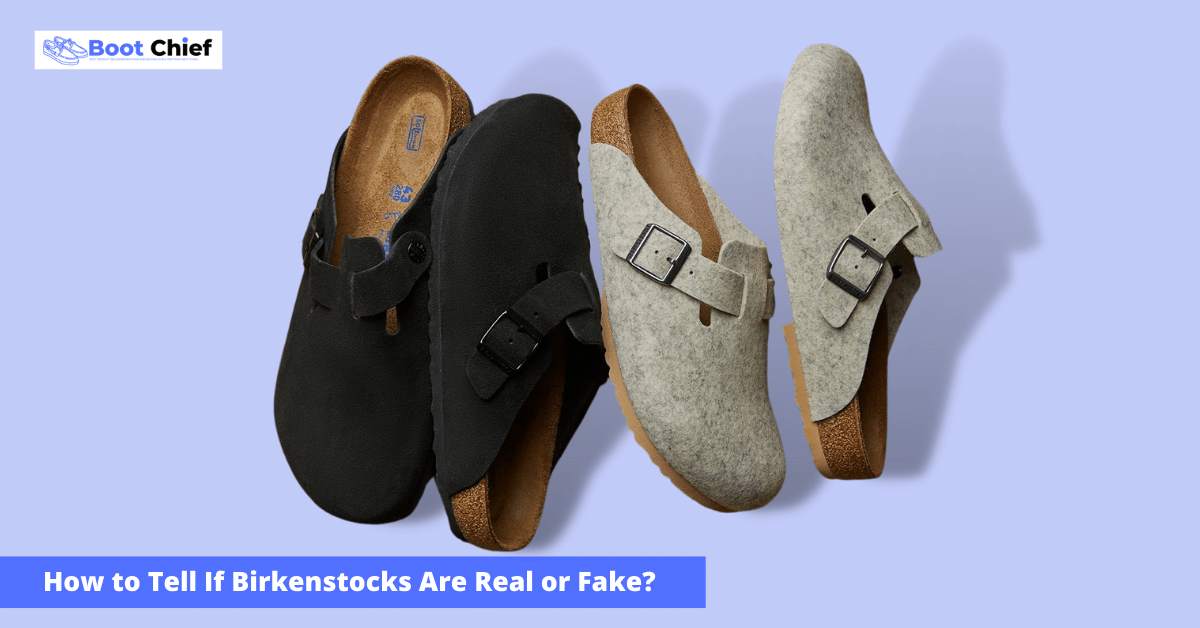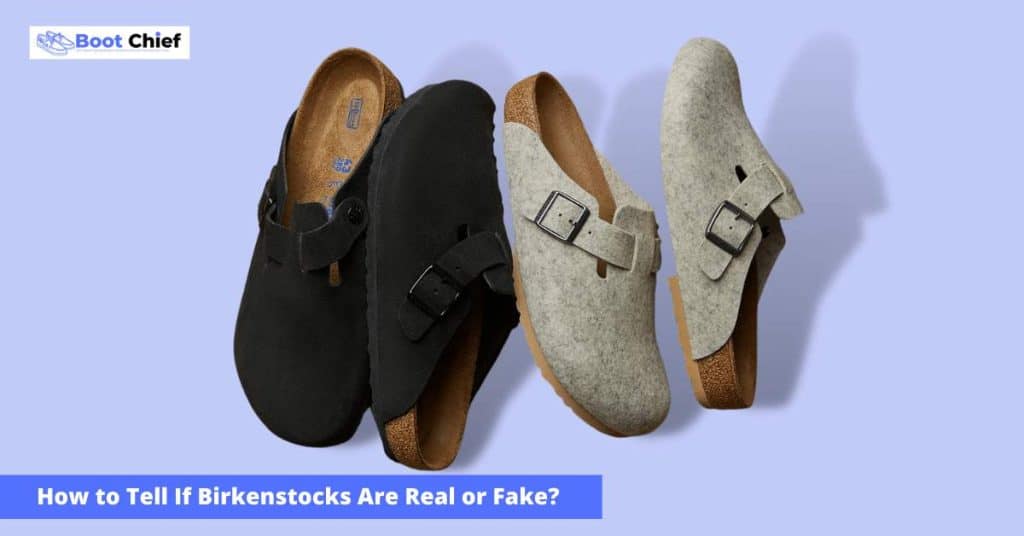 Qualities of Authentic Birkenstocks
The standard of overall quality authentic Birkenstocks adhere to is simply outstanding. If you know what you're looking for, you will be able to lock on to this foot symbol. Here are the traits that'll tell you the fake from the real;
Seller
The most obvious way to avoid scammers is to always buy from a reliable seller, and this is a universal rule that holds for Birkenstock shoes. So, whether you're buying online or offline, avoid shopping at random shops or unreliable websites. That way, you'll be sure that you're not buying fake Birkenstock sandals.
Preferably you should only buy from Birkenstock's official website. If, for whatever reason, that's not an option for you, go for the authorized retailers. Birkenstock's website has a cool feature called "store locator."
It helps people find the closest shop in their locality that sells authentic Birkenstock shoes. Locate these traders to get yourself a genuine Birkenstock.
Price
It certainly would be a low price if there were a hallmark of fake Birkenstocks, and that's the whole point of selling counterfeit stuff. Making low-quality products, selling cheap, and making some money undercutting the actual producer.
Birkenstock shoes are from a high-end footwear brand. This German company has an annual global sales revenue that regularly scores hundreds of millions. Naturally, they don't sell cheap. So, if anyone offers you Birkenstock shoes that have a ridiculously low price, they should ring thunderous alarm bells in your head!
Depending on the specific model, most genuine Birkenstock sandals fetch somewhere between thirty to a hundred USD ($29.95 to $99.95, to be exact). On the other hand, a fake shoe can go as low as twenty to ten, or even lower!
Premium leather Birks have a price range of $120 to $300. Then there are collaboration models that sit at the pinnacle of artistic perfection. These Birkenstock sandals sell for a bottom line of $420, up to $572.
Many scammers who sell fake Birkenstocks hide behind the mirage of discounts. More often than not, they offer discounts across all Birkenstock shoe models. In the case of real Birkenstocks, this rarely happens.
Yes, they offer discounts on specific products from time to time. But across the board, blanket discounts are almost unheard of. So, if you come across huge discounts at knock-down prices, especially from an online store, they're most likely selling fake Birks.
Packaging
When you get your hands on the actual product, you should first check the package. Birkenstock sandals are packed in a very unique style that the producers carefully maintain as a brand with centuries of heritage.
It's one of the easiest ways to identify authentic Birkenstock shoes. Producers of fake Birkenstocks often fall short of these specifications. And this gives them away.
The older Birkenstocks are packed in a blue and white carton. As for the newer models, they come with a blue Birkenstock shoebox with white inscriptions and a white Birkenstock logo.
In the case of children's models, there's a flipping of this color contrast. There are limited-edition models; these usually feature a black Birkenstock box inscribed in white letters.
You'll see a brief history of Birkenstock on the box, both in German and English; this is on one side. At the front, there's a shoe-style display illustrating different models. Each one of the Birkenstock shoe styles has its names printed below.
On the opposite side of the brand history, there's a sticker showing the model name, shoe size, color, foot width, and material. Last but not least, there's a UPC/EAN barcode to verify whether it's a genuine Birkenstock or fake.
Once you open the box, you'll be greeted by the proudly printed "TRADITION SINCE 1774" in bold letters. A size guide accompanies Birkenstock's sole design illustration.
If you're bored by now, it's understandable! But that's how detailed the box design is. If the package you're holding's missing any of these features, it's fake!
Insole
Birkenstock soles have centuries of experience and undergo rigorous experiments and design modifications. You can definitely call them a culmination of art and biomedical engineering. 
Thus among all the features of the Birkenstock, they're the most outstanding. So, they are pretty challenging to replicate for the producers of counterfeit shoes.
All original Birkenstock sandals have insoles with excellent arch support, a suede lining, a raised toe bar, and a deep heel cup. If you see them, it's a good sign. The logo, in bold letters, is imprinted on the footbed of all authentic Birkenstocks. And there's a "MADE IN GERMANY" text just below the logo.
There's a leather symbol on the right side of the logo, while a footprint symbol and the shoe size are on the left side. Genuine Birkenstocks always have these imprinted, and if it's stamped on and not imprinted, it's a tell-tale sign of imitation.
The models before 2017 have yellow imprints on the footbed, whereas the insoles of the later models are imprinted in black—a vegan Birkenstocks shoe must-have green insoles.
By the way, the vegan models are great! The versions featuring a soft-footbed have blue-colored imprints. As for the limited editions, they're imprinted in gold.
Needless to say, an original Birkenstock shoe is free from any printing mistakes, spelling errors, or any other inconsistencies.
Birkenstocks will simply discard such erroneous batches if such mistakes occur during production. So, if you spot any spelling error, grammatical mistake, etc., on a shoe, it's definitely a fake Birkenstock.
Buckles
The Birkenstock debossed logo on the buckles is one of the acid tests to distinguish between an original vs. fake Birkenstock shoe. The large buckles have "BIRKENSTOCK" debossed on them.
For medium buckles, the text logo goes, "BIRKEN," and in the case of the smaller buckles, it's only "BIRK." These clear inscriptions must be there, and this applies to all models ever produced by Birkenstock footwear.
Many fake Birkenstock shoes don't have a proper inscription on the buckles. In some cases, there's no inscription at all! As for the size to logo-length consistency, it's often hopelessly jumbled up.
You might find "BIRKEN" on the smaller buckles. Or instead of "BIRKENSTOCK" being debossed on a large buckle, it's just "BIRK"! These are all apparent proofs of fake Birks.
Material
Birkenstock shoes have gained a worldwide adoration, almost like a cult following. Half of this admiration is because of the shoes' innovative, orthopedically oriented design.
The other half is due to the premium materials used by the shoe manufacturer. Because of the synthesis between classic styles and sky-high quality makes the BIRKENSTOCK text logo a globally recognized leather icon.
Premium, unsplit leather is used for the Leather Birks. As for the Synthetic Birks, they're made with Birko-Flor, and it's a durable, skin-friendly, and easy-to-clean material made out of synthetic felt fibers.
The secret behind the soft footbeds is Birko-Flor. Birkenstocks are well-known for their comfort. A cushy footbed is pretty thick, and because of the Birko-Flor, it has a distinctly recognizable smoothness.
In contrast with the authentic Birkenstocks, the fake ones are made from thin leather, inferior cork, and other poor-quality materials. You're likely to find a rather slim shoe inside that's of average quality and lacking natural cushioning.
A fake Birkenstock is unlikely to have a fleece lining. In the worst types of replicas, even the cork, outsole, and footbed aren't adequately aligned.
Sole Pattern
This is a rather subtle issue: the specific size of the patterns and their resulting number in a particular area. As for the pattern shape, Birkenstock always uses its signature hourglass motif.
To check the size and number, compare the shoe you're about to buy with an original Birkenstock shoe or a picture from the official website. If there's any contrast between the two in size, shape, or number, it's not a Birkenstock product.
Weight
A Birkenstock shoe symbolizes comfort, and thus they're incredibly lightweight, especially the high-end models. Take Birkenstock Gizeh Eva Sandal, for example. It's a little over 180 grams (6.5 oz, to be exact).
Some of the shoes are so lightweight that you won't even feel them while wearing them. Because of the poor quality materials, fake Birkenstocks are much bulkier than authentic ones.
Numbering
Original Birkenstock sandals, all of them have numbers embedded on the footbed. Now, they're not there for you, and they help the manufacturer keep track of the sole. Birkenstock soles, if matched numerically, indicate they're from the original pair.
For all intents and purposes, it's not important for you. The question isn't; what do the numbers on Birkenstocks mean? Instead, it should be whether the numbers are there or not. Because fake Birkenstocks usually don't have them.
Before You Go…
By now, you've learned all the tricks of the scammers; you certainly know how to tell if Birkenstocks are real. If the Birkenstock you're holding doesn't have any or some of the identifiable traits of an authentic Birkenstock, then it's a knock-off. Don't buy it!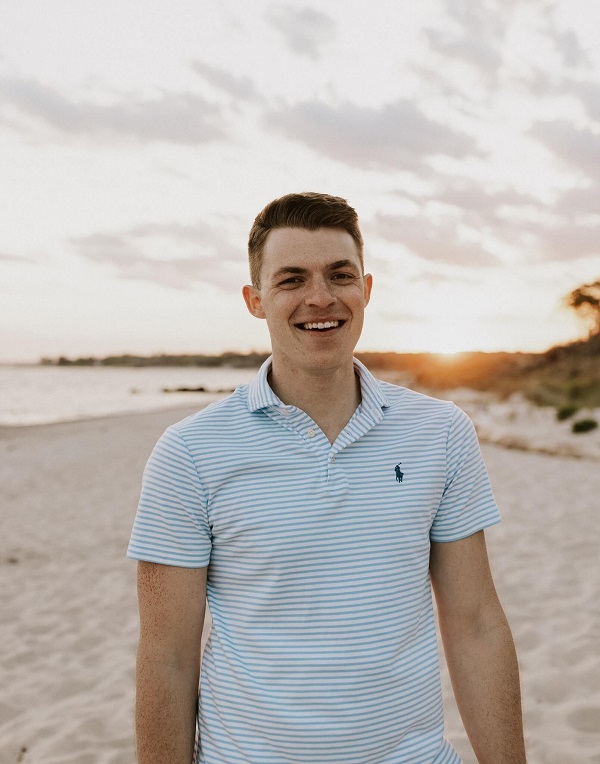 Myself Nathan Griffin a footwear expert who has over 10 years of experience in the industry. I have worked in all facets of the business, from designing and manufacturing shoes to selling them in stores. I am passionate about shoes and believe that they are an essential part of any outfit. I am excited to share my knowledge with others and help them find the perfect pair of shoes for their style.