Who doesn't want to match a great outfit with their favorite Hey Dude shoes to make their personality more attractive?
But sometimes, you don't know exactly what to wear with Hey Dude shoes, especially when you're newly purchasing one.
Well, it's not rocket science, and in today's article, I will give you some great outfit ideas. It's not by skipping your comfortable outfits or spending thousands of dollars on shopping.
I will show you how you can create your different outfits with Hey Dudes by the clothes you already have in your closet. With some basic ideas, you can make your simple look outstanding.
Sounds good? Let's get into it!
What To Wear with Hey Dude shoes?
Hey Dude shoes are best worn in all seasons, whether it's summer or winter. The brand produces a wide range of models for both men and women. You can happily create various types of outfits with HD (Hey Dude) shoes, including jeans, shorts, leggings, shirts, pants, and dresses demanding on the occasions and situations.
Girls will find it more fun as HD excellently matches their every gorgeous to a simple outfit. The shoes are excellently fashionable and comfortable for any occasion. So let's break down some simple but elegant outfit ideas for you.
See Also: Best Socks for hey dude Shoes
5 Hey Dude Outfit Ideas For Men
Let's start with the five most popular and fashionable outfit ideas for men that you can easily create in no time.
1. Hey Dudes With Khaki Jacket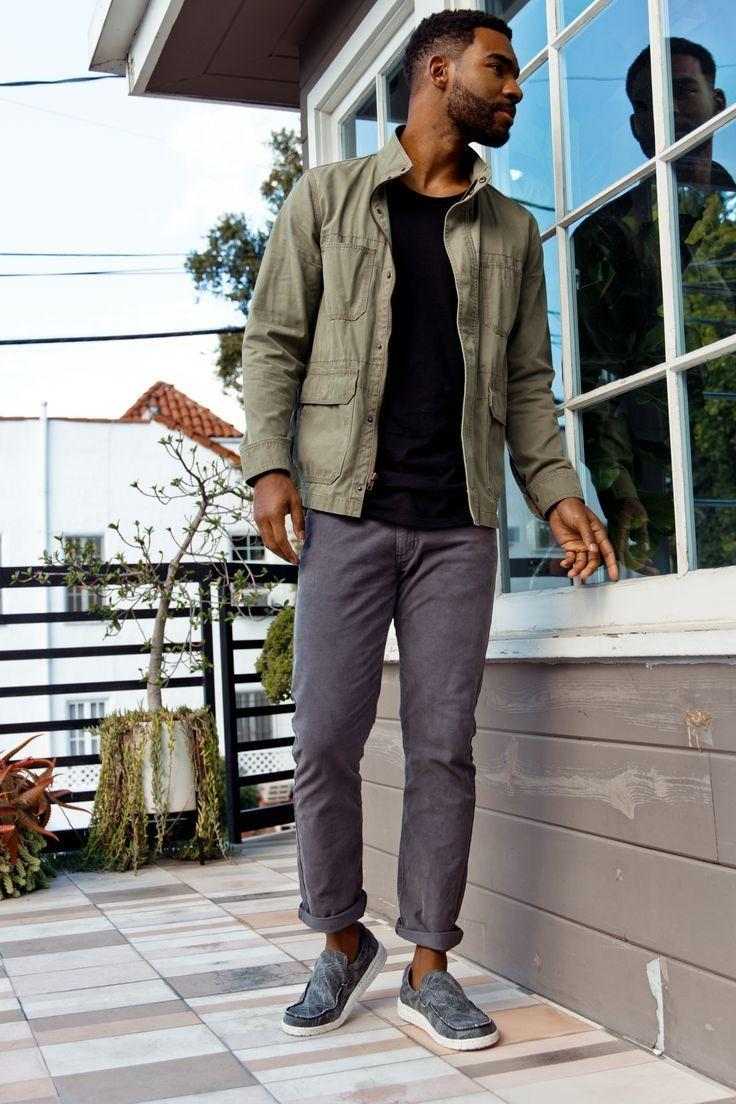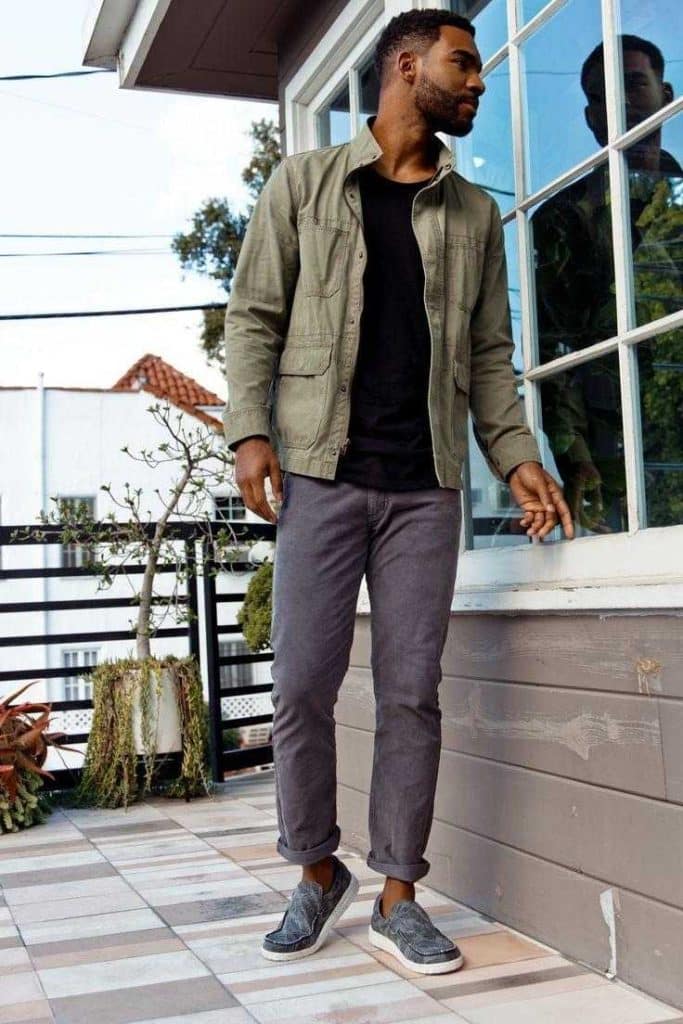 Pair up your Hey Dudes with Khaki shirts to make your attire attractive and stylish. Khaki shirts have always been in fashion and are still popular among men. It's a color that can be worn with anything.
You can couple this yellow-greenish Khaki shirt with any grey color pants and grey HD shoes. Also, wearing a black tee under your khaki shirt will enhance your look more. You can pick this style for any fall outlook. Not only that, it's a perfect choice if you love casual style.
2. Pair Up With a Chinos Pant & T-shirt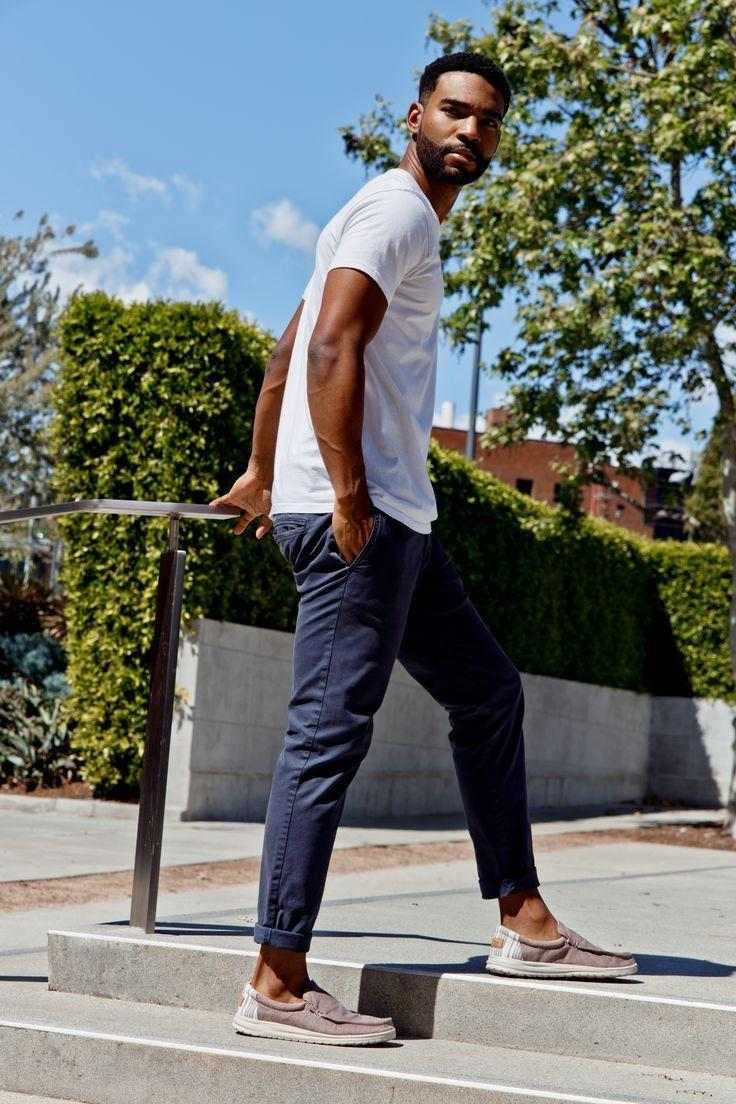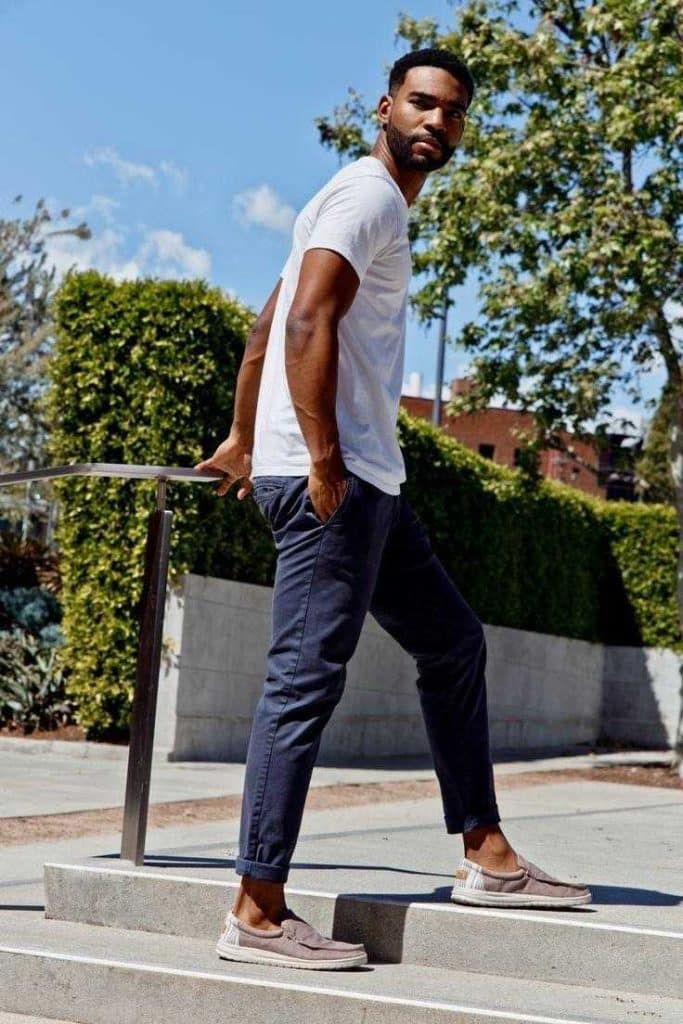 Here we came up with another simple idea about what to wear with Hey Dudes. It's a neutral outfit with a white T-shirt and blue chinos pants paired with HD sneakers.
White is a color that looks charming and pleases your eyes in any season. Especially in the rainy season, this neutral color is stylish for any occasion. Matching them with the HD shoes make you comfortable. You can wear this outfit while having fun with friends and going to dinner.
3. Wear With Half-Sleeve Shirt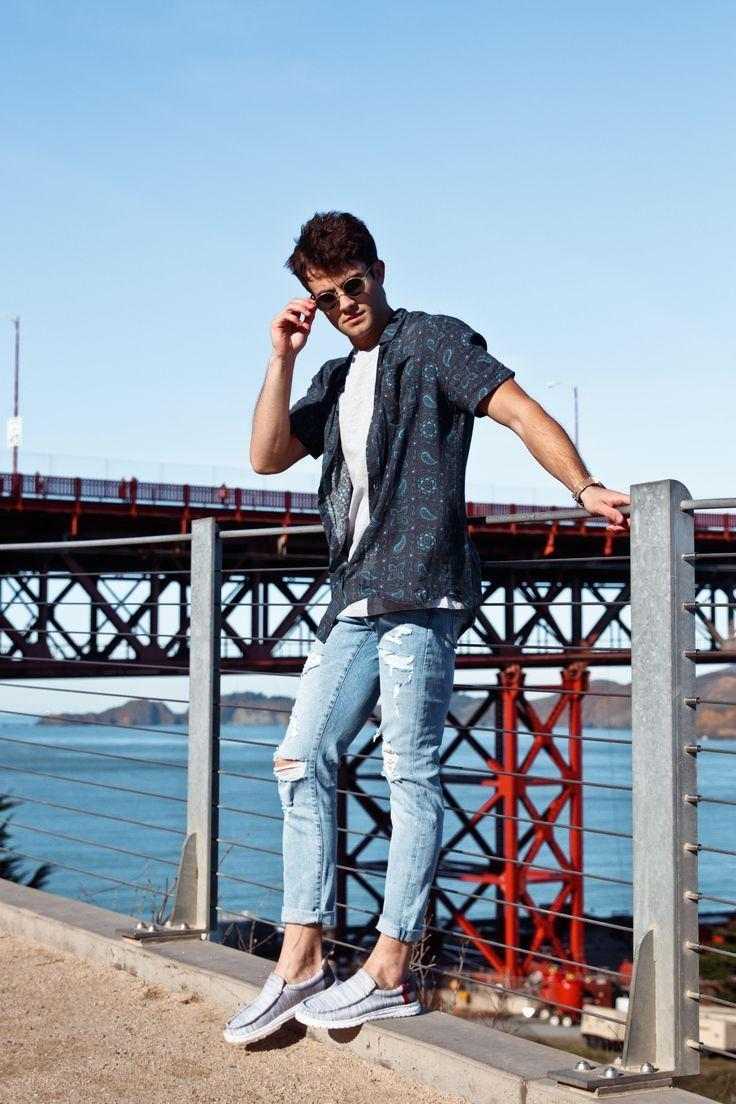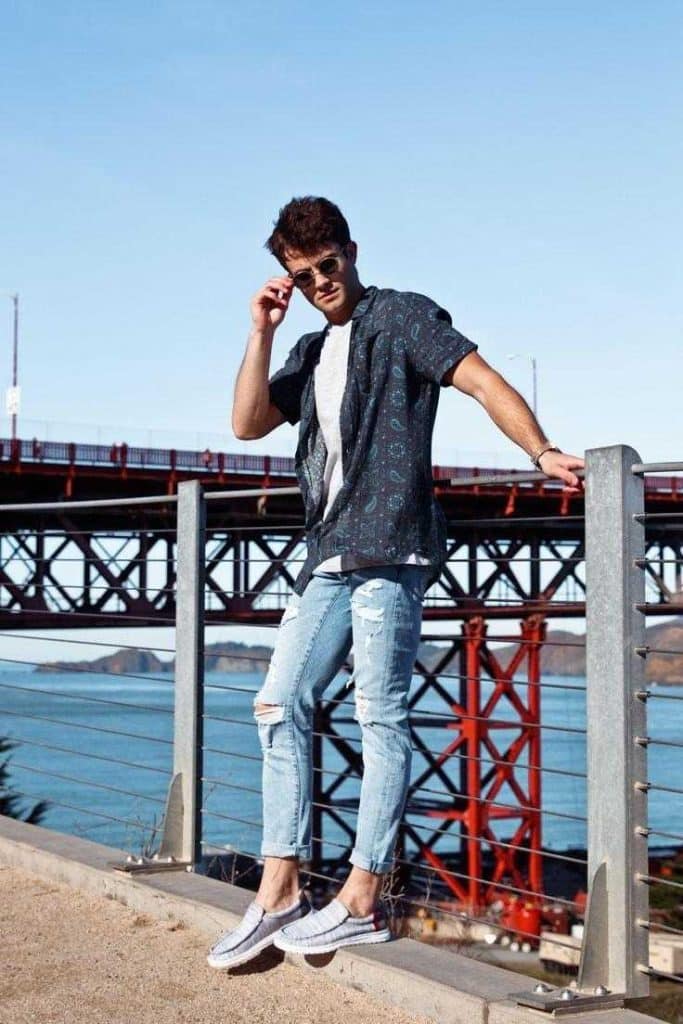 This outfit is an excellent choice if you want to try something bold. It's ideal for those who want to show off their personality and fashion sense, something more discreet than usual.
Wear a button-down shirt with ripped jeans. You can pick any navy-blue, black, or printed shirt that is quite similar in color to your HD shoes. Wearing a white tee inside the Shirt will give you a more stylish and harmonious feel. Put on sunglasses to be sassier.
4. Suit and Pants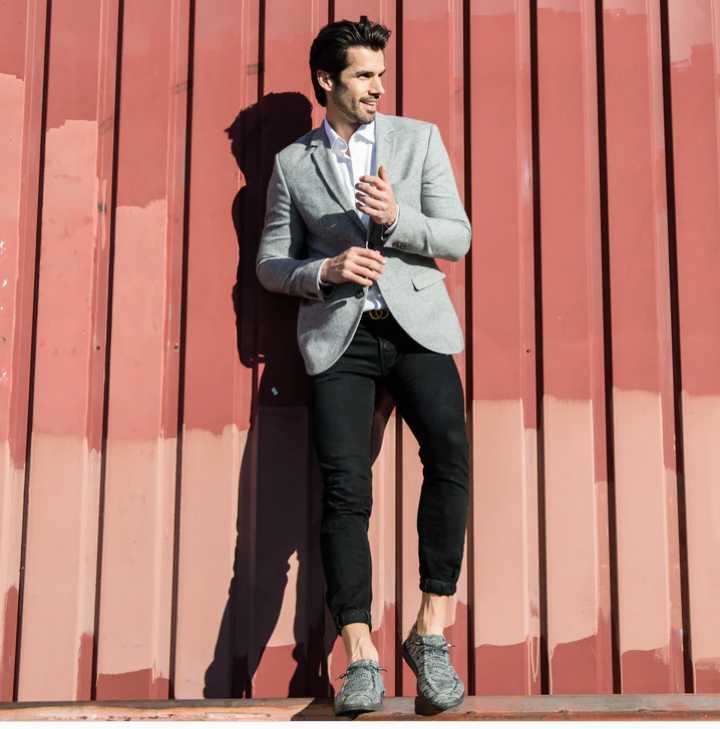 Once, people couldn't think about wearing suits without fitting western shoes. But time has changed now and mens begin to match casual shoes like Hey Dudes with the suits.
Now, Hey Dudes can make great outfits for wearing with your formal look, pairing with a suit and Shirt. Combining Hey Dudes with your suit allows you to make a formal and mature outlook in any formal atmosphere.
See Also: Can you wear doc martens with Suits and pants
5. Casual Shirt & Shorts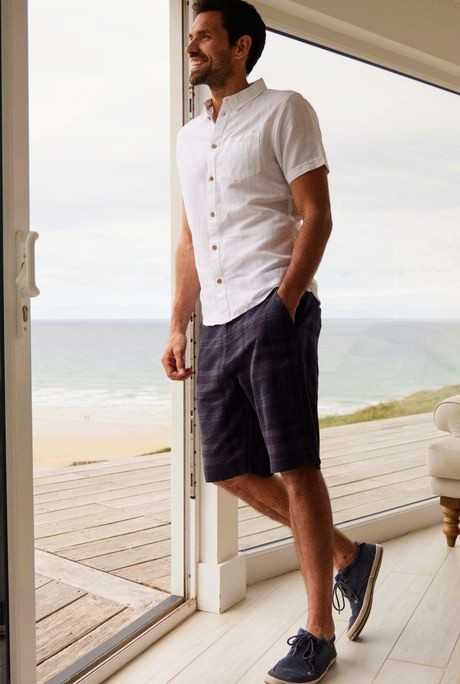 A simple casual shirt can excellently uplift your look. For men's fashion, Shirt and shorts clothing styles are famous for looking cool. Therefore, casual shirts are ideal for HD, and you can also style them with most casual shoes.
Not to mention, HD shoes are ideal for any summer outfit, and when you're talking about going to a beach, Hey Dude comes ahead to be your most fashionable companion on the beach.
You can wear them to relax with your friends or partner while walking on the beach. You can easily match the color of your Hey Dude shoes with your shorts and shirts. Just choose a similar color of shorts as your Hey Dudes. For shirts, white is the universal color to wear, or you can opt out for any other light color.
Can You Wear Hey Dude With Jeans?
Yes, Hey Dude, shoes are great for styling with jeans. Here we shared some easy but trendy Hey Dude outfits with jeans. Read ahead to know more about the outfits.
How To Wear Hey Dude Shoes With Jeans?
There is no hard and fast rule to style your HD shoes with jeans. You can wear them with jeans considering your taste, personality, and occasion.
1. Hey Dudes With Jeans & T-Shirt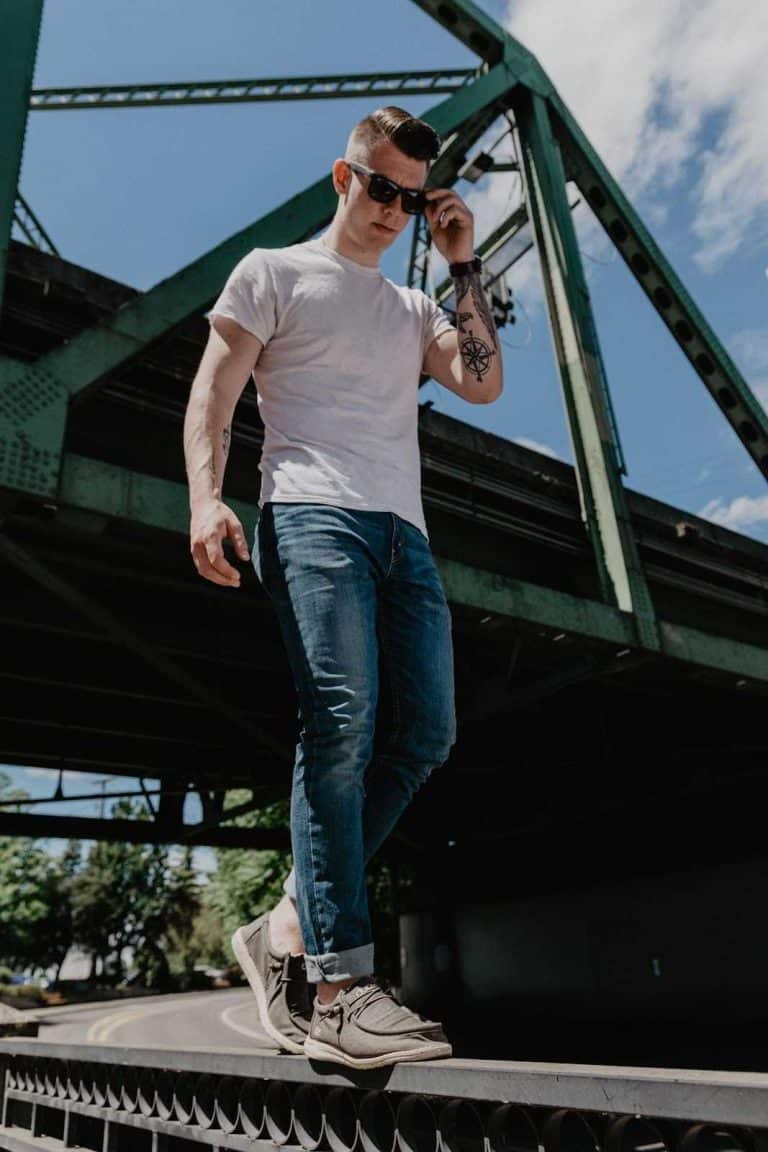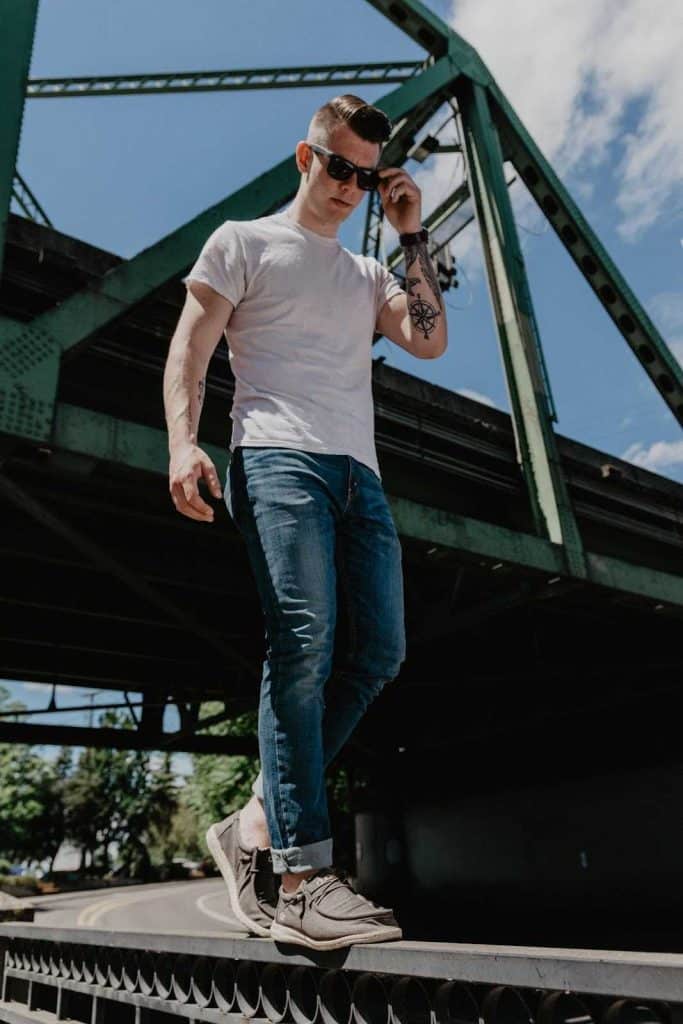 Jens and T-shirts are the all-time favorite combo for men and the fashion industry. So if you wonder whether you can wear jeans with Hey Dudes, I must say this set is perfect. Pairing jeans and t-shirts with Hey Dudes look simple and convenient but elegant.
You can match this style anywhere, whether you're going to work, hanging out with your friends, or traveling during the day or night.
Hey Dude shoes with fabric material are great for wearing these two items. This is the youthful male outfit that every guy should try. Put on sunglasses too, and be more handsome!
2. Jeans and Long Sleeve T-shirt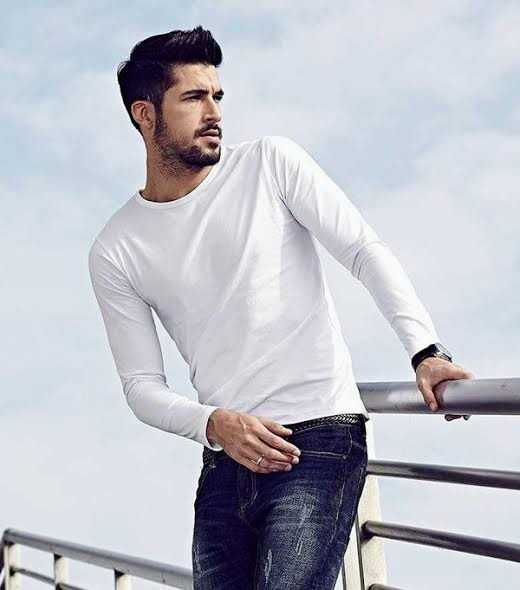 During the fall, jeans and a long-sleeved t-shirt paired with Hey Dude enhance your casual and stylish look. It's the best outfit for those who want to be extremely casual.
Hey Dude and a long-sleeve shirt with jeans is the outstanding choice for light cold weather when you're going for any casual outing. The outfit is very comfortable on sunny winter days. You can match the similar color of a long sleeve shirt and Hey Dude shoes with blue jeans.
3. Jeans & Sweater With Hey Dudes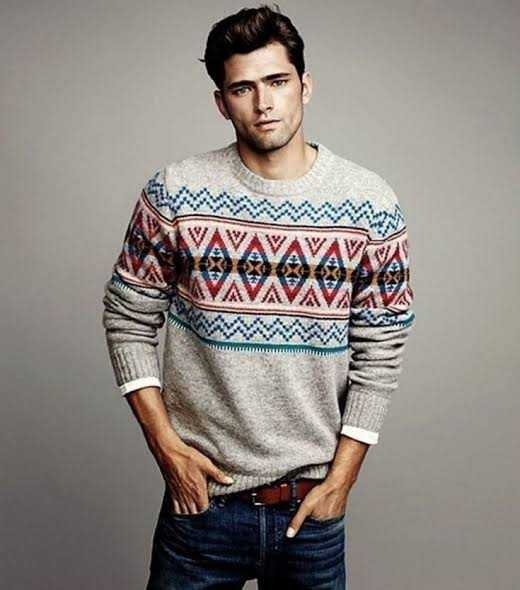 What do you think about wearing without Jeans and a sweater in extremely cold weather? Thankfully, you can pair this set with Hey Dude shoes too. Try out any solid color sweater with blue or black jeans that match your Hey Dudes.
Mention not, you'll get a cozy and comfy feel with this style. Plus, this simple, classy look should be appreciated by all. On top, it takes only a minute to get ready and go for your daily hangout.
5 Hey Dude Outfit Ideas for Women
Now let's talk about 5 outfit ideas for women that they can easily match with their favorite Hey Dude shoes.
1. Jeans And Sweater With Hey Dudes
Most of the girls must have a pair of jeans and a sweater in the winter wardrobe collection. No matter how fashionable you're or how much you love to wear stylish dresses, a couple of jeans paired with a colorful full-sleeve sweater and Hey Dude shoes will look stunning.
This combination is not only affordable but also very practical and stylish. Otherwise, they are versatile to wear in different places and occasions, such as for shopping outings, traveling, or simply walking on the street. Adding Hey Dude shoes to this outfit will make it a more casual and classic winter look. 
2. Hey Dude With Short Dresses
Luckily, girls can enjoy varieties of styles with Hey Dude shoes. HD shoes with short dresses are one of the girl's favorite styles. You can match the color of the shoes with your dress. Or if you want to look different, match opposite colors such as black dresses with Grey Hey Dudes. This combination is the perfect choice for girls while going to the movies, shopping, or hanging out with friends.
3. Paired With Shorts
Shorts might be your best summer companion, and pairing them with Hey Dude shoes enhanced your fabulous look. It's simple, informal, and easy to match.
Ordinary shorts look beautiful if you add a pair of stylish Hey Dude shoes. Pick any solid color short. You can match the color of the shoes either with the shorts or your tops.
4. Wide Leg Pants And Denim Jacket
Wide-leg pants and denim jackets are the other options for making your Hey Dude shoes look stylish. Try out this set if you're looking for another casual yet elegant outfit. Buy any bright or white tone Hey Dude shoes to make your simple appearance more lively.
Especially for slim and thin girls, a combination of a denim jacket with wide-leg pants is the absolute choice.
5. Printed Dress With Hey Dudes
Printed dresses are trendy among fashion lovers and have become fashionable and beautiful attire for girls. The most significant benefit of a printed dress is that it will be suitable for different occasions if you style it correctly.
If you want to pair Hey Dude shoes with printed dresses, only remember to pick the suitable color scheme to match your dress and create a stylish and lovely appearance.
Can You Wear Hey Dudes In The Fall?
Hey Dudes are not only summer fashion. You can also keep the lovely shoes in your fall wardrobe. As we mentioned above, there are different outfit ideas with Hey Dude shoes for the fall season, so you might already understand that Hey Dudes are absolutely wearable for the Fall season.
FAQs
Is Hey Dude Trendy?
Yes, Hey Dudes are trendy among teenagers and youth for their super stylish, versatile, and easy-to-go characteristics. It's trendy among people of all ages.
Even some customers love to show their Hey Dude collections on social media platforms like TikTok. Also, some fans wore Hey Dudes at their wedding and shared these bridal and groomsmen videos. 
Are Hey Dudes suitable for teachers?
Yes, Hey Dude shoes, such as Hey Dude Women's Wendy shoes, are fantastic and wearable for teachers as they've enormous comfort and a laid-back style. Also, you can buy shoes in a variety of colors to wear different colors each day of your working days. 
Conclusion
We hope you gathered plenty of ideas for what to wear with Hey Dudes. When you ask yourself, what to wear with Hey Dudes, remember Hey Dudes are the vessels for self-expression. That means you can add them to any outfit, whether casual or formal.
You can wear Hey Dudes with almost everything beyond the outfits we mentioned. So no worries, and create your favorite outfit with Hey Dudes right now!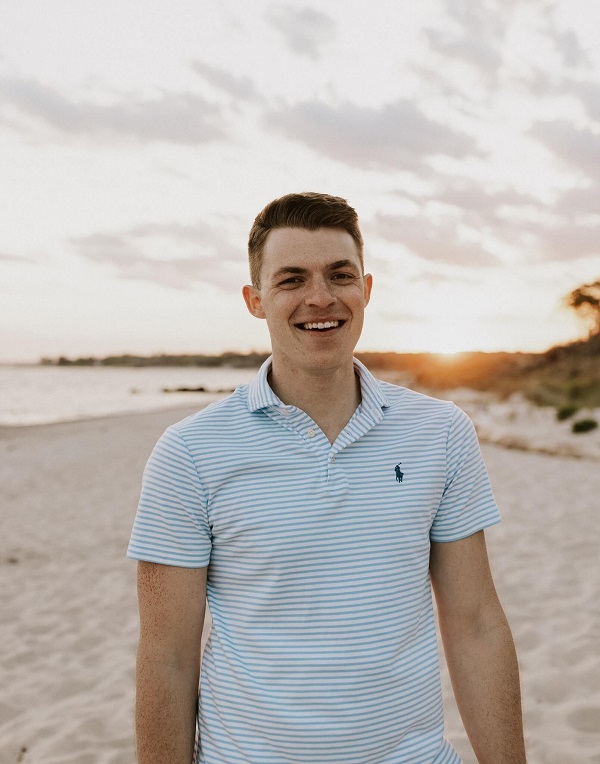 Myself Nathan Griffin a footwear expert who has over 10 years of experience in the industry. I have worked in all facets of the business, from designing and manufacturing shoes to selling them in stores. I am passionate about shoes and believe that they are an essential part of any outfit. I am excited to share my knowledge with others and help them find the perfect pair of shoes for their style.