Isn't it great if your favorite stylish Hey Dude shoes are also suitable for walking along with a casual hangout? You might like to wear them on your trip or just for an evening walk, but every time you are stuck on this question of hey dudes are good for walking or not. So here we got you covered.
Hey, Dudes have excellent cushioning, great arch support, a wide toe box, highly breathable fabric, and width sizes that make it standard for walking. But before we conclude, it's crucial to dig in more deeply.
So first, we'll break through the quality features of walking shoes. Afterward, we also learn about the incredible features of Hey Dudes that make them perfect for walking.
So let's begin!
Features You Should Look For Good Walking Shoes
Before we begin to discuss whether Hey Dude shoes are good for walking or not, you should learn about the features good walking shoes have. Understanding the features will help you to compare with the Hey Dudes and make a correct conclusion.
Achilles Tendon Protector
The Achilles tendon is the largest tendon in your body and should be importantly protected. Because if the area gets hampered, you can face trouble in your day-to-day life.
Thus, walking stresses the Achilles tendon; perfect walking shoes come with an Achilles tendon protector. It locks the shoes around the heel and decreases stress on the tendon.
Another essential feature of walking shoes is the heel collar that cushions your ankle and prevents friction and blisters. The heel collar also ensures a proper fit for your feet.
Most of the time, our heart rate is faster while walking, and that causes sweaty feet. The upper of the shoes are usually made of leather, synthetic material, or mesh.
Among them, the upper mesh fabric is lightweight and offers better ventilation for walking. So your feet will stay dry and fresh while walking, even for a prolonged period.
Gel, Air, or Foam Midsole
Midsoles are the middle part of the upper and outsole of the shoes. The walking shoes made with a gel, foam, or air midsole help great cushioning and minimize the impact when your feet hit the ground while walking. Thus the midsole plays a major role in a smooth and comfortable walk.
Outsole With A Good Traction
The outsole is the part of your shoes that directly makes contact with the ground. If you want a good walk, your shoes' outsole must have a better groove and treads that efficiently ensures enough traction when you walk. Thus you will keep safe from slipping and falling.
A good walk also significantly depends on good quality insoles that are well-cushioned and provide excellent support for your feet and arch. Shoot for the insoles to shape your feet well and have superior shock absorption power.
The toe box is the area that surrounds your toes. The walking shoes ensure that the toe box is round and roomy enough. Proper space in the toe box allows your feet to wiggle, bend freely and prevent calluses.
Are Hey Dude Shoes Good For Walking?
Yes, Hey Dude, shoes are suitable for walking. These shoes have a unique and comfortable design, well-ventilated materials, better traction, and many other features which make them ideal for walking.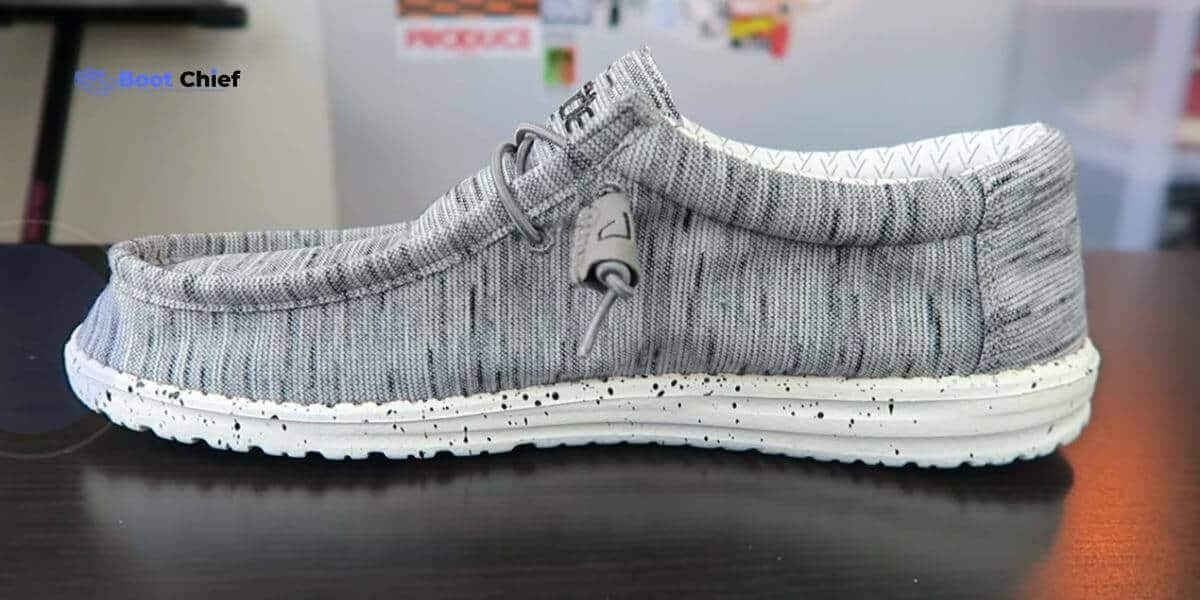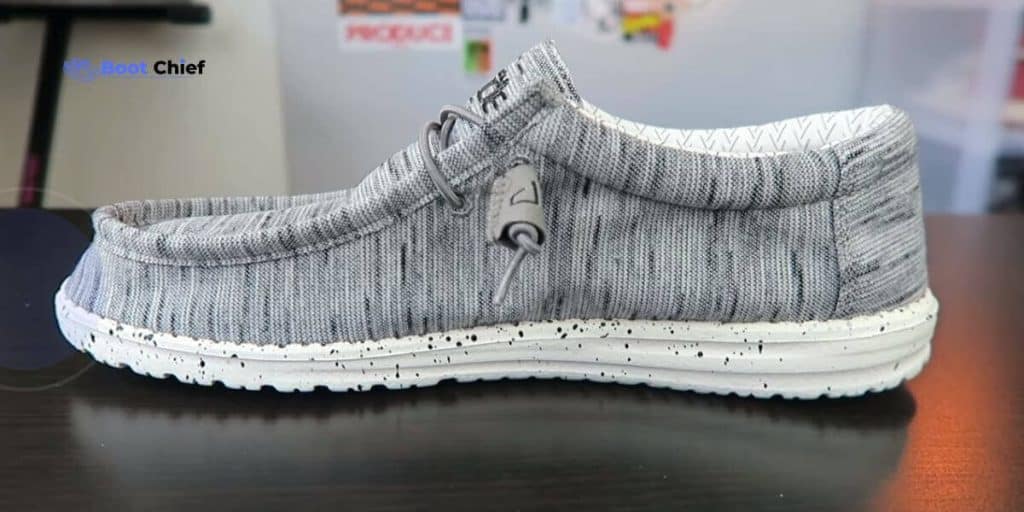 Features That Makes Hey Dude Shoes Good For Walking
Let's get introduced to the features that make the Hey Dudes good for walking. We'll compare the criteria features of Hey Dudes and good walking shoes to promptly offer you a satisfying answer.
Achilles Tendon Support
We already mentioned that excellent walking shoes ensure support for your Achilles tendon area. Thankfully, Hey Dudes produce models like Wally Sox Funk that feature a stretch-knit upper. It locks the shoe around the heel, and thus you feel less pressure on your Achilles tendon.
Otherwise, the Hey Dude Paul Chambray shoes also come with higher-upper heel lock fastening to ensure stability and comfort in walking. Plus, protect your ankle and Achilles tendon. Even people find the Hey Dude Wendy Shoes too great support for your Achilles tendon.
Upper Breathable Fabric
Hey Dude shoes are made with mostly light and breathable fabrics like stretch cotton, canvas, or linen. These fabric materials allow good airflow around your feet during a long walk. The fabric makes the shoes perfect to wear and walk for hot or summer days.
The fabric properties efficiently wick away the moisture very fast. So if your feet sweat a lot, don't worry. Hey Dude shoes will make your sweat quickly dry off. On top, you can wear any good breathable socks with Hey Dudes.
Better Traction Outsole
Hey Dudes have different styles that have well-grooved outsoles. Most of the Hey Dudes style comes with an Ultralight outsole design and the right amount of traction. The outsoles and traction make the shoes comfortable for all-day wearing and walking.
You can try lightweight and comfortable Welsh Grip-Steel Gray with Ultra Grip outsoles that offers better traction on every surface. Nevertheless, Wally Sox Funk has a lightweight UltraLight EVA outsole to ensure maximum grip.
Cushioned Insoles
Hey Dude shoes come with leather-lined, removable, cushioned insoles. The shoes used thick memory foam to make the insoles since they're very supportive for your feet and arch through walks.
Additionally, the memory foam insoles are excellent in absorbing shock, and you'll feel ultimate comfort under your feet in every step of walking. These insoles are also removable, allowing you to clean or swap them easily between walking sessions.
Roomy And Rounded Toe Box
Another excellent criterion that makes the Hey Dude shoes good for walking is a broad, roomy, and rounded toe box. You can easily wiggle your toes inside the box and prevent any cuts, calluses, or bruises while walking.
Perfect Fitting
If your shoes are too loose or tight, you won't get comfort during walking, and it will lead to severe foot ailments. Hey Dude shoes are available in different sizes to give you a perfect fit.
Aside from size, the shoes feature ergonomic and wide fitting. The Hey Dude styles have no-tie elastic laces that work for smooth flexibility during your multidirectional movements.
5 Tips For Finding The Right Hey Dude Shoes For Comfortable Walking
Here are a few tips for choosing the right Hey Dudes for walking.
If you have high arches, look for a Hey Dude shoes with generous cushioning and effectively absorb shocks. For this, choose the Hey Dude shoes with memory foam instead of a canvas or cork Insoles. You can check Wally sox loafer.
If you're a person who sweats excessively during walking, choose a Hey Dude style such as classic wally that has excellent breathable stretch fabric.
If you want good lateral stability, try the Thad Sox slip-on Hey Dudes styles with elastic gore and padded heel for better stability.
For the fall season, you can pick any Hey Dude style with soft fleece lining when you need to keep your feet warm. The soft fleece lining wicks moisture quickly when you are active in walking.
Make sure your Hey Dudes width and length perfectly fit your feet. Otherwise, you can face many painful and problematic foot disorders.
Are Hey Dudes Good For Walking All Day?
Yes, Hey Dude shoes are good for walking all day. Due to their lightweight, cushiony, breathable, excellent arch support, and flexible design, you can comfortably walk with them all day. It just feels like you're wearing a pair of thick socks.
On top, the shoes have efficient shock absorption ability during walking. Thus you get a minimal impact while your feet strike the ground. These shoes prevent blisters, friction, heel pain, and other issues, usually walking for a long time.
Are Hey Dudes Good For Walking On Concrete?
Yes, Hey Dudes are good for walking on concrete. Because they pass all the aspects for good walking shoes on concrete. Their breathable fabric creates significant airflow to keep your enclosed feet cool all day.
Moreover, the shoes come with impressive shock-absorbing features like memory foam insoles or padded heels. The cushioned foam of Hey Dudes eliminates the risk of leg hitting against any hard surface like concrete. You can try out their synthetic sole design for improved durability and sleekness on the concrete.
FAQs
Are Hey Dudes made for walking?
Hey Dude shoes are made for casual and everyday purposes like walking. However, though they are good at walking on many usual terrains, hiking on the mountain with Hey Dudes is not a good idea.
Are Hey Dude shoes good for plantar fasciitis?
Of course,  Hey Dudes are good for plantar fasciitis. The shoes are made from natural and comfortable materials and designed to provide the best support and stability to your feet that help with plantar fasciitis. 
How to deodorize Hey Dude shoes?
You can deodorize your Hey dude shoes in different ways. First, the best way to deodorize the shoes is by placing them in the sunlight. The sun effectively dries off the moisture of the shoes. It kills the fungus and bacteria born from sweat or moisture and living inside the shoes. 
You can also try a natural deodorizer such as baking soda paste. Leave baking soda paste on your shoes overnight, and rinse them well in the morning. It quickly removes the foul odors and makes your shoes clean and fresh. 
Alternatively, using a shoe deodorizer spray is the most straightforward way to deodorize your Hey Dudes. Spray well inside your shoes and let them dry. Within a few minutes, your Hey Dudes will be deodorized entirely.
Are Hey Dude shoes good for standing all day?
Hey, Dude shoes are comfortably wearable for standing all day. They are designed to ensure enough stability, comfort, support, and breathability that greatly help to stand all day long wearing them. The wide toe box and memory foam insoles of the shoes can relax and ease your foot while standing.
Final Thoughts
So we finally reached our destination to make a conclusion on whether Hey Dude shoes are good for walking or not. After learning the incredible features of Hey Dudes that are absolutely suitable for walking, hopefully, you already realize these shoes are good for walking.
Just make sure you're buying the right size, length, and width to get a comfortable, snug fit. And that's all, enjoy your every walk now onwards with Hey Dudes!
Best of luck! 
See Also: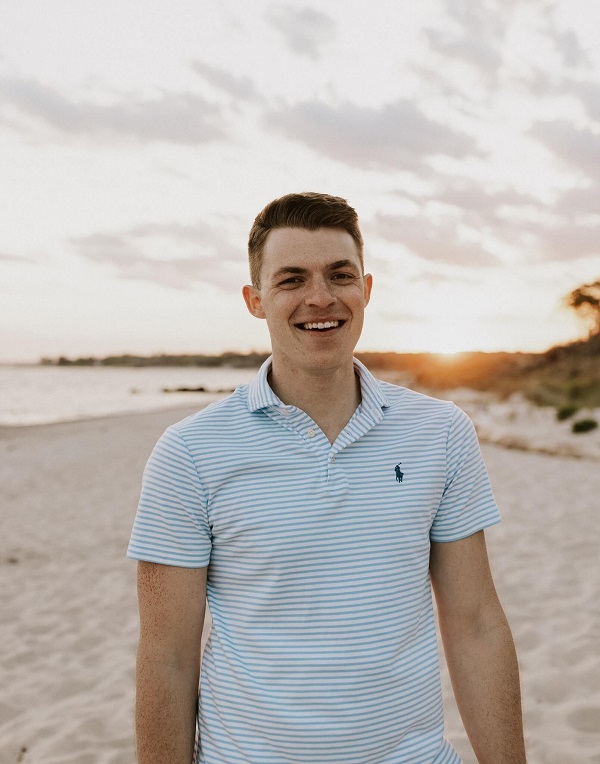 Myself Nathan Griffin a footwear expert who has over 10 years of experience in the industry. I have worked in all facets of the business, from designing and manufacturing shoes to selling them in stores. I am passionate about shoes and believe that they are an essential part of any outfit. I am excited to share my knowledge with others and help them find the perfect pair of shoes for their style.