Since 2002, Crocs shoes have sold more than 300 million pairs in 90 countries. So you can predict the popularity and demand for these shoes. The demand increases day by day because they are very breathable and the right choice for regular and rough use.
But, it doesn't mean that they are healthy and suitable to wear all the time. That's why a question may come to your mind: are crocs bad for your feet?
Crocs offer you the best breathability, high arch support, and ease of slipping. But they don't give you much heel support. So when you wear the shoes, you have to put extra pressure on the toes. That's why it leads to worsening toe deformities, tendonitis, and nail problems.
However, don't think that you can not wear crocs shoes. Rather, if you know the exact information about how healthy or unhealthy the crocs are, you can easily determine how long you can wear them.
Here, we inform every ins and outs about the health issues of Crocs. So get in touch with us till the end to know the details.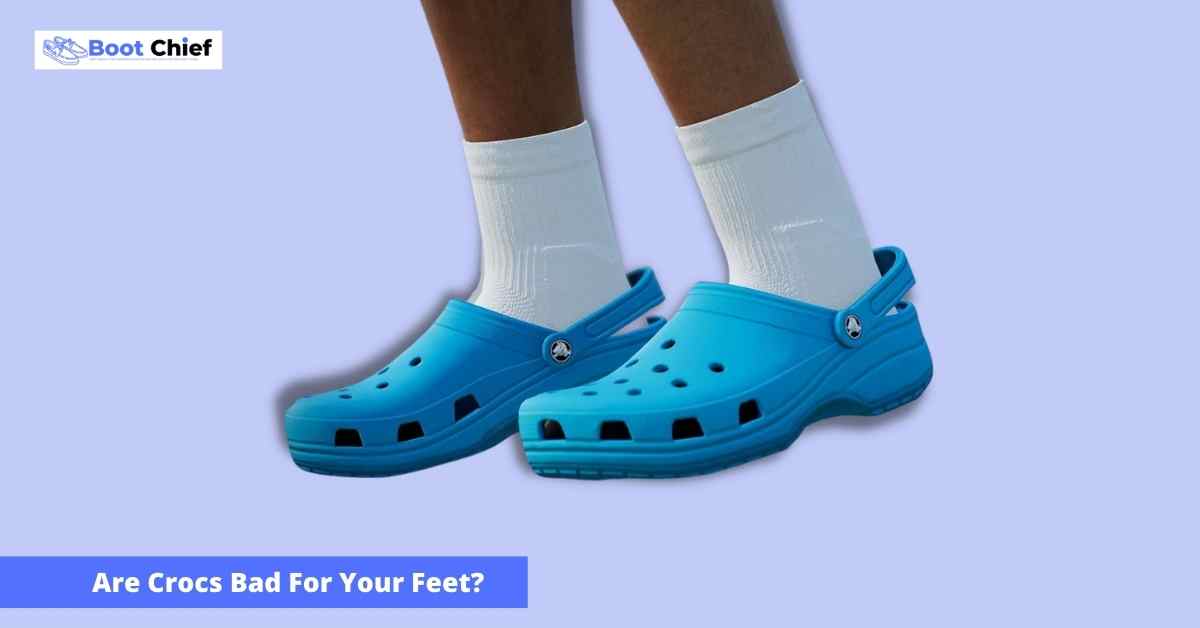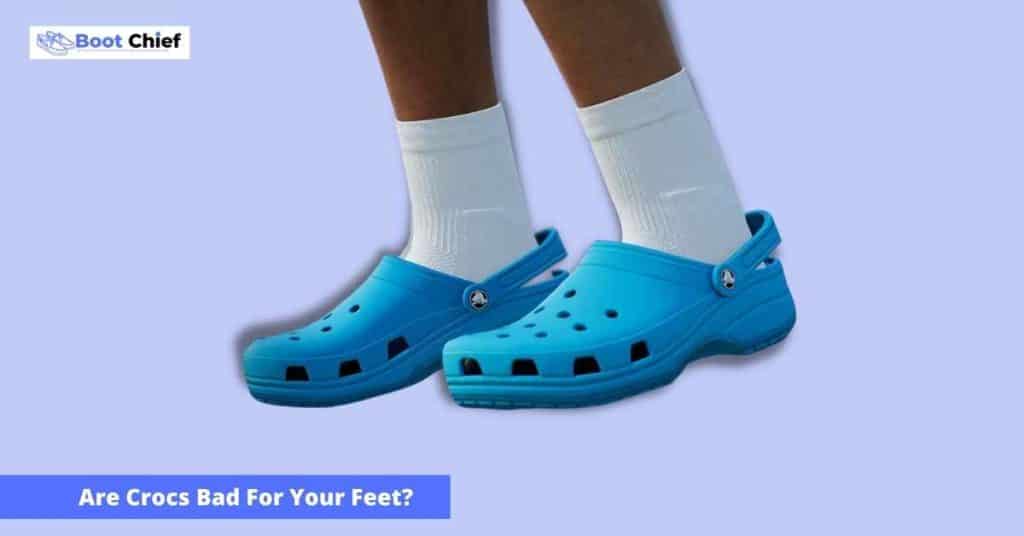 Why Are Crocs Bad For Your Feet?
We have given you a brief answer that Crocs are not good for your feet in the introduction. So in this part of our discussion, we will tell you the specific reasons why the shoes are bad for your feet. Let's see the reasons
The Crocs used hard plastic to make the shoes' inside. That's why you feel a hard surface on your feet when you first wear them. And it causes blister pain within some hours.
Less heel and ankle support
The heel is an important part of your feet. So when you choose any shoes, they must be comfortable and provide proper heel support. But, as the Crocs don't cover your ankle, they can't secure your heel.
You can not walk or run comfortably with your shoes without a perfect balance of your entire feet. The Crocs only support your toe zone, so unintentionally or unconsciously, you put extra pressure on your toes because of unstable heel support.
As a result, when you do the same thing for many days when wearing Crocs, it may cause nail pain, badly affect your toe area, corns, calluses, and lead to serious foot pain.
You may consider the flexible shank a positive sign of wearing Crocs Shoes because you feel comfortable when walking. But, the podiatrists suggest that the shank flexibility badly affects your feet. For this, you can feel heel or arch pain.
Chances of getting hurt by sharp objects
There are more than 10 holes in the shoes for enough air circulation to keep your feet dry, cool, and sweat-free. But, it increases the chance to enter sharp objects like pins, nails, knives that can hurt your feet easily.
Not stylish with most of the outfits
The Crocs shoes are not stylish, fashionable, and matched with your favorite outfits. The shoes look weird with your desired clothes and accessories for many occasions.
Because of those reasons wearing Crocs shoes are bad for your feet. Even most American podiatrists and doctors recommend avoiding Crocs shoes.
Are Crocs Good For Being On Your Feet All Day?
The Crocs are comfy, slip-resistant, fashionable, and flexible. Because of these benefits, most Crocs users like to wear shoes all day long. But, besides these advantages, they have some disadvantages too.
They have a lack of heel support and rigid soles with clogs. So they can not ensure ankle safety when you wear them in an unhealthy and harsh working environment.
As a result, you may suffer minor ankle injuries for ankle twisting. You may also feel feet or heel ache problems for such injuries. By considering all of these issues, the podiatrists suggest not to wear them all day long. You can wear them for approximately 8-10 hours a day at a time.
Why Do Crocs Hurt The Bottom Of My Feet?
It is not an uncommon scenario to forget wearing shoes' straps. Or many people don't like to wear the straps. Because wearing or not wearing the straps/shoes back belt directly has no consequences. But it affects your feet in the long run.
How?
Let us describe. The Crocs are designed with straps. When you don't wear the Crocs straps, your heels remain in an insecure and incorrect position. So you can not put much pressure on this part of your feet. That's why when you walk, you subconsciously depend on your toes to get an extra grip over the surface.
When your feet go with the same thing day after day, it hurts your feet's bottom. And you don't need to be too intelligent to understand this simple thing.
Can Wearing Crocs Cause Leg Pain?
Of course, wearing Crocs shoes for a long time causes your leg pain. When you wear these shoes, you can not put balance pressure on your feet because of lacking ankle support.
Even the shoes consume the underneath water if you walk on a wet surface. So there is a high chance of slipping. The overall situation leads to leg pain if you wear them without the podiatrist's recommendation.
What Are The Best Benefits Of Crocs Footwear?
There are some benefits that you can enjoy by wearing Crocs shoes. For example
The Crocs soles are very rigid and reduce the chance of slippery fall on wet floors, which helps to reduce your punter pain. That's why they are the best choice for those who tend to slip.
You know Crocs don't provide you arch support. But if you use Heel Seat Wraps to get proper arch support, they will also help reduce your Plantar Fasciitis pain.
The soft and flexible interior pads are comfortable to wear for a short time.
As some of the Crocs shoes are slip resistant so you can choose them for casual use.
Do Doctors Wear Crocs, And Why?
Though podiatrists don't recommend wearing Crocs, doctors wear Crocs shoes. A little bit confusing, right? The Croslite material of Crocs effectively works proactively against the chemical spread and blood stains.
So, doctors who have to deal with blood when checking their patients, they like to wear Crocs shoes. It helps them to avoid bloody stains on their clothes that spread from the patients.
What Shoes Do Podiatrists Recommend?
Maybe you are very conscious about your health, skin, and hair care. But you may not manage enough time because of your busy schedule to take care of your feet. And this is one of the great mistakes of your life.
If you consciously think, you will discover that your feet take all the body load when you move. That's why taking care of your feet is a must to keep your feet healthy and active.
No matter if you can't manage time to take care of your feet. By wearing perfect fittings, comfortable, flexible, full coverage, and supportive shoes, you can easily avoid many feet problems. Let's see some shoes according to the podiatrist's suggestions.
1. Orthofeet Proven shoes
Most podiatrists suggest Orthofeet Proven shoes for your long time wearing. The shoes are made with Synthetic leather and lightweight soles to offer you maximum comfort. The superior cushioning and premium design provides your full anatomical arch support for your comfortable walking and running experience.
It comes with therapeutic designs which are unique and that help you to alleviate your joint stresses. Even shoe-making fabrics are suitable for sensitive skin. The soft interior of the shoes help you release your feet, and heel pain that causes plantar fasciitis.
Pros
60 days wearing test
Money-back guarantee
Free shipment and return policy
Extra foam padding for a soft feeling
Anti-odor fabrics
Cons
The sizes are a little small
Not suitable for prolonged time wearing
2. Brooks Women's Adrenaline GTS 21
This pair of shoes are specially designed for women. They are very popular among most women and got 4.7 ratings out of 5 (84% positive feedback) from more than 11500+ reviewers.
However, the brooks received a PDAC A5500 Diabetic shoe certificate and APMA Seal of Acceptance. That's why you can easily rely on the shoes to experience a pain-free run. Perfect balance and cushioning with soft pads ensure your snug fittings. So you can move your feet as you wish without facing any issues.
Pros
High-quality construction and durable
Perfect choice for comfortable footwear who suffers for chronic foot pain
Great for pronation, knees, and back pain.
Excellent and ergonomic design with affordable price
Lightweight and have great support mechanisms
Cons
The smaller toe box, so you should order a half size larger.
3. Vionic Women's Indulge Relax Slipper
When you come back home after a hectic day, it's time to relax. Or when you have to run all the time with your little cutty child. The slipper shoes will be the most comfortable choice for both of these cases.
By keeping your need in mind, we select the Vionic Women's Indulge Relax Slipper which is made with TerryCloth and manmade sole. Approximately 15000 Podiatrists checked its quality, and then they received the American Podiatric Medical Association (APMA) acceptance Seal.
The slippers will fit your feet perfectly because they have adjustable loop straps and a hook. They effectively provide stability, cushioning, and arch support. So you will get natural body alignment on the surface.
Pros
Pain-free walking experience on hardwood floors
Excellent, comfortable, and lightweight
Great for plantar fasciitis, arch and knee support
The shoes are machine washable and air dryable
Perfect for all weather conditions
Cons
The insole fabrics should be more durable
Conclusion
Now you know the elaborate answer to your inquiry: are crocs bad for your feet or not. You can choose the Crocs to wear on slippery surfaces. But they are not a good pick for long-time footwear because of their less ankle support.
We have provided you with three alternative options to choose your next comfortable footwear for prolonged hours wear within an affordable budget. Just figure out which types of shoes you like to wear.
See Also: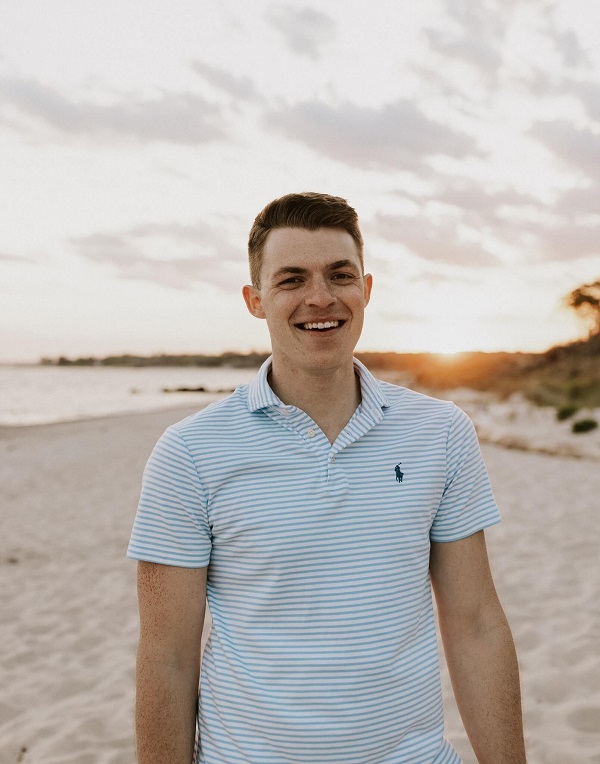 Myself Nathan Griffin a footwear expert who has over 10 years of experience in the industry. I have worked in all facets of the business, from designing and manufacturing shoes to selling them in stores. I am passionate about shoes and believe that they are an essential part of any outfit. I am excited to share my knowledge with others and help them find the perfect pair of shoes for their style.