You can ensure your feet's safety if the shoe is non-slip or slip-resistant. Crocs is a popular brand for providing high-quality comfy shoes that are durable, true to size and worth every buck. But many people get confused; are Crocs non-slip shoes or not?
Yes, most of the crocs shoes are non-slip because they introduce a slip-resistant outsole. But not all the models are non-slip, so you need to choose the right model to enjoy proper grip and protection.
Before that, you should know what anti-slip shoes mean and why you need anti-slip shoes. Let's see a detailed discussion about slip-resistant shoes and what makes crocs the best anti-slip shoe brand.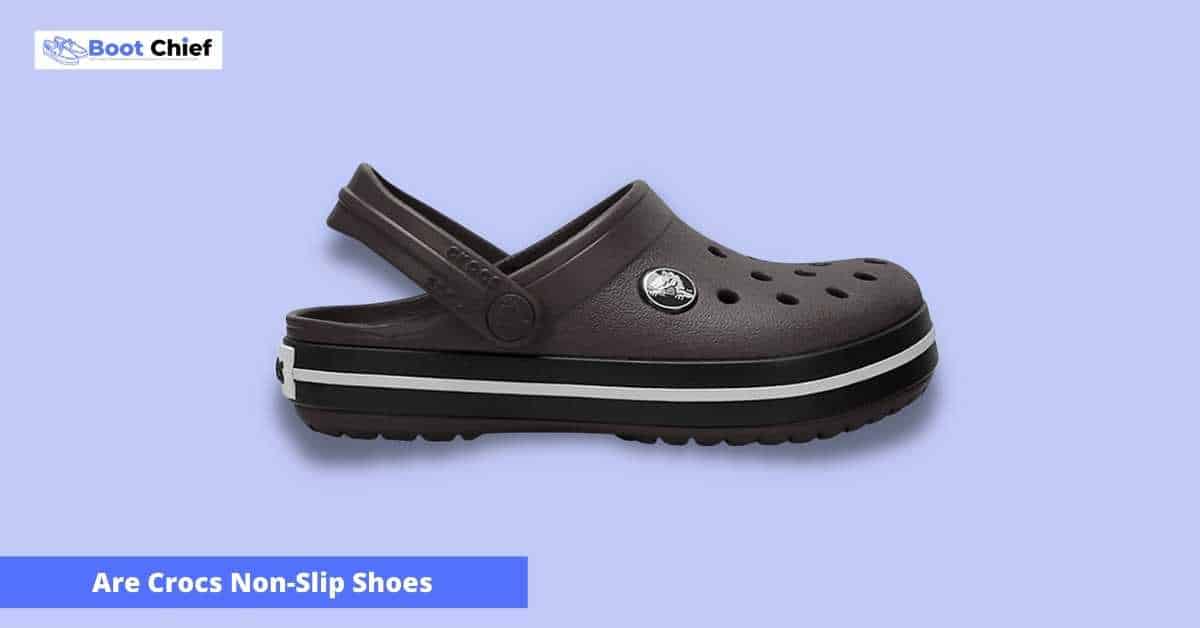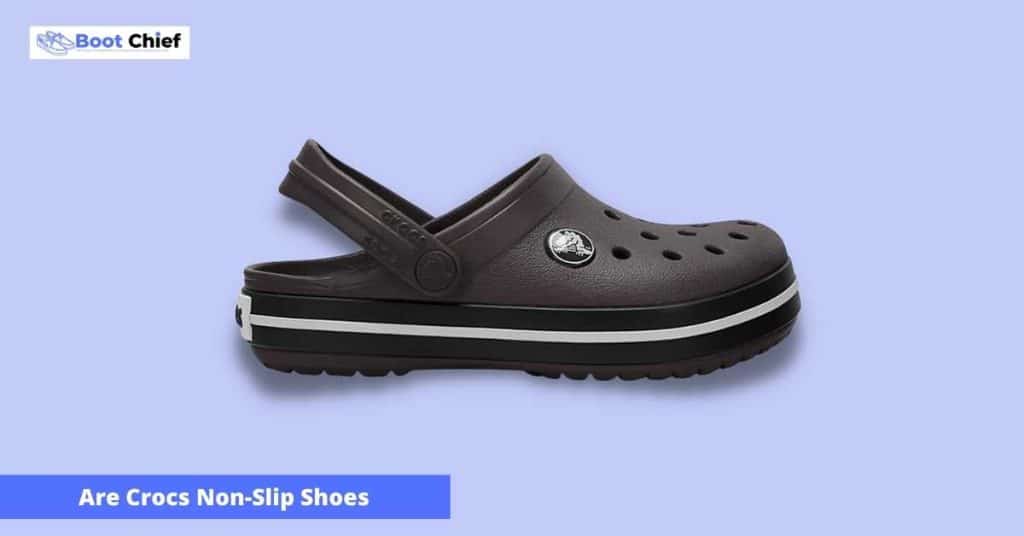 What Are Non-Slip Shoes?
Non-slip shoes refer to one kind of special stability that prevents the foot from slipping when walking or running on wet or obstacle surfaces.
That is why non-slip features are essential to ensure your feet protection. Crocs manufactures the best gripping and high-quality durable sole to deliver the best non-slip shoes in the market.
What Makes Crocs Non-Slip Shoes Or Slip-Resistant?
After knowing that crocs made the best non-slip shoes in the market. The first question that should come into your brain is what makes crocs shoes non-slip or slip-resistant, right?
Crocs are used with thick outsoles that add extra grip to protect you from slip-on rough surfaces. The material is slip-resistant and engineered specially to offer Crocs lock features. That ensures maximum traction with mud or wet surface to avoid injury.
Crocs soles are designed differently to push or absorb any kind of liquid to avoid unwanted slip. The sole's bottom is durable and comes with a groove design to prevent air or water.
So, when you walk on wet surfaces, the extra grip and genuine slip-resistant soles make the crocs non-slip shoes.
Is Slip Resistant and Non-Slip Same?
Some people get confused whether non-slip and slip-resistant are the same or not. Yes, both represent the same meaning. It is a feature that protects you from slipping on wet surfaces.
Why Are Non-Slip Shoes Essential?
Non-slip shoes are a lifesaver in some places. So, depending on your working or walking route, the benefits of non-slip shoes are very. But buying non-slip shoes always brings some lucrative benefits. Such as
People involved in the kitchen or wet surfaces such as mud gardens or yards can face injury at any time. One wrong step can create a disaster if you wear normal shoes. But non-slip shoes reduce the chance of accidents on wet or uneven surfaces. So you can prevent accidents and protect your bones by using Crocs non-slipping shoes.
Non-slip shoes introduce an extra protection layer to reduce the chance of slip and injury. Most of the non-slip shoes are also oil resistant, so if your floor is somehow getting oil, you can get a stable walking experience with the shoes. It can protect you from any unwanted liquid.
Crocs non-slip shoes use high-quality thick soles that are more long-lasting than other shoes. The high-quality no-slip shoes can last for a couple of years. So there is no hassle of frequently buying shoes.
Crocs non-slip shoes are specially designed for medical and hospitality staff. So, it uses breathable material that is safe and comfortable for health. It also provides enough cushioning to ensure maximum shock absorption ability to ensure your feet' health. It helps to enjoy pain-free workdays.
Earlier, we mentioned that non-slip shoes are highly durable. So it will be cost-effective to buy non-slip shoes. It will help to avenge every buck by using it every day for over the years. Yet crocs shoes are a bit expensive, but the long-lasting service and superior performance deserve the cost.
Who Needs Crocs Non-Slip Shoes?
People who are engaged in different professions that require facing challenges must need anti-slip Crocs shoes.
So many professionals are required to stand the whole day to perform their duty. So proper foot safety and comfort is a must for them. So, most of the crocs anti slips shoes are worthy for
Nurse
Doctor
Delivery workers
Gardener
Waiters
Chef
Site supervisor
Guard
The mentioned professionals need to deal with mud, water, ice, or obstacles surfaces. If you engage in such professions or live in any area where you need to walk on ice or watery surfaces, then crocs anti-slip shoes are a must for you.
Are Non-Slip Crocs Shoes Comfortable?
Yes, crocs non-slip shoes are highly comfortable. Crocs is manufactured from lightweight crosolite material that is super comfortable. They integrate slip resistance thick outsoles to offer a maximum grip with the best comfort. So they minimize the chance of slipping but maximize the foot's comfort.
Crocs slip-resistant shoes are a popular and trendy choice because they not only ensure protection but also offer superior comfort. You don't need to sacrifice comfort for deriving protection if you choose crocs.
What Non-Slip Styles of Crocs Are Available?
Crocs bring a wide variety of styles for their non-slip shoes category. So you don't need to be confined within a particular style for enjoying better protection. Let's explore different style patterns of Crocs non-slip shoes to find out your best pair.
Crocs introduce a classic style of slip resistant shoes that is a clogs pattern. It is a comfortable, lightweight and trendy choice for many professionals. For regular use, most people, especially job holders, prefer the clogs style.
Flats shoes are a special edition for women. It is also lightweight, superior comfort, but the outer sole is a bit thinner than clogs.
Mary Janes non-slip shoes are also for women. This pattern is similar to flats, but it is capable of giving more stability and support for long hour wearing.
What are some Best Crocs Non-Slip Shoes?
Crocs bring a wide range of non-slip shoes for different professions such as medical and hospital workers, kitchen staff and many more. Here we are talking about the two best non-slip crocs shoes.
1. Crocs Clock Clog Shoes – Best For Health Workers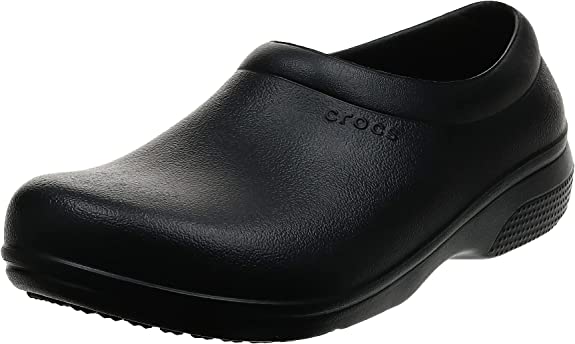 Check Prices and more images on amazon
Crocs Clock is one of the popular and most used non-slip shoes. It is ideal for long working hours. The best thing is it is lightweight but protective. Let's explore some of its exclusive features.
They provide a thermoplastic elastomers sole that is 100% slip resistant. You can walk on slippery surfaces with confidence and maximum grip. Despite protecting your feet from slips they also offer superior comfort. These shoes provide croslite foam and a deep cushioned footbed to keep you pain-free even after a long working schedule.
Besides, they are washable with soap and water. So, the maintenance is easy and simple for everyday use.
Pros
Slip resistance and supportive
Super comfortable and lightweight
Protective and easy to clean
Excellent design and stylish
Unisex, so perfect for male and female
Cons
Order half size up for wide toe
2. Crocs Specialist li Clog shoes- Best For Kitchen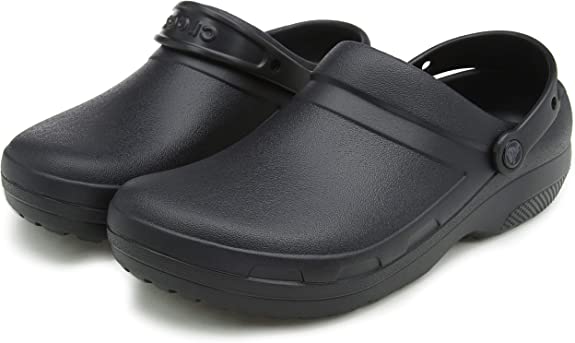 Check Price and More images on Amazon
They introduce maximum slip protection features called Crocs lock technology. The outsole is made of ethylene-vinyl acetate that is durable and capable of protecting you from any slippery or watery surfaces. It is specially designed for chefs or other kitchen staff.
The closed-toe design ensures superior foot protection if accidentally any staff is falling. The solid constructions and lightweight materials ensure top comfort. The thick construction for the toe also protects feet from unwanted crashes. They provide contoured footbeds to offer superior arch support to make your walking enjoyable.
They are offering a roomy fitting so that people with wide feet can also buy it. So if you have a narrow toe then order half size down to get the best experience from Crocs Unisex work shoes.
Pros
Better grip and traction in obstacles surfaces
Maximum toe protection and durable
Comfy and mud proof
Easy to wear and fits as your expectation
Easy to wash and dry
Cons
Bit roomy, so carefully order your size
Is non-slip crocs fit perfectly?
Yes, non-slips crocs are true to size, so it perfectly fits on your feet like the other crocs shoes.
Crocs provide two different size patterns, such as roomy and relaxed. Roomy is for those who have wide toes and require space. Besides, a relaxed fit offers snug fitting with top-notch comfort.
How Do I Know If My Shoes Are Non-Slip?
You should look at a few factors to know whether your shoes are slip resistant or not. Here we make a list that will help you to know if your shoes are non-slip or not.
Most of the brands provide a trademark whether the shoes are non-slip or not. You will find it on the label of your shoes. For online, you can check the product description to get the info.
The slip resistance ability depends on your soles. So, look at the outsole materials, quality and thickness. The flat and thick soles can trap liquid and ensure maximum traction to protect you on any surface. As Crocs are made from non toxic soles and materials some people are really curious to eat the shoes.
non-slip shoes come with groove shapes to produce bubbles to avoid unwanted slip-on watery surfaces. That also increases the flexibility and stability of the user on any obstacles surfaces. So, check the grooves of the soles.
Look at your outsole; if it contains jig-jag thread patterns, that means it is slip resistances; otherwise, smooth patterns are not considered non-slip shoes.
Slip resistance outsole contains a rubbery and flexible bottom. So it strictly stuck with the floor to avoid injury. So, check the bottom whether it is rubbery or rigid. The rigid ones are not non-slip soles.
How Can You Make Crocs Non-Slip?
Ok, if you already buy crocs shoes that do not slip resistance, don't worry. Luckily crocs never use any slippy soles. By following some steps you can easily convert your normal crocs shoes into non-slip shoes.
Crocs use a similar sole both in non-slip and normal shoes. You need to scuff off the gravels to make the sole rough and non-slip.
Use sandpaper to scuff off the sole bottom to make it non-slip.
You can use ice grips with a metal grip to make it non-slip.
You can paint a rough texture on the sole to convert it to slip resistance.
How Much Does Croc's Non-Slip Shoes Cost?
The cost depends on your preferred model. The average cost of crocs non-slip shoes is $30-$100+ depending on style, size and model.
Alternative Brand That Provides Non-Slip Shoes
Besides, crocs' other brands make slip-resistant shoes. Here are some alternative brands for non-slip shoes.
Skechers
Avia
Reebok
Fila
Feetmat and more
Final words
We hope you are now clear that Are crocs non-slip shoes or not. So, it's time to choose your slip resistant footwear to ensure a safe and comfortable working environment with the best brand crocs.
See Also: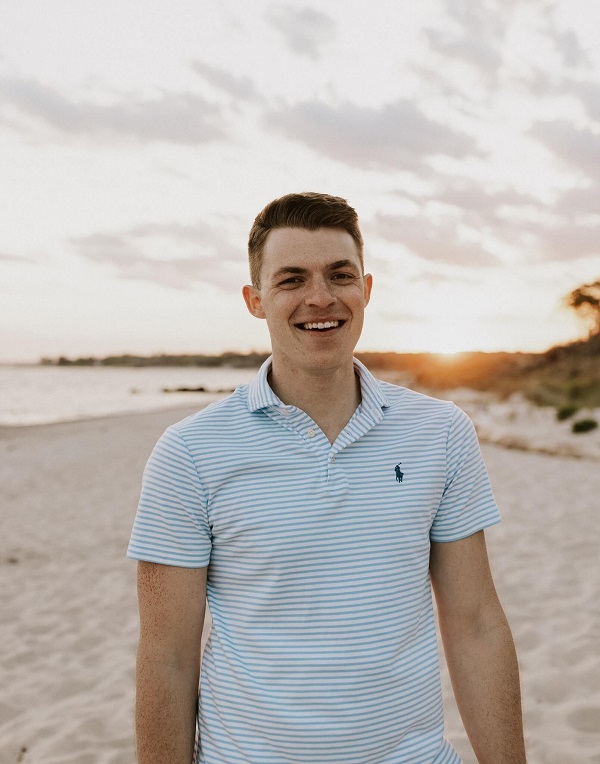 Myself Nathan Griffin a footwear expert who has over 10 years of experience in the industry. I have worked in all facets of the business, from designing and manufacturing shoes to selling them in stores. I am passionate about shoes and believe that they are an essential part of any outfit. I am excited to share my knowledge with others and help them find the perfect pair of shoes for their style.