As Wonder Balsam vs Dubbin is the most common option for shoe care, learning which is better and why is the most crucial factor. You can make shoe maintenance quick and super easy if you've got a bit of knowledge about shoe care products and know which is better for your boots.
However, before making a conclusion, we need to know the main differences and similarities between these products and why they're the best.
So in this article, we'll break through the differences and similarities as well the conditions where wonder balsam and Dubbin performs better. There are also step-by-step guides on how to use them. First, let's learn the facts about both shoe care products.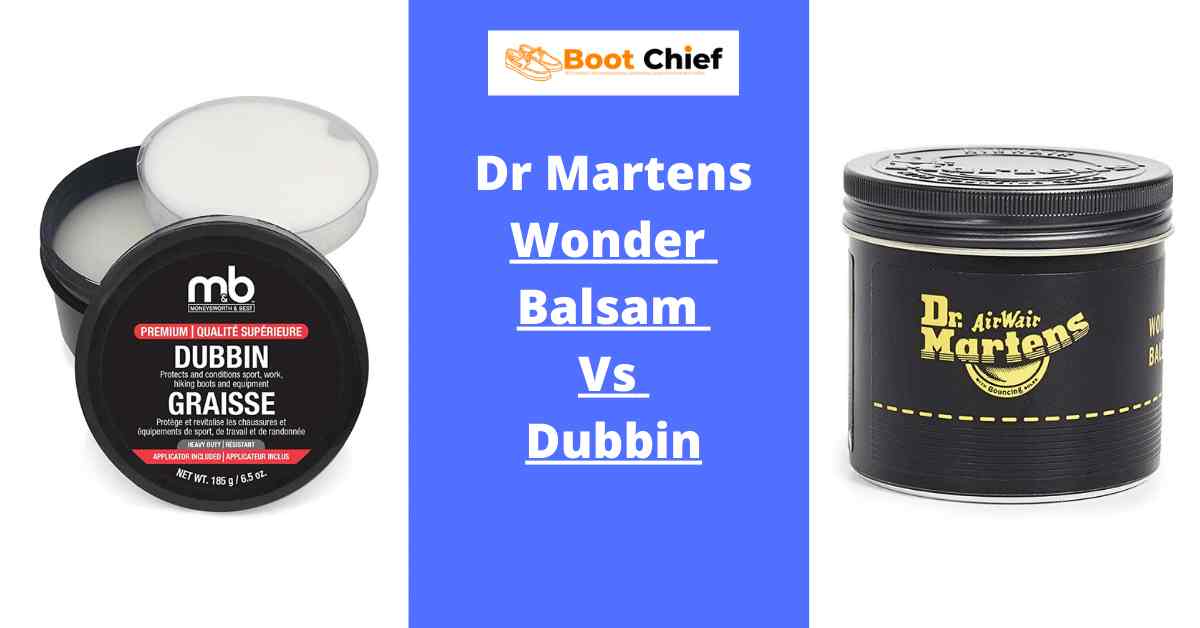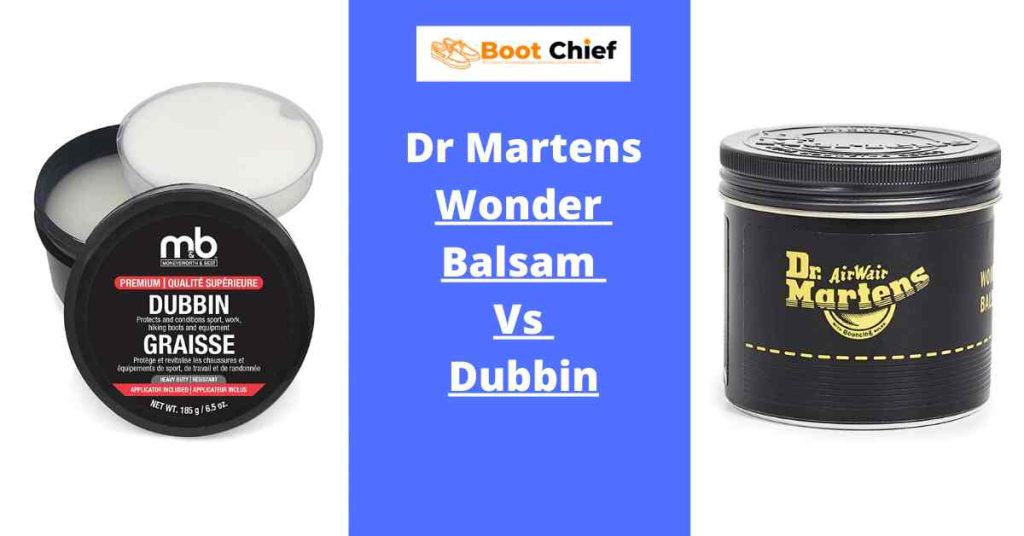 Dr. Martens Wonder Balsam Vs. Dubbin: Comparison Table
| | | |
| --- | --- | --- |
| Differences | Wonder Balsam | Dubbin Wax |
| Ingredients | Yellow Beeswax, Mineral Oil, Petroleum Derived Wax, Petroleum Spirit (Solvent) | Petroleum Derived wax, Petroleum Spirit (Solvent) |
| Applicable Leather Types | All types of leather (expect Suede) | Suitable for waxed or oiled leather (expect Patent leather, Suede, Nubuck) |
| Purpose | Smooth & soften the leather | Conditioned & shine the leather |
| Waters Resistance | Protects against watermarks & salt | Protects against rain & water |
| Buy Now | Check Wonder Balsam Price and Customers Review on Amazon | Check Dubbin Wax Price and Customers Review on Amazon |
What is Wonder Balsam?
Wonder Balsam is a magical shoe care product by Dr. Martens. It's a blend of natural beeswax and synthetic waxes. It is designed to condition, nourish and protect your leather boots. So, you can keep your boots supple and soft without polishing them.
This Balsam comes with an 85ml small jar, but this small pot goes a long way even after applying several boots. Its neutral color is applicable on any Docs type, so you don't need to buy different products for different boots.
Nothing can beat wonder Balsam if you want to make your boots look like the first time you bought them. A little quantity will do great to make your pair new and shiny. At the same time, it will work as a raincoat, protector, or even a blanket for your boots.
It can be used on all leather products but is not suitable for vegan and suede materials. You better note that while picking it for your expensive investment.
When Should You Use Wonder Balsam?
Wonder Balsam is a must-try product for every leather boot owner. Here are some aspects where you can make the best use of this product.
If you own leather footwear, you must try Wonder Balsam because it effectively protects your leather boots from any damage and features so many unique benefits to extend the lifespan of your expensive boots.
Wonder balsam is pretty efficient for breaking in a new pair of leather boots. You might realize the new boots are pretty stiff, and you'll find them very uncomfortable. And here you should reach wonder balsam. It's formulated to soften the leather as soon as possible while keeping the pair in perfect shape.
Other than that, Wonder Balsam is an excellent product to make your boots water-resistance during the winter and rainy days. It efficiently protects the leather against salt, stains, and water, and typical damages in the winter.
When you see your boot is losing its shape and is slightly worn out, it needs Dr. Martens Wonder Balsam to restore the original youth look of your boots. Using Wonder Balsam is a superb way to rejuvenate the leather.
How to Use Wonder Balsam?
Follow the steps below to use wonder balsam on your leather boots.
Items Needed:
Wonder Balsam
Few old & soft cloth
A sponge
Some water
Step 1: Assemble Your Required Items
First, select a place where you can do the procedure. Arrange a jar of Wonder Balsam, a couple of cloth and a small bucket of water.
Step 2: Clean Up The Footwear
Now remove the shoelaces and start cleaning your leather boots. First, wipe them well with a damp cloth so that if there is any dirt stuck on it can be removed. Afterward, switch a dry cloth to dry the boots and for a more thorough cleansing.
Step 3: Apply Wonder Balsam
With a sponge, scoop out some Wonder Balsam and generously apply it all over your shoes.
Step 4: Focus On the Special Areas
Make sure this product reaches all creases, tongue areas, and inside the leather. Take care of the seams and stitching because most people often ignore these areas.
Step 5: Let The Boot Dry
Once you evenly coat the boot, let it soak the Wonder Balsam for 20 minutes. If there are still any visible marks, scratches, and scuffs, consider applying an extra layer of Balsam.
Step 6: Finish Off
Finish off by wiping the extra Balsam on the leather and looking at the magical change of your Dr. Martens.
What is Dubbin?
Dubbin is a complete wax product used over the oiled and waxed leathers. It is made from natural wax, oil, and tallow. Protecting your boots from dirt and stain to restore their shiny look, Dubbin is one enough to take the proper care.
This classic shoe care product wonderfully revives your boots and makes them waterproof, conditioned, and softened. Otherwise, it prevents leather from drying and cracking.
It has an excellent ability to refresh the look of leather. So whenever you feel that your footwear is going out of shape, apply this go-to product and keep your boots always new.
According to Wikipedia, Dubbin gained its popularity in the 18th century, and still love to use it on their oiled leathers. No wonder they love it, and you can also realize how much it is helpful to win the user's heart.
When Should You Use Dubbin
Here are the few aspects of using Dubbin to get the utmost result from your shoe maintenance while ensuring its protection.
When you buy a new pair of leather boots, you want to make them protected from any elements. Here Dubbin performs its efficiency to protect your leather moisture and smoothness from any elements.
Otherwise, when you feel your boots look dull and need to retain their greasy look like before, use Dubbin. Its waxy formula will condition the leather and bring a smooth glossy look like new boots.
Besides that, consider using Dubbin crucially when you've to wear the shoes in winter. It will protect your boots from winter elements and allows the boots to last long.
Dubbin offers you first-line protection, and that's why if you're using more than one shoe care product, always consider applying Dubbin last. This will help protect the other products under Dubbin and maintain their quality.
How to Use Dubbin?
Here we described step-by-step instructions on how to use Dubbin easily and quickly on your leather boots. Let's take a look at them.
Items Needed
Water
Old & soft cloths
Shoe polish
Step 1: Clean the Boots
You need to clean it first, no matter what you apply over your leather boots. So as we mentioned above, complete the cleansing process.
Step 2: Loosen the Wax
Heat a small amount of Dubin wax to loosen that make sure the smooth penetration into the leather.
Step 3: Apply the Dubbin
Rub a dubbin all over your boots. Try to apply it on a thin layer because Dubbin leaves an oily film behind.
Step 4: Cover All Parts
Make sure you're covering all the parts, including the seams.
Step 5: Let It Sit
Let Dubbin ultimately settle on the boots for one hour. It'll look shiny after applying, but the leather looks like a matte finish once the wax dries and sits.
Step 6: Finish Off
Though optional, you can perform some buffing and apply a shoe polish if you want to like a glossy look of the leather.
What is the difference between Doc Martens' wonder balsam vs. Dubbin?
The main difference between Wonder Balsam vs. Dubbin is Balsam softens the leather, whereas Dubbin is primarily useful for nourished leather. Besides, it adds shine to your boots to give them a shiny new look. Let's take the other differences they have.
Purpose
Wonder Balsam is mainly used to soften the rugged leather. So when you want to break in a new pair of leather Doc Martens, Balsam helps soften the leather while giving it a classic shine.
Dubbin adds shine to the dull leather and revives it.
Suitable For Leather
Wonder Balsam is used for all kinds of leather. Primarily it works for smooth leather boots. Only Suede and Vegan materials are not suitable for this shoe care product.
Dubbin mainly uses greasy waxed and oiled leathers. They're not suitable to use over Suede, Nubuck, Vegan, or any other fabric materials.
Protections
Wonder balsam ensures protection against salt and watermarks.
Dubbin resists water, rain, and snow and keeps your boots protected from water-causing damage.
Application Intervals
Wonder balsam should be used once a month. Using it will be enough in a month to keep your leather fine.
If you want to keep your boots looking fresh and stunning, Dubbin should be used at least weekly.
What are the Similarities Between the Wonder Balsam and Dubbin?
Although there are differences, wonder balsam and Dubbin are both shoe care products. No wonder they share the following several similarities.
Contains Wax
Wax certainly complements leather material. That's why both the shoe care products contain wax so that they help to soften the leather.
Lengthens Boot Life
Using any shoe care product, you must prioritize that they can extend its life cycle and last long. That's not only because you love them but also because you invest a lot of bucks in them—especially the winter boots made with quite expensive leather.
So no matter what kind of shoe care product you're using, you must want them to have the ability for proper maintenance. Since Dr. Martens made both products to ensure they can make your boots last longer.
You might know Wonder Balsam is the go-to product for waterproofing your shoes, but Dubbin has also worked great for water resistance.
If you're up to making your boots water-resistant, you can consider both the products, or either one of them can work best.
What's Dubbin Good For?
Dubbin is better than wonder balsam for a weatherproofing advantage. No matter how solid and high-quality leather boots you use, they will tend to damage when frequently getting touched with water. In that case, Dubbin assures you to protect your boots from wear out soon when you're living in an area that often experiences snow, rainfall, or winter.
What's Wonder Balsam Good For?
Wonder Balsam is good for prolonging the life of your footwear. It deeply nourishes the leather and makes it soft, supple, and durable from the inside. It also maintains the aesthetic look of any old leather boots.
Plus, using Balsam regularly revives and brings back to life the well-worn shoes that make sure you'll wear these pairs more in the long run.
FAQs
Does Dubbin Damage Stitching?
Dubbin doesn't damage or rot stitches even after many years of use. But it's common knowledge that if you use this wax carelessly, you'll get lumped on the wels around the stitches. As a result, dirt and dust can accumulate there, and this rubbish can cause damage to the stitch. So Dubbin is not responsible for this damage. However, to ignore this problem, clean stitch after every application of Dubbin, and your boots will be fine.
Does Dr. Martens Wonder Balsam Waterproof?
Dr. Martens, Wonder Balsam waterproofs your leather boots very well. Its unique features and ingredients effectively create a water-resistant protective layer against water, and you can kick out all fear of walking on rainy or snowy days.
Is Dubbin Better Than Polish?
Dubbin is used for conditioned, softened, and waterproof leather, whereas polish works best to polish and shine the boots while restoring their appearance. Both products have similarities and differences. If nourishing and softening your boots is essential for you, then certainly Dubbin will do better than polish.
Do I use Dubbin or wonder Balsam first?
Use Wonder Balsam first on your boots' direct dry and clean surface before the Dubbin. As Balsam keeps your leather nourished and resists water, cracking, etc., you need to use it first. And then, to keep this activity protected, apply Dubbin, which impressively protects everything under its cover.
Dr. Martens Wonder Balsam Vs. Dubbin: Which Should You Choose?
When it's about wonder balsam vs. Dubbin, we can't recommend one is better than the other. If one is best in specific areas, the other is better for other purposes. If you need to make your boots durable for a prolonged time or soften the rugged leather, wonder Balsam is the way to go. Otherwise, for shine, conditioning, and protection against winter elements, Dubbin is a perfect match. However, you're the decision-maker which is better for you in the end.
So are you satisfied learning about Dr. Martens Wonder Balsam vs. Dubbin? If you're, let us know below in the comment section. Additionally, share this article with your friends and family, who'll find this information helpful.
You May like To Read: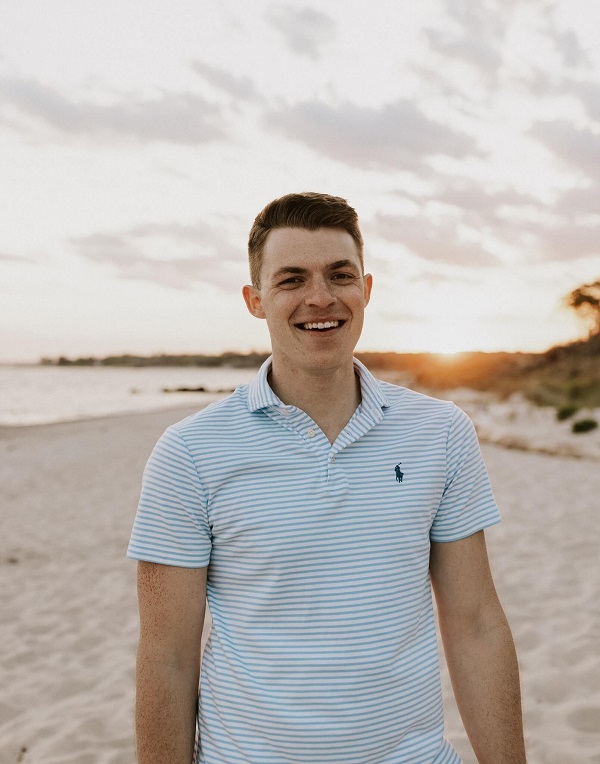 Myself Nathan Griffin a footwear expert who has over 10 years of experience in the industry. I have worked in all facets of the business, from designing and manufacturing shoes to selling them in stores. I am passionate about shoes and believe that they are an essential part of any outfit. I am excited to share my knowledge with others and help them find the perfect pair of shoes for their style.